Raise3D Expands its Range with Three Machines Designed for a More Flexible Production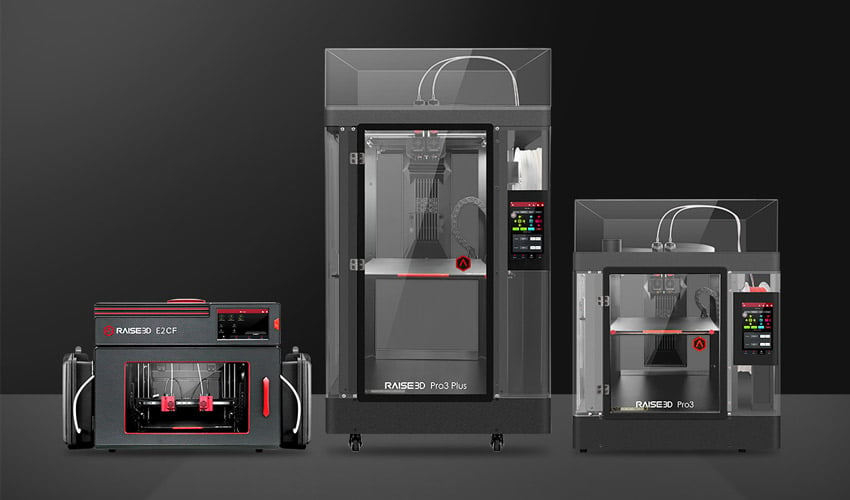 This past summer Raise3D, a leading actor in FFF additive manufacturing, unveiled its new range of professional machines, the Pro3 Series as well as the E2CF 3D printer designed for the production of carbon fiber parts. And to ensure the launch of its new products, the manufacturer is counting on its historical European partner OKM3D, which is already taking pre-orders for the three new FFF solutions through its network of specialized resellers in Europe. But what are the characteristics of these three new 3D printers and what can we expect from them?
In 2018, when Raise3D launched its famous Pro2 range, it set out to improve market standards by offering faster and larger machines. Since then, users' expectations have changed, now focused on more flexible solutions, offering better repeatability and productivity. It is with this in mind that the manufacturer is returning with a plan to implement more agile manufacturing.
Pro3 Series, a range for small series production
Like its Pro2 line, the Pro3 Series includes two dual extrusion FFF printers: the Pro3, which has a print volume of 300x300x300 mm, and the Pro3 Plus, with a more generous volume of 300x300x605 mm. Their features have been redesigned to provide a better user experience and more repeatability in part production while maintaining exceptional quality. For example, they integrate a modular extruder with two nozzles that can be changed very quickly (interchangeable heads), automatic calibration, a flexible printing plate for easier detachment of oars, as well as an Air Flow Manager for better heat dissipation and air circulation, etc.
Also note that the Pro3 series includes an intelligent EVE assistant that identifies common printing problems and suggests solutions accordingly. It also reminds the user of maintenance tasks that need to be performed, which reduces machine downtime and provides optimal service life.
In terms of materials, the Pro3 Series is compatible with all thermoplastics that extrude at temperatures below 300°C: PLA, ABS, TPU, ASA, PETG, etc. Finally, the Pro3 and Pro3 Plus printers have been designed to offer a simple and ergonomic user experience. The machines are equipped with an HD camera to monitor jobs in real time, an end-of-filament detector, a security mode, an energy-saving mode and a backup and resume printing function in case of power failure.
Timmy Schramm, CEO of OKM3D, adds, "Raise 3D has put an enormous focus on listening to its customer base feedbacks. As a result the Pro3 series was born, with all the state of the art and innovative features needed to make additive manufacturing a true accessible, easy to use production system. It truly is a machine that has been developed to be extremely versatile with production quality, repeatability and up time in mind. We believe that the Pro3 will have a big impact on Additive manufacturing production as it is easily scalable with the Raise3D ecosystem ideaMaker and RaiseCloud. We are very proud to distribute Pro3 as it really is bringing more added values than the FFF Systems present on the market nowadays."
The Pro3 and Pro3 Plus printers are already available for pre-order, count respectively €4749 and €6249 before tax. If you are interested, make sure to contact OKM3D who will be able to put you in direct contact with one of its local partners in 20 countries in Europe.
The E2CF printer from Raise3D for carbon fiber filled parts
More and more users are looking to design lightweight, strong parts that can withstand varying degrees of stress. They are therefore turning to composite materials, especially carbon fiber, which has the advantage of being very light while displaying a similar strength to steel. In order to meet the growing needs of professionals and manufacturers, Raise3D has developed the E2CF 3D printer, an FFF machine designed to create parts loaded with carbon fiber. Equipped with an IDEX extruder and a print volume of 330×240×240 mm, it has silicon carbide nozzles that resist wear and offer good thermal conductivity. The machine can therefore process abrasive materials.
Raise3D recommends the use of its PA12 CF filament, reinforced with short carbon fibers, and its support material. In the future, the manufacturer intends to develop more materials such as PPS CF, PPA CF and PET CF. The aim is to offer a wide range of materials to meet the needs of users looking for strength, rigidity and lightness.
The new Raise3D E2CF printer is a complete solution to meet the requirements of this type of filled materials: reinforced extrusion and ultra abrasion resistant nozzles, 2 independent drying boxes to preserve the filaments, a range of technical filaments with associated support filaments, all the profiles available on ideaMaker for an easy use from the first print.
What do you think of the latest 3D printers from Raise3D? Let us know in a comment below or on our Linkedin, Facebook, and Twitter pages! Don't forget to sign up for our free weekly Newsletter here, the latest 3D printing news straight to your inbox! You can also find all our videos on our YouTube channel.