Raise3D unveils its new E2 3D printer for Education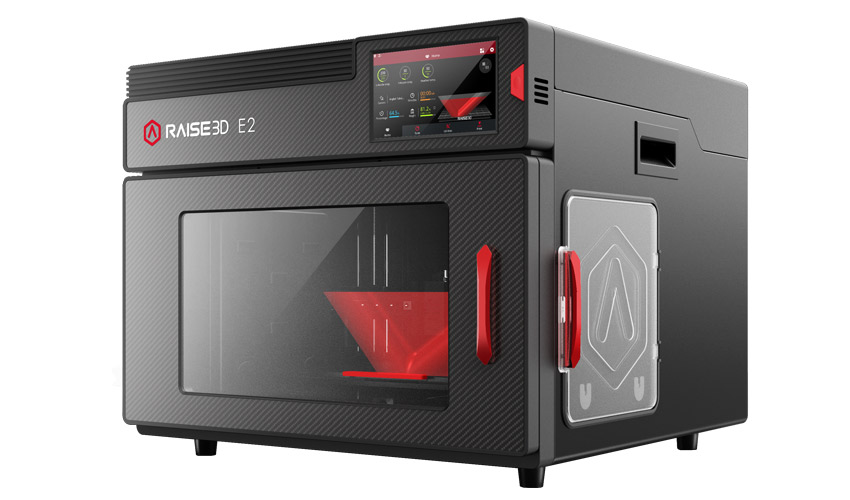 As we approach the TCT Show in Birmingham, one of the leading 3D printing events in Europe, some players in the sector are taking the opportunity to announce new products, innovative applications, etc. This is the case of the American manufacturer Raise3D, which unveiled a new range of 3D printers called E2. Available from November, it will be exclusively reserved for the education sector in Europe. Let's go back to the main features of this E2 3D printer!
Raise3D has made a name for itself in the FDM 3D printing market thanks to its Pro2 machines, which followed the famous N2 and N2 Plus. Renowned for their generous build volume, dual extrusion system and flexibility, they have won over a large number of users. The manufacturer wishes to further develop its portfolio of open machines by the end of 2020 by offering 3D printers for specific materials, applications and industries, starting with the E2 range. Diogo Quental, Managing Director of Raise3D Europe adds: "Raise3D aims to have a portfolio that addresses the specific needs of major industries. With that aim in mind, our R&D team designed a new printer which is easier to optimize for each industry, while keeping the highest standards that we always strive for."
Until now Raise3D had accustomed us to quite large machines – the first thing we see is that the E2 is more elongated, implying a less generous 3D printing volume than the other models. The printer offers a 330 x 240 x 240 mm space, a flexible tray and automatic calibration. It should be noted that there are two independent extruders that allow double or inverted printing.
Characteristics of the E2 3D Printer
It would seem that Raise3D's main objective is to make the user experience as easy as possible so that they can integrate desktop 3D printing solutions to their manufacturing needs. To do this, the company explains that it has developed RaiseCloud, an ecosystem to manage the printing process – currently in the test phase – and RaiseFactory, a turnkey solution that allows you to launch many 3D printers at the same time. Note that the machine also has an energy-saving mode and automatically pauses when the printing chamber is open.
Raise3D CEO, Edward Feng explains: "There is always a fine balance between usability and performance. At Raise3D we want our 3D printers to be as inclusive as possible, operated by engineers, technical experts, and large manufacturing enterprises, while at the same time providing access to easy to use 3D technologies that support education, entrepreneurial ventures, and desktop engineering. We've made an extra effort to improve some usability factors in the E2, without compromising performance."
For its launch, the E2 should be available from €2,499 and only for the education sector in Europe. A more affordable price for schools, high schools, fablabs or universities that do not always have the means to invest in a professional 3D printing solution. In addition, the relatively small size of the E2 3D printer should accommodate more than one. The machine will therefore be presented for the first time from 24 to 26 September at the TCT exhibition and will be delivered from November. You can find more information HERE.
What do you think of the E2? Let us know in a comment below or on our Facebook and Twitter pages! And remember to sign up for our free weekly Newsletter, to get all the latest news in 3D printing send straight to your inbox!