RADIAN relies on 3D printing to create personalised jewelry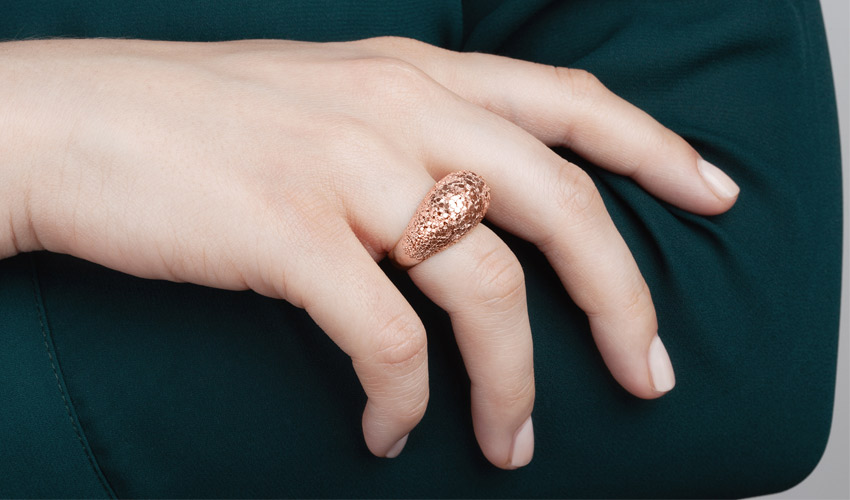 RADIAN is a German jewellery brand that quickly turned to additive manufacturing to design original and personalized rings, bracelets and necklaces. The technology offers more flexibility in its design, prototyping and final production processes, sometimes even allowing to make jewellery that would otherwise be impossible to obtain. The company thus joins the few players who have relied on 3D printing for jewellery, mastering today several additive manufacturing processes to meet the different requirements of the market. We met with Sandro, the co-founder of RADIAN, to learn more about the advantages of using 3D printing technologies in the jewellery industry.
3DN: Can you introduce yourself and tell us about your relationship with 3D printing?
Based in Berlin, our RADIAN brand is a brand of contemporary 3D printed jewellery that fuses different aspects of design. Influenced by architecture and adopting a graphic approach, we choose to work with geometric and abstract forms. All our collections are built on a strong concept. Each idea is translated into a meaningful appearance. Using 3D printing as a production method opens up a new world of shapes and aesthetics. This allows us, through the RADIAN brand, to use innovative materials and create unique and artistic pieces that could not be produced using traditional techniques.
3DN: How did the RADIAN idea come about?
In 2012, we had a university project and designed a ring. Since our university had a new 3D printer, we wanted to prototype the ring. And I fell in love with the 3D printing process. In fact, that first ring design, the Solitaire, is now one of RADIAN's best-selling designs and has been shown in a number of museum shops and exhibitions. We now want to expand our range of jewellery in collaboration with other artists and make RADIAN an even more versatile brand.
3DN: What 3D printing technologies do you use? Which materials?
We print our jewelry creations in a variety of materials. This opens up great possibilities and we have learned from our customers that this diversity is very much appreciated. We offer jewelry in nylon, printed on SLS machines; in steel, thanks to Binder Jetting machines; and in brass, silver and gold – here we print the mold of the jewelry in wax. You should know that the spirit of RADIAN is not only to produce a piece of jewellery, but also to experiment with new materials and to push the limits.
3DN: Why did you turn to additive manufacturing?
It was while designing our Solitaire ring that we became interested in 3D printing technologies because it could not be made any other way. I found it very fascinating to be able to design a piece of jewelry digitally and hold a physical version in your hands on the same day! Today, we can quickly prototype our ideas without having to wait long. It will be very exciting to see how the whole world of 3D printing develops and we are more than happy to be part of it and share this inspiration.
3DN: Can you tell us more about the manufacturing process of a piece of jewelry at RADIAN?
Let's take our Crystal ring for example, which took nearly a year of work before we were fully satisfied.  We start with a fairly simple hand sketch phase that we then transcribe digitally, which allows us to start the prototyping phase. We use parametric design software for this. Once we have tested and verified our creations, we offer them to our customers: we are sure to have cutting-edge jewellery, made with the latest technology in the most durable way while offering a high standard of quality.
3DN: How do you see the future of additive manufacturing in the jewellery sector?
Additive manufacturing processes will certainly play an increasingly important role. There are already a lot of projects that allow customers to customize their jewelry; and 3D printing is perfect for this. However, this era of mass customization is about to begin and we expect a lot in this area. People are slowly getting used to these new production techniques and are losing their reserve on the subject.
3DN: A last word to our readers?
Jewellery can be much more than just decoration. It's a wonderful way to express yourself. We believe that strong personalities need jewellery statement pieces. So be brave and daring! You can find all our 3D printed jewellery on our website.
What do you think of RADIAN? Let us know in a comment below or on our Facebook and Twitter pages! Sign up for our free weekly Newsletter, all the latest news in 3D printing straight to your inbox! You can also find more guides on ABS, PLA and PETG for 3D printing on 3Dnatives!