Quantica on NovoJet, its Truly Multi-Material 3D Printing Technology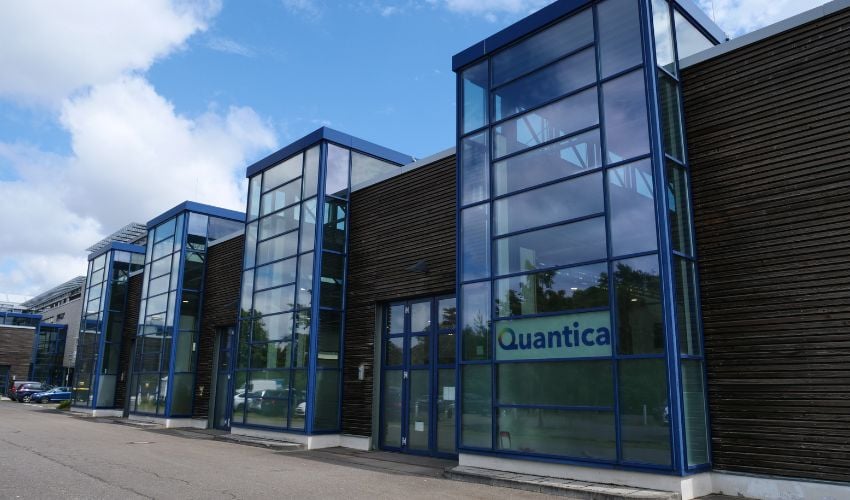 Quantica is a 3D printing startup hopes to reimagine material jetting, focusing especially on of high-performance and versatile materials. Earlier this year, news of the company's successful Series-A funding made quite a splash in the 3D printing industry. This has paved the way for the launch of the highly anticipated NovoJet C-7 open system as well as the expansion of the team. Among the new additions is Sebastian Fritz, a familiar face in the industry, who now heads up Sales Channels and Customer Operations. In this interview, we have the privilege of getting to him as he shares his insights into the prospects of the company and its exciting, future projects.
3DN: Could you introduce yourself and your connection to 3D printing?
My name is Sebastian Fritz, I joined Quantica in April 2023 and am currently building up the Customer Operations department. In the early 2010s, I traveled the US as a management consultant. I saw countless factories and manufacturing plants and was able to experience first-hand how products are made there.
Then in 2014, I came into contact with Formlabs. At the time, it was still a small hardware startup in Somerville, Massachusetts and they had just released the Form 1, the first generation of their SLA 3D printer. I knew right away that I had to be a part of it because 3D printing is fundamentally changing the way you design and make products. So I joined the company and set up the service department along with other areas. That was a great experience and it was just incredible to grow from 40 to 700 employees and generate more than $200 million in revenue. After about seven years at Formlabs and a short stint in consumer electronics, I'm very happy to have landed back in the additive manufacturing space.
3DN: How did Quantica come about and how did you join the company?
My joining story actually started quite a bit before I actually did. The first talks took place back in 2019, when Quantica consisted of only 9 employees. It didn't work out then, but we stayed in touch and this time the timing was right. Currently, we have a team of over 50 people, headquartered in Berlin, with offices in Barcelona and Cambridge, UK.
In terms of the company itself, Quantica has developed a new jetting technology called NovoJet. This enables us to print ultra-high viscosity materials. Until now, you couldn't jet these and now it opens up a whole new world of possibilities: true multi-functional, multi-material 3D printing. With our technology, printing fully-functional products from different materials is a reality and no longer fiction. The best part is that our printheads can also be used in traditional 2D printers, enabling a whole new level of production. It is now quite conceivable to print conductive tracks in the door panels of cars, or that printing and glazing of tiles can be done in one production step.
3DN: Which technologies and materials are particularly relevant to your goals?
Different technologies and materials are relevant for achieving our goals. Our focus is on using the capabilities of our NovoJet printhead to print materials that cannot be printed with any other technology. In summary, if a material can be printed with SLA (Stereolithography) or DLP (Digital Light Processing), our printhead can jet it – and more!
A key advantage of our technology is the ability to handle highly viscous materials. This characteristic gives us flexibility in the production of functional components, the production of parts with better properties, as well as a much higher efficiency in the manufacturing process. Unlike conventional printheads, which can typically handle fluids with a fluidity of about 20 mPas, our NovoJet printhead with 380 mPas allows a much higher viscosity for a wider range of materials.
3DN: What projects and plans can we expect from Quantica in the future?
Currently, our primary focus is to complete the development of the first generation of our NovoJet printhead and our NovoJet C-7 printer. This printer is equipped with seven different print heads and we will release it as an open system. So our customers will have a completely free hand in material selection, allowing them to experiment with multi-material 3D printing.
We plan to start shipping at the end of the year and are currently accepting pre-orders. In addition, we plan to launch another system with materials developed and tested by us at the end of 2024. With this, we want to guarantee optimal print quality and user experience. Furthermore, we have an ongoing cooperation with a leading player in the dental industry, with whom we are actively working on the development of a dental printer.
3DN: What excites you most about your professional projects?
As I said, I have the impression that Quantica can deliver what the market has been expecting from 3D printing for a long time: multi-material printing, not just 3D printing in different colors. Of course, it's also incredible to be there when people hold a print like this in their hands for the first time. At Quantica, we're opening a whole new door for manufacturing.
Furthermore, our chemistry department is constantly testing new materials. Just recently, colleagues there managed to print with a liquid alloy that is conductive and can be used for soft robotics or stretchable electronics, for example. This could replace cables and electrodes. Imagine this: Cables could be printed directly into an object. That could be a real game changer.
3DN: Do you have any last words for our readers?
We have only just begun to scratch the surface of the possibilities enabled by our technology. Anyone interested in learning more about Quantica or our technology is welcome to contact me. As mentioned earlier, we are currently accepting pre-orders, but are also always looking for new partners with whom we can continue to push the boundaries of what is possible. You can find out more about Quantica HERE.
What do you think of Quantica? Let us know in a comment below or on our LinkedIn, Facebook, and Twitter pages! Don't forget to sign up for our free weekly Newsletter here, the latest 3D printing news straight to your inbox! You can also find all our videos on our YouTube channel.
*All Photo Credits: Quantica