Combining Recycling and 3D Printing: Projects for the Health of Our Planet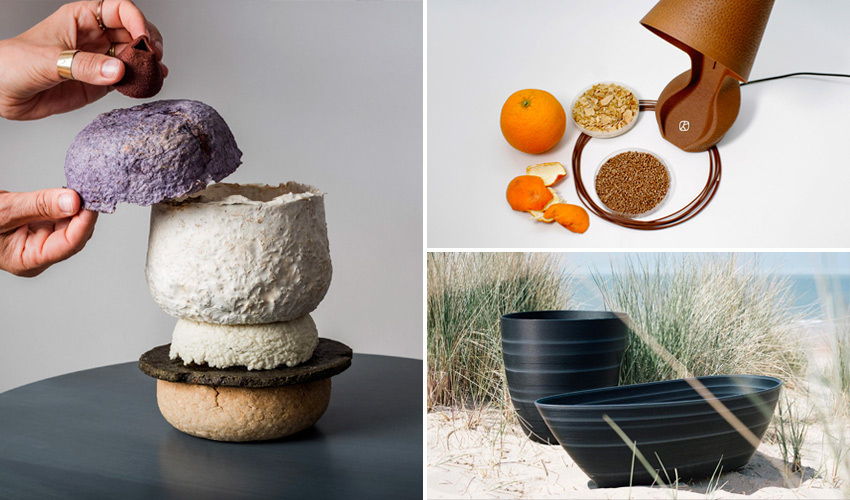 Today is the international day of recycling! As such, we wanted to take a look back at some recent projects that rely on additive manufacturing to help promote recycling. As you know, 3D technologies currently allow us to reduce the consumption of materials, to design parts on demand and to shorten our logistic circuits. They have an impact on our environment that is more positive than traditional methods. But that's not all: 3D printing can also add value to our waste, whether it's plastics or food for example. Some initiatives have indeed developed in this direction. From this waste, printing materials are created and used in the construction of objects and structures of all kinds. Lamps, buildings, furniture, shoes: here is a non-exhaustive list of parts that were made using 3D printing and recycling.
The New Raw Promotes Recycling Through 3D Printing
The Dutch association The New Raw is at the origin of several projects around 3D printing and recycling. Its goal is to transform plastic waste into everyday objects using robotic machines. You may have already heard about their Print My City initiative, which consisted in recycling all the household waste of the inhabitants of Amsterdam in order to 3D print urban furniture. In this way, residents were invited to become aware of their recycling habits and to change them if necessary. The New Raw is also behind the "Second Nature" project, which recycles fishing nets and transforms them into 3D printed shells. Here again, the objective is to raise awareness of the serious environmental problems that threaten our oceans.
A 3D Printed Electric Tricycle
We are now going to Austria and more particularly to Vienna where the design studio EOOS led a very original project last year. It has indeed recovered the waste of various supermarkets in the capital to design a 3D printed tricycle! He recovered 70 kilos of waste that he transformed into 3D printing material. This was then deposited layer by layer to form the chassis of the three-wheeler. The tricycle would be strong enough to carry two adults.
Recycle Your Masks and Plastic Caps
Wearing masks has caused many inconveniences around the world and one of the most important issues is their recycling. How many surgical masks have you seen on our sidewalks and in our streets? In France, the Lorraine Fab Living Lab (LF2L) is participating in the European project INEDIT, which aims to design furniture from recycled plastic. And to meet this goal, the fablab has relied on additive manufacturing: from recycled surgical masks and plastic caps, it extrudes its printing material on a granular machine, the Gigabot X.
Aectual and its Recycled Planters
The so-called Mussel planters were designed and 3D printed by the Dutch architectural firm Aectual. In collaboration with DUS Architects, both organizations have decided to combine 3D printing and recycling in the development of these planter models. Specifically, they have used 100% recycled plastic that has been transformed into manufacturing material to be used in 4 3D printers mounted on robotic arms. The largest planter measures 98 x 40 x 29 cm, while the tallest planter measures 55 x 45 x 49 cm. Hans Vermeulen, co-founder and CEO of Aectual, commented, "We have to get rid of the negative idea that plastic is a disposable product," which demonstrates the company's interest in continuing its commitment to 3D printing to promote recycling.
3D Printed Tableware Made Out of Food Waste
The design studio Barbara Gollackner presented some months ago a most interesting tableware. The components of the tableware were 3D printed, including some plates, cutlery and even bowls. Called Wasteware, the collection has been developed from industrial but also personal food waste. To do this, the waste is transformed into a paste that is then extruded on a 3D FDM food printer. With this project, the design studio aims to fight against food waste and the production of "throwaway" plates and cutlery that have a negative effect on our environment. Thanks to 3D printing, Barbara Gollackner can reuse the waste that is there, recovering it to create new products, or even food, giving voice to the circular economy.
Recycling PLA waste Through Tattoos
Matt Harkness, a student at the University of New South Wales, has come up with an idea that combines tattoos on the human body with the recycling of PLA waste generated in the 3D printing process. Specifically, he has developed a biorecycling machine capable of converting waste granules from 3D printing into a PLA polymer ink that can be implanted into the skin using a specialized device. Once the PLA enters the person's skin layer, it begins the process of hydrolysis through which the body "recycles" the PLA particles and excretes the components through urine or breath. Although the idea may sound crazy, Harkness wanted to demonstrate the capabilities of this material, its recycling and integration into the human body. You can learn more about this process in the video below:
Deciduous, a Pavilion Printed out of Recycled Bottles
One of the key areas where we have seen an increased awareness for more sustainability has been in architecture. While many projects have just used additive manufacturing as it reduces waste, the architecture studio, Middle East Architecture Network (MEAN) has taken it one step further. The studio created a pavilion, named Deciduous, out of 30,000 recycled plastic water bottles. Considering the abundance of plastic water bottles in the world, with one million plastic bottles purchased every minute according to the UN environment programme (UNEP) and the vast majority ending up in the Ocean, this project is certainly an admirable one. The Pavilion was shown at the Dubai International Financial Center (DIFC) and served as a way for visitors to reflect on nature and the amount of waste produced worldwide.
Phoenix, 3D Printed Sneakers Made out of Plastic Waste
Another project dedicated to recycling plastic bottles are Phoenix sneakers from Oliver Cabell. Designed as a way to tackle the growing issue of discarded waste in the world, the website mentions that "300 million tons of plastic is produced every year, with only 9% of it ever being recycled." The shoe is 3D printed from 7 recycled water bottles and is entirely machine washable. Essentially, the plastic water bottles are shredded which are then melted into yarn which is refined and spun through a 3D printing machine for the upper part of the shoe. Though originally priced at $100, it is available on Oliver Cabell's website starting at $59.
3D Printed Displays Made With Biodegradable Materials
The Polish company GREENFILL3D, designs and produces marketing and advertising materials, as well as everyday items, useful gadgets and interior design elements. All projects are made of biodegradable or biocompostable materials, in accordance with the ideas of zero waste and a circular economy. Thanks to 3D printing, GREENFILL3D manufactures individual items tailored to each customer. To do so, they use filaments from three different materials: GF3D Branfill3d (wheat bran material), BioWOOD (powdered wood material) and BioCREATE (compostable material).
OHMIE: The World's First Lamp Made From Orange Peels
Introducing Ohmie, the world's first lamp created from orange peels. It is elegant, chic and provides a warm light, in addition to having a different texture. This lamp is a revolutionary piece of design. Ideal for your living room, your study or your bedroom, OHMIE will give a different touch to your home, while contributing to help the planet. Every year, tons of materials are discarded around the world, why not reuse these materials to create new high quality products, thus avoiding the use of new resources and saving the negative impact on the environment? To make these innovative lamps, you only need the peels of two oranges… and the end result is magnificent! You get a recycled lamp with a velvety finish.
A 3D Printed Pavilion from Recycled PET
In the construction sector, the Royal3D printing service has produced a sort of shelter that can function as a 3D printed workspace. PET, the infamous plastic from which our water bottles and food containers are made, was used to build it. This pavilion is called R-IGLO, and has been designed on the CFAM Prime machine from the manufacturer CEAD. Thanks to design and engineering work, the R-IGLO comes equipped with ventilation, heating, electricity and LED lighting. One of its advantages is that they can manufacture it in any size and color you want, and its manufacturing time is only a couple of weeks. It's an option that adapts to both customer demand and different locations, so it can work both in your workspace or as an exhibition stand!
Azur Printed Homes : Sustainable, Recycled Homes
Azur Printed Homes is a U.S. company that aims to innovate the entire building industry with the help of additive manufacturing. With plans to open a 15,000-square-foot factory in California, the company is relying on 3D printing. Through this, it hopes to produce large structures for homes – and from recycled plastic. This environmentally friendly manufacturing process thus minimizes the amount of waste that would actually end up in landfills. At the same time, it is important for Azur Printed Homes to counteract the pollution in our oceans and also refers to the fact that the construction sector demands the highest consumption of raw materials in the world. With this sustainable and at the same time innovative idea for long-term living, they also counter the fact that the construction industry is responsible for around 20% of the world's total carbon emissions.
R3direct Gives New Life to Waste
Italian company R3direct's mission is to create objects made from 100% recycled post-consumer plastic which are entirely 3D printed. By using additive manufacturing and lots of creativity, the company sees tremendous added value, notably pointing towards the sustainability and longevity of these new 3D printed objects. In the process, former waste is transformed into the important resource. R3direct prints plastic in the form of pellets, meaning that this is not converted into a filament and therefore requires less energy and generates less CO2. The company is made up of a collaboration between designer Stefano Giovacchini and Cresco Lab, a company of creative engineers. Together, they are already able to print objects up to one cubic meter in size, with work currently underway to be able to 3D print much larger objects in the future.
Yuma Labs, du festival à l'imprimante 3D
Have you ever asked what happens to the waste from big festivals? Considering the amount of rubbish strewn around afterwards, you might just realize how high our consumption of everyday items is. To resolve this issue, Yuma Labs has partnered with the world-renowned and popular festival Tomorrowland. Essentially, Yuma Labs will be producing additively manufactured sunglasses that are made from 100% recycled plastic. The material required for this will use 50% from recycled plastic bottles and cups collected at Tomorrowland. Designed, printed and assembled in Belgium, where Tomorrowland always takes place, the bottles and cups are sorted, washed and shredded into small pieces. The waste material is then fed into the 3D printers to create unique and sustainable sunglasses.
What do you think of these projects that are combining recycling and 3D printing? Let us know in a comment below or on our Linkedin, Facebook, and Twitter pages! Don't forget to sign up for our free weekly Newsletter here, the latest 3D printing news straight to your inbox! You can also find all our videos on our YouTube channel