Prodways Integrates Oqton AI Software into Machines for Better End-to-End Control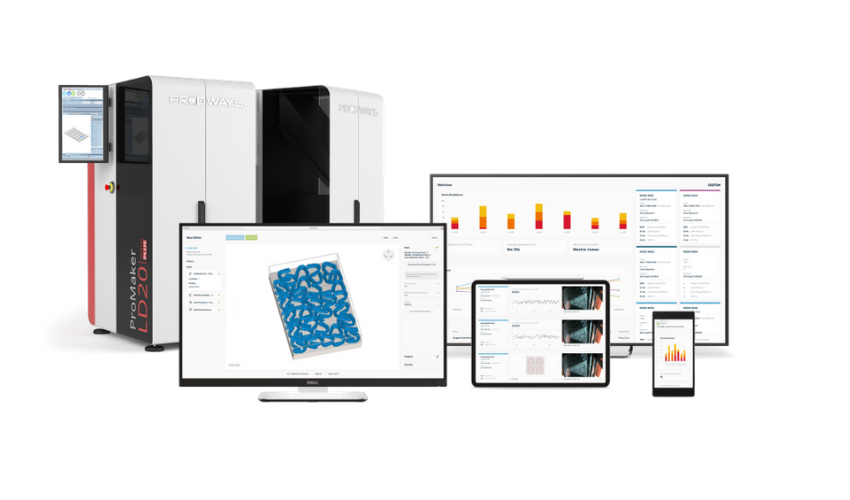 One of Europe's leading manufacturers of 3D printers and digital manufacturing solutions, Prodways, has announced a partnership with Oqton, a software company that specializes in AI-powered solutions for the manufacturing industry, including additive manufacturing, and welding. Oqton software will now be available on Prodways machines, allowing customers to remotely control their platforms, therefore decreasing errors during printing and throughout the additive manufacturing chain. This partnership showcases a growing trend in the AM industry where more and more, users and manufacturers alike are incorporating software and AI to provide more quality printed parts, helping to advance industrial AM.
Software solutions like Oqton have become increasingly popular in recent years. As 3D printing becomes more industrial and AM is used more and more for end-use parts, it is crucial that manufacturers be able to trust that they be able to consistently create parts with no faults. In this case, Prodways believes that automating workflows will bring a number of benefits to their customers. They note that thanks to Oqton, customers will see significant reductions in human error, greater machine productivity and considerable time-savings. The time-savings will be especially evident, as Oqton's software will allow time taken up by the nesting stage (where 3D models are grouped to streamline manufacturing and use of space) to be cut from an average of 1 hour to just 10 minutes. Additionally, the AI will help to cut machine downtime, allowing customers more time for production.
Prodways CEO, Alban d'Halluin expanded on this, explaining: "Adding Oqton means our customers now have a  comprehensive and intuitive one-stop platform that gives them a complete overview of the  production chain and machinery. Our aim is for customers to manage their 3D production easily and with maximum flexibility. The Covid crisis has made this all the more essential, now that working  from home is on the rise and people need to access data and assets from wherever they are. Oqton  is hosted on the cloud, which makes it the ideal solution as customers can interact with Prodways  machines from anywhere at any time." 
Oqton is compatible with any type of machine or software, and is user-friendly. Prodways customers will be able to log in and control machines from anywhere in the world. Oqton's software is also unique in the market, as it is powered by AI unlike many other solutions. The AI algorithms allow the system to learn continuously, thus improving efficiency and quality of pieces. As a result, it will be able to predict how machines will behave, anticipate, and identify malfunctions and adapt for future applications. Prodways notes that its ability to recognize 3D printing files without human intervention will be particularly important in the dental sector, where Prodways' machines have had significant success. Oqton's platform combines a number of capabilities including PLM (product Lifecycle Management) and MES (Manufacturing Execution System) tools into a single platform, eliminating repetitive tasks and generally optimizing production planning.
Oqton CEO Ben Schrauwen sees the relationship as a win-win concluding: "We are delighted to be working with Prodways and offering them a new approach to managing 3D manufacturing processes. With our solution, Prodways customers should see immediate gains in production efficiency and quality. This deep and far-reaching integration of our software into the Prodways range is unique in the industry and an illustration of how this is a win-win relationship." You can find out more information about the partnership  in the press release HERE.
What do you think of Prodways and Oqton's new partnership? Let us know in a comment below or on our Linkedin, Facebook and Twitter pages! Sign up for our free weekly Newsletter here, the latest 3D printing news straight to your inbox! You can also find all our videos on our YouTube channel.
Thumbnail Photo Credits: Prodways