PrintSyst.ai proprietary AI engine enables 3D printing with confidence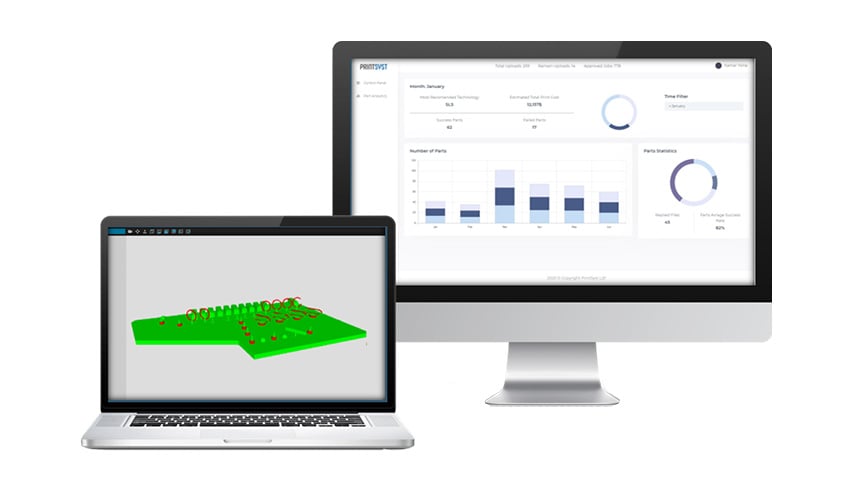 PrintSyst.ai is a startup that has focused over the last couple of years on developing artificial intelligence to solve the significant cost of the pre-printing processes in additive manufacturing. Today, analyzing parts before 3D printing is a crucial step that requires a lot of time, and that bears significant risks to company's ability to meet the desired lead times and regulations. Moreover, this manual process results in a high average rate of parts that turn out dysfunctional. Recently, PrintSyst.ai announced the launch of its next generation proprietary AI engine, the 3DP AI- PerfecterTM. This tool will enable industries such as aerospace, defense and automotive to fully leverage the potential of 3D printing by significantly increasing printed parts' consistency and reliability while reducing labor, time and cost. To learn more we spoke to Itamar Yona, CEO and Co-Founder of PrintSyst.ai!
3DN: Can you present yourself and tell us about your relationship with 3D printing?
Itamar Yona is the Co-Founder and CEO of PrintSyst.ai, which enables 3D printing with confidence using an advanced AI engine. Itamar is an accomplished 3D printing expert and mentor, who combines his passion for 3D printing with strong technological background. Itamar is a third generation in the printing business and has a B.Sc degree in Electrical Engineering.
3DN: Why did you decide to create PrintSyst.ai?
PrintSyst.ai grew from a deep understanding of the problems and pain points that 3D service bureaus constantly face, and especially as they print industrial-grade, sophisticated parts. My brother and I are deeply rooted in traditional printing; we began offering 3D printing as a service, we received a lot of jobs and even more questions. These questions led to answers that formed a bridge to understanding additive manufacturing and helped clients to make the most of the new technology.
PrintSyst.ai is the golden child of this. Powered by an AI engine and machine learning, PrintSyst.ai automates workflows and turns 3D service bureaus and manufacturing engineers into instant 3D printing experts. PrintSyst's proprietary 3DP AI-Perfecter™ enables any operator to learn without making costly mistakes.
3DN: Can you tell us more about the benefits of PrintSyst.ai for the AM workflow?
In a nutshell, you have a tool that gives you piece of mind; you have instant, automatic and accurate pre-printing part analysis, that could save more than 99% of the preparation time & cost. It is a scalable tool and using it is extremely user friendly and simple, on the contrary to the state-of-the-art technology that lies beneath.
3DN: Who is PrintSyst.ai meant for?
We're looking to collaborate with 3D printed parts supply providers. Our main target markets are the Aerospace & Defense, and Automotive, since we believe that the value we bring to the table is the biggest for these highly regulated, highly demanding industries. We also collaborate with leading research institutes as we strongly believe in the synergies between industry and academia when dealing with cutting edge technologies like ours.
3DN: Any plans for the future?
Our vision is to ultimately standardize the additive manufacturing industry workflow. PrintSyst's solution has the potential to change the way people 3D Print and grow the market, thanks to improved reliability, consistency and cost structure. The COVID-19 crisis is actually an opportunity for the 3D Printing industry, which enable supply chain diversification, and we believe that PrintSyst's solution can support its growth.
3DN: Any last words for our readers?
Additive Manufacturing or 3D Printing is still new for many people, but workflow solutions like PrintSyst's 3DP AI-Perfecter™ are changing this industry face. The shift from manual pre-printing processes to fully automated, reliable and scalable production is part of the Industry 4.0 revolution. These are indeed challenging and exciting times and those with the vision and execution capabilities will definitely reap the fruits. You can find more information HERE.