Interview with PrintStones about their mobile concrete 3D printing solution
---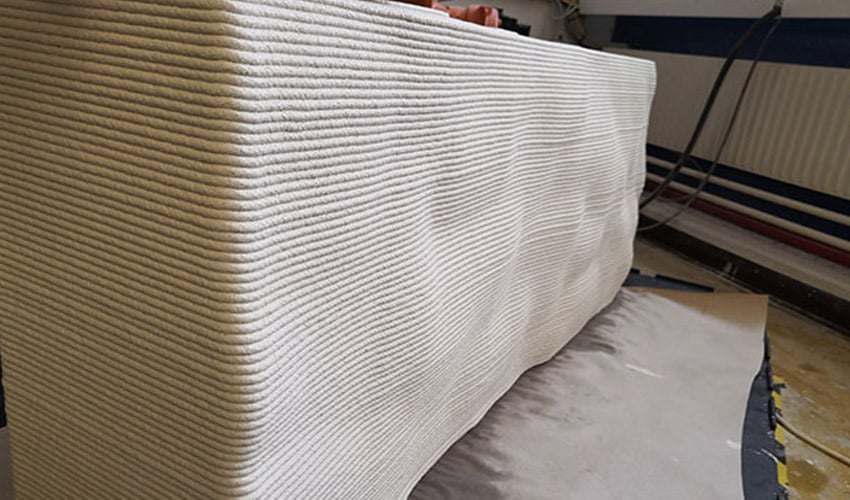 The startup PrintStones from Vienna deals with the automation of construction operations. They focus on the development of a 3D printing technology for concrete and similar materials, which are used directly on site. This eliminates the need to work with formwork elements. We had the opportunity to get to know PrintStones better through an interview with Herwig Hengl!
3DN: Can you briefly introduce yourself and your connection to 3D printing?
I am a structural engineer and until about 5 years ago I had hardly any connection to 3D printing. I discovered additive manufacturing during my time as a university assistant at the Institute of Mechanics of Materials and Structures.
At that time I was working with finite element simulations and found the topic of topology optimisation very exciting. The aim is to remove weakly stressed zones of an object under load in an iterative process. The result is organic-looking structures with high stiffness and reduced volume. When I was looking for a way to create these objects, I came across additive manufacturing. Our concrete 3D printing activities started about 2 years ago, when we were accepted and supported by INITS, the high-tech business incubator of the city of Vienna.
3DN: Can you tell us more about the 3D concrete printing technology you developed?
The "PrintStones X1" is an early prototype of a mobile construction site concrete 3D printer. Concrete elements up to a size of about 1 m3 can currently be printed. The maximum web speed of the nozzle is currently about 0.2 meters per second. The 3D printer can be used both outside and inside and eliminates the need for conventional shuttering of concrete elements subject to pressure. The process is comparable to FDM, with each layer consisting of an outer contour and a filling pattern. The material preparation is fully automatic via a mini-concrete plant. The recipe can be varied during the printing process, for example to print heavily loaded zones with high-strength material. By using infill patterns, material consumption is also lower than with conventional formwork construction. This is particularly interesting for concrete, since cement production is responsible for about 8% of global CO2 emissions.
3DN: What kind of applications do you want to realise? What are your future projects?
Our first application is 3D printing of concrete paving. In contrast to the additive production of buildings, we are getting to market faster here. The 3D printing of paved surfaces is more ecological and protects the health of workers. In addition, we will open up completely new possibilities for landscape architects.
The disadvantage is the speed, at the moment we are about 30-60 minutes per square meter. But we are not interested in producing as many elements as possible in as short a time as possible. It is much more interesting to create a new type of paving surface that exceeds the technical and aesthetic properties of available solutions – quality before quantity.
3DN: What are the technical challenges of (mobile) concrete 3D printing? What are the benefits?
The biggest challenge at the moment is the issue of reinforcement. Since concrete has a relatively low tensile strength, components that are subjected to bending or tension are usually reinforced by steel elements. Many companies and universities worldwide are researching reinforced concrete 3D pressure. There are many different approaches, from manual insertion of reinforcement bars, unrolling of wire coils and insertion of various fibres to additive production of reinforcement bars via build-up welding.
The advantages of concrete 3D printing lie in the freedom of form and the possibility to produce individual pieces at low cost. You also need less space as no shuttering panels or moulds have to be stored. Furthermore, in principle "On Demand" can be produced – however, you have to wait 24 hours until the concrete object is shipped, then the concrete object already has about 40% of its final strength.
With mobile concrete printing, there is no need for installation and some logistics, as the objects are printed directly at the place of final use.
3DN: How do you see the future of 3D concrete printing?
In the immediate future, the production of shells and pressure-stressed components will be interesting. In the long term, a number of problems still need to be solved, such as regulatory issues in the construction industry in addition to reinforcement issues.
3DN: A few last words to our readers?
Once a month we will offer limited 3D printed concrete design elements for sale. You can find more information HERE.
What do you think of PrintStones?  Let us know in a comment below or on our Facebook and Twitter pages! Sign up for our free weekly Newsletter, all the latest news in 3D printing straight to your inbox!
---
You may also like