PrintLab, a platform to introduce teachers and students to 3D printing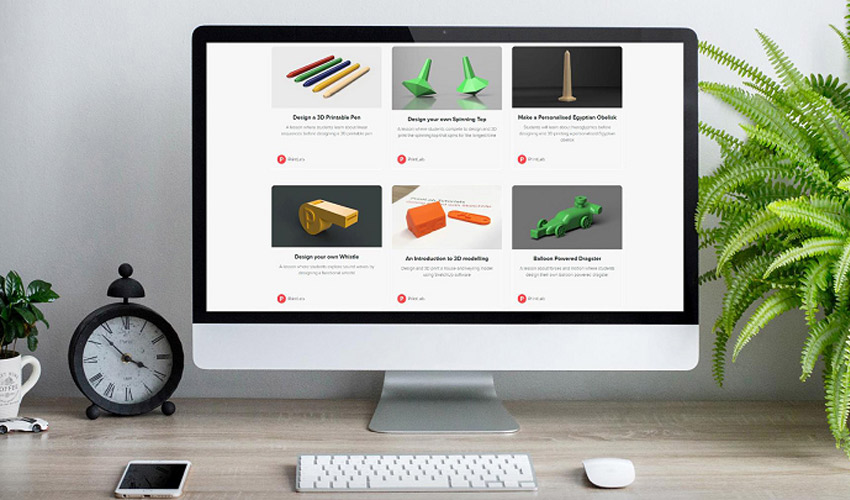 Learning the basics of 3D printing is gradually starting to take place in schools, even more so in universities where students are learning in greater depth how to apply the technology. It must be said that qualified people in additive manufacturing are greatly needed in the professional world and learning how to use 3D printing technologies from an early age will be a big asset to become qualified. The company PrintLab, based in the UK, has decided to ride this wave: it develops online courses and provides resources for teachers to pass on to students. The PrintLab Classroom annual license gives them access to a variety of resources (slideshows, workbooks, etc.) to easily integrate 3D printing into their classrooms.
3D printing can be difficult to grasp and master – it uses many different processes, materials, software, etc. At the same time, it is important to learn the basics quickly as the technology is rapidly changing, especially in the professional sector. It is often seen as a competitive advantage, and a candidate who already has some experience or knowledge can get a head start. What could be better than discovering 3D technologies in the classroom then? With this in mind, PrintLab has designed its annual license that offers teachers a quick and easy way to teach their students the basics of 3D printing.
Printlab, online courses to discover 3D printing
There are two types of licence currently offered by PrintLab: one for a teacher, and another for an establishment which needs an unlimited number of accounts. In both cases, the license delivers a diploma to the teacher, certifying that he has all the necessary knowledge in 3D printing to be able to teach it to the students. In 4 hours, the teacher will go through the basics of design and slicing and will learn a few techniques to integrate the technology into the lessons, awaken the students' curiosity without straying too far from the program, etc.
Nick Mayor, co-founder of PrintLab adds: "Since the launch, we have been blown away by the growing interest in PrintLab Classroom around the world. With around 50 resources and a growing number of users, our main goal is to enable teachers to use the platform in multiple languages. Our aim has always been to prepare the next generation for their future careers and to find partners who share our conviction and vision and with Makershop we have found an inspired team who are committed to inspiring the next generation."
With a license, the teacher can access multiple online resources and download presentations, workbooks and tutorial videos. One of the resources available for example consists of modeling on TinkerCAD and 3D printing a whistle – a course that fits perfectly when you want to learn more about sound waves. Stuart Lawn is a user of the platform via the Manorhamilton FabLab and explains: "The kids loved it and we managed to get a working whistle at the end! One of the kids loved it so much that he convinced his father to buy a 3D printer kit and they spent the weekend building it together!"
This type of project will stimulate students' creativity, but also their logic and analytical skills. It is a very concrete and playful way to teach them abstract notions.
What do you think of PrintLab? Let us know in a comment below or on our Facebook and Twitter pages! Sign up for our free weekly Newsletter, all the latest news in 3D printing straight to your inbox!