Printing larger parts with Modix Modular Technologies 3D printers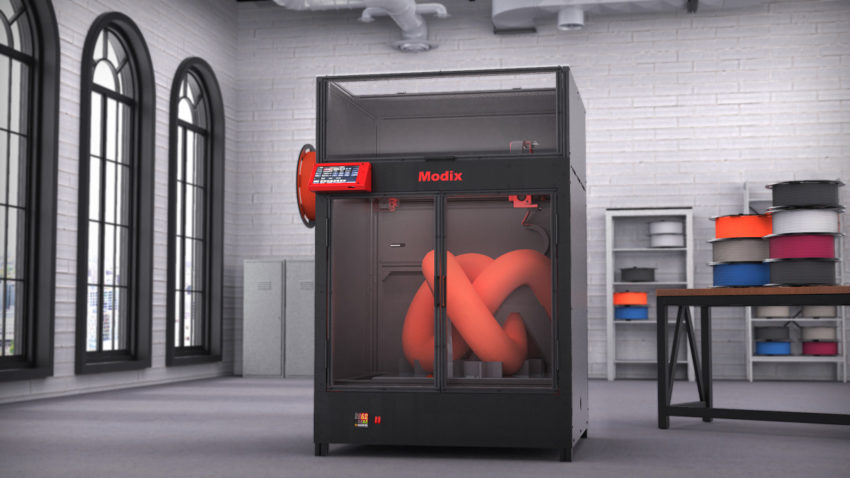 Modix Modular Technologies is an Israeli manufacturer behind the Modix BIG line of 3D printers, designed, according to the manufacturer, to print large, industrial-quality parts. Six models are available today, with a first series of compact single-head machines and a series of high-volume, double-extrusion machines. Atome3D is the official reseller in France, though the company can also deliver to certain other European countries.
Modix Modular Technologies was founded in 2014 by Shachar Gafni in Israel. In the past, this was the most important market for the brand as it has marketed numerous machines to schools and universities in the country. However, in 2016 the brand came onto the international stage when they started to focus on the development of large 3D printers. In particular, they introduced the BIG-60 and BIG-120 machines with a price range from 3800€ HT (for the BIG60 V3) to 13500€ HT (for the BIG 180X in assembled version).
Plug & play machines or in a kit
In addition to offering machines that include a large printing platform, Modix is unique in that it offers its range of FDM machines in a kit version, which is less common in the professional 3D printer market. The goal behind is obviously to offer more affordable models. Atome3D still does offer the more classical Plug&play version though for clients not willing to spend time on assembly.
Among the first French users of Modix machines, there is for example the sculptor Patrick Laroche, France's best craftsman, in his large-scale creations. "The advantage of Modix compared to other machines is that it offers a volume that makes it possible to make large pieces in one go, no need to take a piece, cut it, reassemble it. I think the 60×60 model is a great machine to work with." 
In terms of features, the machines from Modix Modular Technologies offer an open architecture, a closed cabinet, a large 7-inch touch screen and the ability to choose from several extrusion nozzles according to your needs in terms of speed or print quality. They also include interesting components such as a Hot End Volcano V6 and an Aero extruder from E3D.
What do you think about the grand format Modix printers? You can find out more about them at their official site HERE, or you can get one from Atome 3D's website! Let us know in a comment below or on our Facebook, Twitter and LinkedIn pages! Sign up for our free weekly Newsletter here, the latest 3D printing news straight to your inbox!