What Are the Available Post-processing Solutions for 3D Printing?
Published on January 26, 2023 by
Aysha M.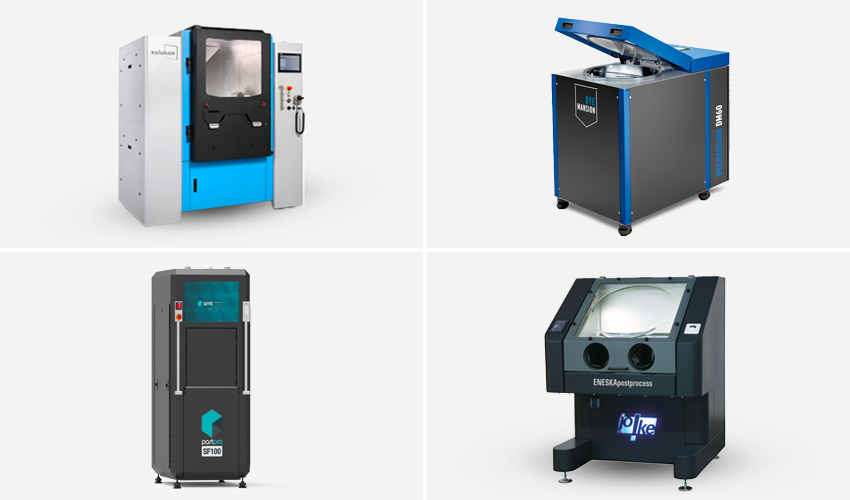 The additive manufacturing process rarely stops once your 3D printer has completed the part. Often, it takes varying amounts of time to complete post-processing steps, depending on the printing technology used. In fact, a recent study showed that the biggest challenge in post-processing in 2022 was the time required to complete it – 55% of respondents still feel it is too time consuming. This is surely one of the reasons why some manufacturers are coming up with faster, more accessible and automated solutions, regardless of the method used. We have therefore decided to present the post-processing solutions available on the market by classifying them by process: cleaning of the part, whether to remove excess material and/or supports; surface treatment and finally coloring. Each post-processing solution is listed by the name of its manufacturer, in alphabetical order.
But before we begin to introduce you to these solutions, please note that we will only focus on the manufacturers of the actual post-processing machines. As you know, many 3D printer manufacturers have also developed an offer dedicated to post-processing – Formlabs, for example, with its cleaning and heat treatment solutions, or SLS specialists who offer de-powdering machines. We decided not to include them in this article.
Cleaning of the part
Once the 3D printer has finished the part, the piece is rarely usable as is, and often a step is required to remove excess material: this is called de-powdering in the case of powder bed technologies – metal or plastic – or cleaning in the case of resin technologies. In some cases, you will also need to remove the print supports: some are easily removed by hand, but when it comes to metal processes, a machine is required.
AM Solutions C1
3D-printed products made of photopolymers with a size of up to 340 x 440 x 170 mm (L x W x H) and where the detail of the object is particularly important can be post-processed with the C1 from AM Solutions. Support material and resin are removed gently but efficiently with the help of mechanical action and heat. Furthermore, the standard settings can be changed and thus customized according to the part. To ensure quality assurance for industrial applications, the data logger documents various process variables such as temperature, treatment time and others. In addition, operating costs can be kept to a minimum, as the machine ensures economical use of the compound through level monitoring and saturation sensor.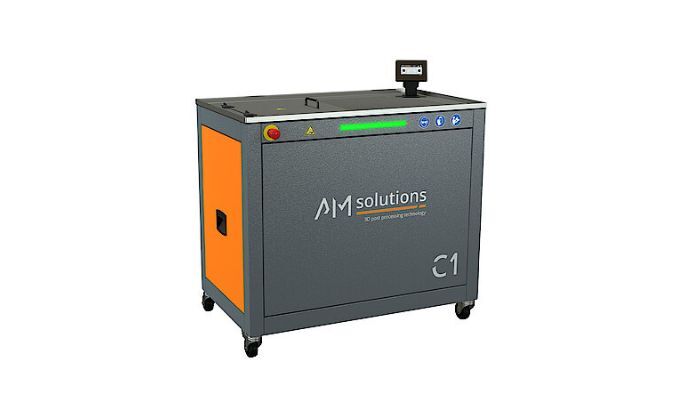 Joke Technology's ENESKApostprocess
For around 80 years, Joke Technology GmbH has been dedicated to the field of surface technology. This also includes those for additive post-processing. Behind this machine, which will be presented at Formnext in Frankfurt in 2019 and bears the name ENESKApostprocess, is a depowdering system. But here, the capabilities of the ENESKApostprocess machine are not only limited to the removal of excess powder, but also for the separation from the substrate plate or even the removal of support structures, this post-processing machine can be used without any problems. Due to the dust released during post-processing, which can lead to serious illnesses when inhaled, the ENESKApostprocess is a completely enclosed and housed machine, which also has the necessary extraction and filtration equipment.
Quill Vogue and its Wash Static Station
Manufacturer Quill Vogue offers several cleaning solutions for 3D printed parts. The Wash Station Static solution is designed for post-processing 3D printed parts using Stratasys PolyJet technology.
According to the manufacturer, the machine is easy to use and capable of removing print media in less than 5 minutes through the use of pressurized cold water, ensuring an optimal result. In fact, it is equipped with a wide-angle jet for fast material removal and a powerful, concentrated precision jet for complex geometries. It also comes with an LED for better visibility, easy-to-use foot controls, a filtering distem and a soundproofing system that makes it especially quiet. The machine is available in two sizes, standard and XL, and in both open and closed formats.
PULVERMEISTER's Typ 4 Offers Powder Cleaning
The Typ 4 is the most recent post-processing machine from PULVERMEISTER, a German manufacturer of post-processing solutions for powder plastic based 3D printing. The Typ 4 features the company's proprietary solution which allows components to be removed while the used powder can be recycled for the next print. The machine has a size of 1.3m x 1m x 1m, with a weight of approximately 280 kg. It is simple to use, with operating parameters that can be adjusted with one scale. You can change the extent of depowdering, and the part stress. Furthermore, the Typ 4 can process 20l of product in under 15 minutes, producing ready parts in a very short time frame.
The machine offers many advantages: the reusability of the pure used powder, short working times and finished parts of a consistently high quality. In terms of eco-friendliness and money savings, the entire process uses low energy. The PULVERMEISTER Typ 4 is available for order on the company website.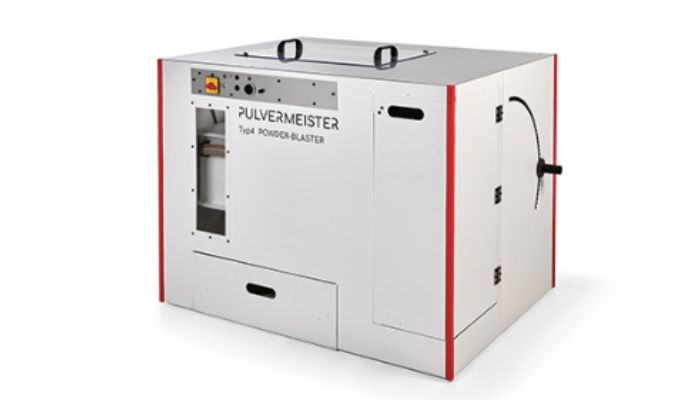 Solukon and its SFM-AT200
Solukon, a German company located in Augsburg, Germany, is a major player in the field of automated de-welding in the additive manufacturing sector. It offers industrial post-processing systems. Among the solutions offered by the manufacturer is the SFM-AT200, which is an entry-level de-powdering solution for efficient and thorough cleaning of laser-fused metal parts. The powder removal process is based on Smart Power Recovery technology. Placed in a sealed chamber, the printed material is cleaned using targeted vibrations and automated rotation. This technique speeds up the post-processing process by up to 90 percent. In addition, the SFMAT-200 complies with safety standards, as the machine is explosion-safe. It is suitable for medical and laboratory applications where high cleaning accuracy is required. Finally, Solukon's post-processing solution allows the metal powder to be reused to design new parts without overexploiting the raw materials.
Surface finishing
Surface finishing is a process that ensures that each part meets its specifications, such as the desired average roughness and dimensional consistency, while keeping the fine details of the 3D printed part intact.
3DFinisher, the Post-processing Solution From 3D Nextech
The Italian startup 3D Nextech emerged as a spin-off of the Scuola Superiore Sant'Anna, in Pisa, with the aim of developing new products and technologies in the world of 3D printing and digital manufacturing. One of its most outstanding solutions is the so-called 3DFinisher, intended for the professional and automated post-processing of ABS, ASA and cellulose acetate parts. This machine is ideal for the additive manufacturing industry as it provides a quality surface finish to FFF 3D printed parts. Since this technology usually leaves some roughness on the parts, solutions such as the 3DFinisher allow improving the mechanical properties, as well as their final aesthetic performance, with results similar to injection molding.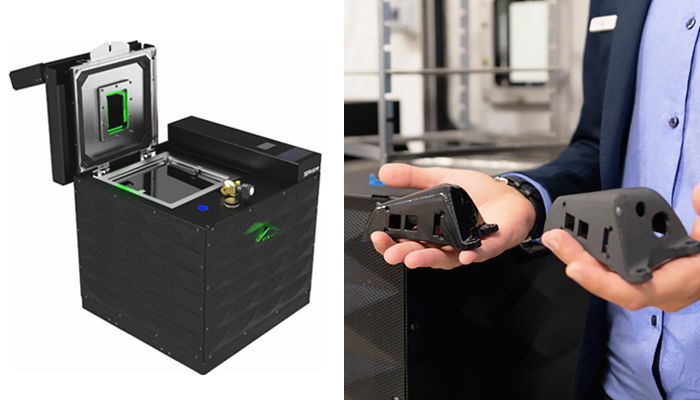 The PostPro SF100 from AMT
PostPro SF100 is one of the post-processing solutions offered by AMT for the surface finishing of 3D printed polymer parts. The machine uses AMT's proprietary chemical vapor smoothing (Vapor Smoothing) technology that smooths and seals the surface of parts.
Equipped with an automation system and a 100-liter chamber, the PostPro SF100 solution is designed for large volumes and, according to the manufacturer, increases productivity efficiency while reducing the cost per part.
The machine features a compact and ergonomic shape that therefore does not take up much space and is easy to operate. According to AMT, the chemical vapor sanding technology not only improves the surface and thus the appearance of parts, but also improves mechanical performance and seals the surface to facilitate cleaning, dyeing and coating, while maintaining dimensional accuracy without fixing marks.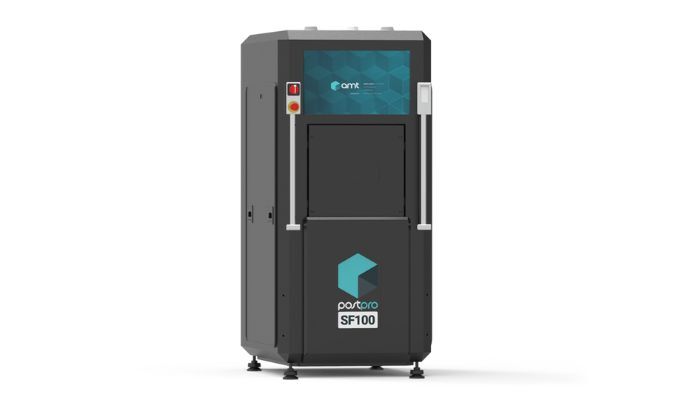 DLyte – DLyte Pro 500
"The DLyte series consists of machines based on the patented DryLyte® technology for surface finishing of metal alloys for industry. The DLyte Pro 500 is one of the most advanced, powerful and versatile machines on the market, offering fully automated, high-quality finishing. DryLyte® technology is an innovative finishing technique and the first dry electropolishing system designed to improve the surface finish of metal components. The machine is equipped with 8 perimeter spindles, with a maximum volume of 200 x 300 mm each, which allow the polishing of several parts using different supports. It also integrates a central spindle for larger parts (500 x 300 mm). Among its hardware features we highlight the ease of access, its low maintenance costs, customization of configurations, exhaust system with carbon filter and no dust emission. It respects part tolerances providing a mirror finish and homogeneous results while avoiding possible side effects such as oxidation or orange peel.​​
The Smoothit from Metalizz Smoothes And Finishes Polymer Parts
The Smoothit offers automated surface smoothing of 3D printed polymer parts, compatible with a range of technologies including SLS, MJF, FDM, SLA, DLP.  The machine uses a MiM – Measured Incremental Multilayering – process. When used in conjunction with the Metalfog machine, colored finishes with a metallic sheen can be achieved using the proprietary Look Like Chromium® application. In terms of the ideal application for the machine, the fast prototyping means the Smoothit is perfect for design tasks and production operations. 
Smoothit offers quick, ultra smooth finishing, with simple cleaning and finishing operations. It comes fully equipped with an intuitive touch-screen interface and decontamination system, and unused varnish can be recovered for future use. The machine allows optimized production times with an average cycle time of just 5 minutes. It uses chemical reagents of a high solid varnish over 85% and with volumes up to 10 litres. If the environment is a concern, rest assured that the Smoothit is eco-efficient and environmentally friendly, as well as being safe for users. Fully made in France, the Smoothit is a good choice for polymer part finishing.
PostProcess – DECI Duo
PostProcess Technologies has dedicated its DECI Duo post-processing machine to surface finishing as well as the removal of support structures from 3D printed parts. This is specifically a multifunctional system, which works fully automated and is also space-saving. You can use the DECI Duo machine with 3D printing materials such as resins, thermoplastics and also metals and can benefit from fast working times – even with complex geometries! Of particular note here is the Thermal Atomized Fusillade (TAF) technology, which involves two jet streams that emit vertically targeted pressure waves. Consisting of compressed air, cleaning agent and suspended particles, parts can thus benefit from an optimum surface finish.
Coloring
Coloring, also referred to as dyeing, is typically the third step in post-processing of the printed parts. It's usually the white parts that are most suitable for dyeing.
DyeMansion – DM60
The German manufacturer DyeMansion offers one the best industrial coloring solutions on the market, the DM60 machine. It uses DyeMansion's DeepDye Coloring (DDC) technology, which allows mid-size build jobs to be completed in less than 150 minutes. The machine arguably offers the largest color variety on the market, with 170 RAL colors, specific colors for the automotive industry, and the possibility to match any other color of choice!
To make a rather complex process more user-friendly, RFID chips are placed on all color cartridges. The chips save information about material, volume, finish, and color. These parameters allow to adjust the color for your material and surface. Once you scan the cartridge on the DM60 to transmit all process-relevant information to the system, everything else happens automatically! In fact, DyeMansion offers a full print-to-product workflow, which includes all stages of post-processing. In other words, the company offers not only coloring machines, but also cleaning and surfacing solutions.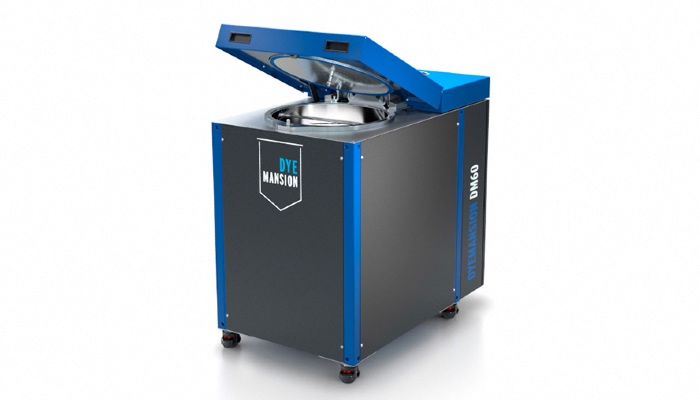 Girbau – DY 130
Girbau is a Spanish company specialized in the 3D printing sector. It has developed the DY 130, a post-processing machine that provides a colored finish for parts made only on HP Multi Jet Fusion 3D printers. This solution integrates various predefined programs to dye products. It is optimized to color parts in black, but other colors can be tested by the customer. In addition, Girbau's machine is automated and does not require supervision, making it easy to use. The DY 130 is also equipped with an internal tank to recycle the dye used for at least 5 times. Finally, according to the Spanish manufacturer, this post-treatment process offers a reduction in the cost of a piece by half compared to other automatic dyeing equipment available on the market.
What do you think of the different post-processing solutions that are available for 3D printing? Let us know in a comment below or on our LinkedIn, Facebook, and Twitter pages! Don't forget to sign up for our free weekly Newsletter here, the latest 3D printing news straight to your inbox! You can also find all our videos on our YouTube channel