What are the available post-processing solutions for 3D printing?
Published on October 29, 2020 by
Aysha M.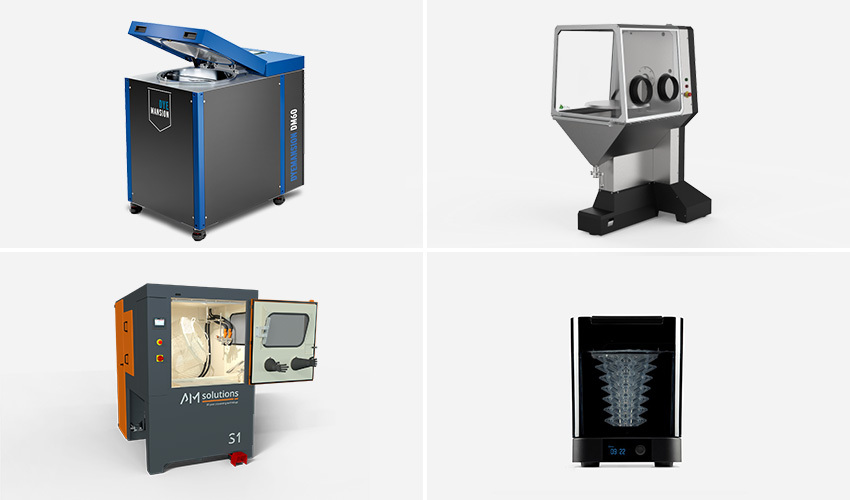 The additive manufacturing process does not necessarily stop once your 3D printer has finished the part. Often, some  relatively lengthy post-processing steps are required depending on the printing technology used. In fact, a recent study showed that one of the challenges of post-processing is the time it takes to complete it – 46% of respondents said that post-processing took them between 11-25% of the total production time. This is surely one of the reasons why some manufacturers are looking for faster, more accessible and automated solutions, regardless of the method used. We have therefore decided to present you  the post-processing solutions available on the market by classifying them by process: cleaning of the part, whether it be removing excess material and/or supports; surface finishing, and finally coloring. They are listed in alphabetical order.
Cleaning of the part
Once the 3D printer has finished the part, the piece is rarely usable as is, and often a step is required to remove excess material: this is called de-powdering in the case of powder bed technologies – metal or plastic – or cleaning in the case of resin technologies. In some cases, you will also need to remove the print supports: some are easily removed by hand, but when it comes to metal processes, a machine is required.
AmPro Innovations and its G4 Glovebox
Developed by the Australian manufacturer AmPro Innovations, the G4 Glovebox is a solution to remove powder from your parts easily thanks to its rotary table. Simply place your part (maximum volume of Ø575 x 400mm) on it to proceed with cleaning, even on the most difficult-to-access areas. The machine offers a totally inert environment for maximum safety. It can also recover unsintered powder for fast transfer. The G4 Glovebox is compatible with the majority of 3D powder bed printers.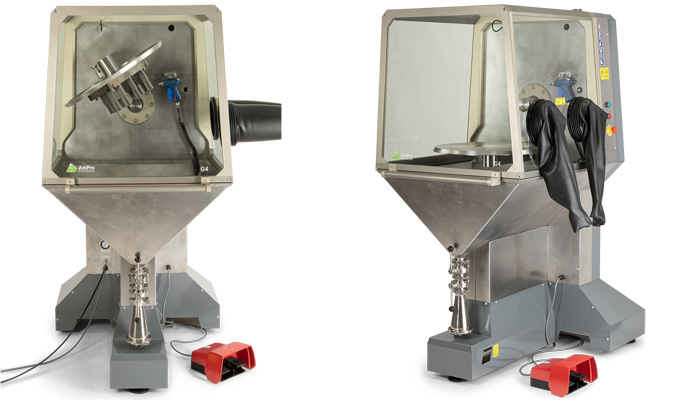 AM Solutions by Rösler and its post-processing solution S1 Basic
AM Solutions is one of the brands of the Rösler Group, a specialist in surface treatment. Among its solutions is the S1 Basic, the manufacturer's most affordable machine. It removes all the powder from your parts and cleans them thoroughly, thanks in particular to a tray that offers optimal circulation of the parts. It is equipped with automatically swivelling blowing nozzles for safe loading and unloading and complies with ATEX regulations. A shot blasting option (automatic or manual) is also available, allowing you to improve the final appearance of your part. AM Solutions also offers several machines dedicated to surface treatment.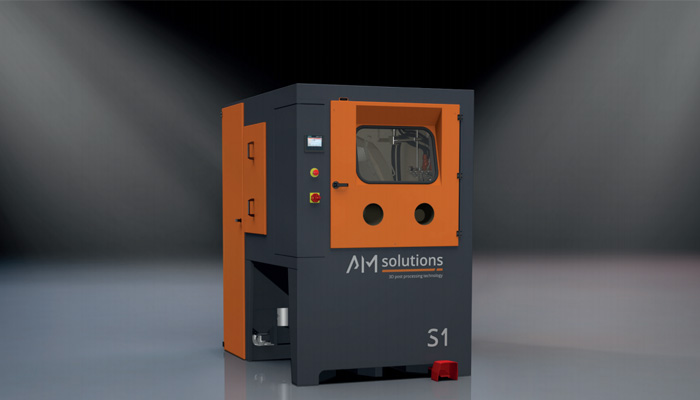 Formlabs and its Form Wash
The Form Wash is a cleaning system developed by Formlabs. Launched in 2017, it consists of a cleaning tank in which the parts are placed after printing. In just 15 minutes, the pieces are subjected to an isopropyl alcohol agitation, which accelerates their cleaning and allows the removal of supports without damaging the final pieces. This cleaning solution allows to clean up to 70 prints coming from the Formlabs 3, avoiding as well that the pieces spend a lot of time in alcohol and can be deformed. The Form Wash is complemented by the brand's curing solution: Form Cure, a system that helps reinforce the final parts by optimizing their properties and preventing deformation when exposed to UV rays.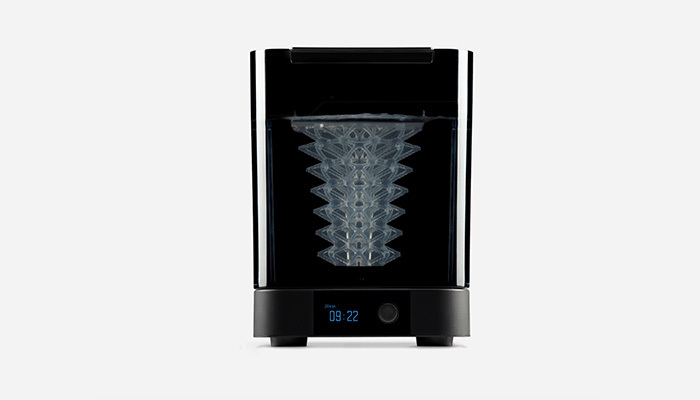 Quill Vogue and its Wash Static Station
The manufacturer Quill Vogue offers several cleaning solutions for your 3D printed parts, including PolyJet technology. Its Wash Static Sation post-processing machine removes the print supports created by Stratasys' PolyJet machines with cold pressurized water, thus guaranteeing an optimal result. Available in two sizes, standard and XL, and in two formats, open or closed, it is a silent and easy to use solution. According to the manufacturer, 5 minutes are enough to completely clean your room. Please note that they also offer a solution for coloring 3D printed plastic parts.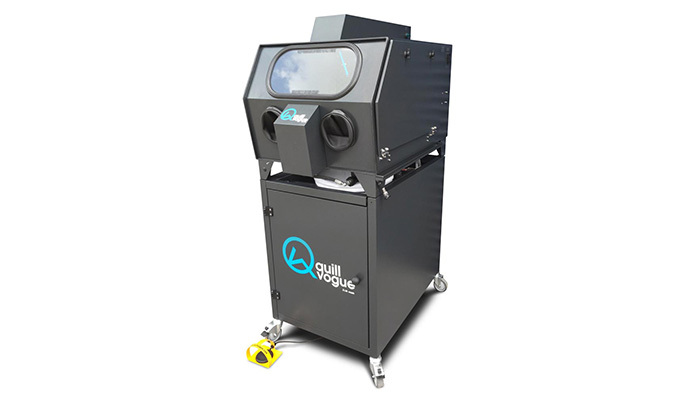 PostProcess and its DEMI
The DEMI solution from PostProcess, part of their Submersion Series, allows the removal of supports and resin once a part has been 3D printed. More precisely, the machine uses the company's patented Submersed Vortex Cavitation (SVC) technology and removes PolyJet and FDM supports or excess resin in an automated way. The parts are rotated inside the machine's chamber, then, thanks to the combined optimal energy delivery and detergent filtration, supports are uniformly removed quickly. Of course, it's key that parts are not damaged during this process, which is why PostProcess has introduced sensors to adjust the agitation inside the chamber in real-time. DEMI integrates a few additional features for ease of use and smooth integration into companies' 3D printing operations such as advanced filters for extended detergent life or a fully insulated tank to keep the temperature consistent for energy efficiency. Finally, PostProcess offers a wide range of solutions beyond the DEMI for all types of post-processing steps like surface finishing for example or software to automate the removal of resin and supports.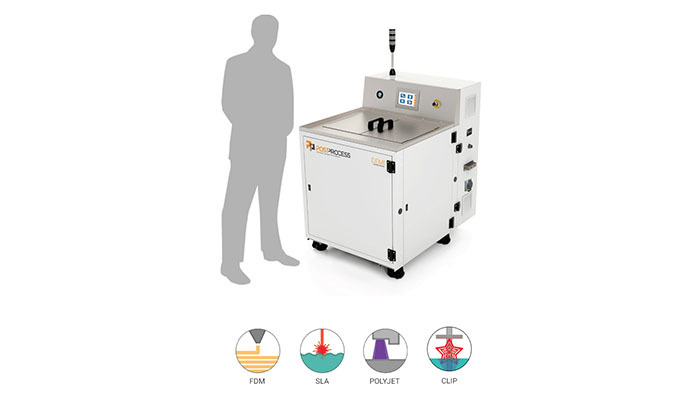 Solukon and its SFM-AT 1000-S
The SFM-AT 1000-S from the German company Solukon, has been optimised for the automatic depowdering of parts with a height of up to 1 meter. The design of the machine was specialised to clean tall parts with internal channels and hard to access geometries like compact rocket-propulsion engines. Therefore, the system, which is actually an upscale of the SFM-AT 800-S, retrieves the residual metal powders, whilst meeting high requirements in terms of EHS (Environment, Health and Safety). The technology from Solukon is based on the combination of two servo-drive axes with endless rotation and adjustable high frequency vibration. Additionally, the machine allows manual cleaning with compressed air or inert gas if needed. The process chamber is designed with smooth stainless steel parts for easy cleaning and to ensure that there is no potential ignition source. On top of this, the chamber is monitored closely to avoid any explosion when working with reactive metal powders thanks to an inert gas infusion system. This also means that the collected powder after depowdering is immediately ready for recycling.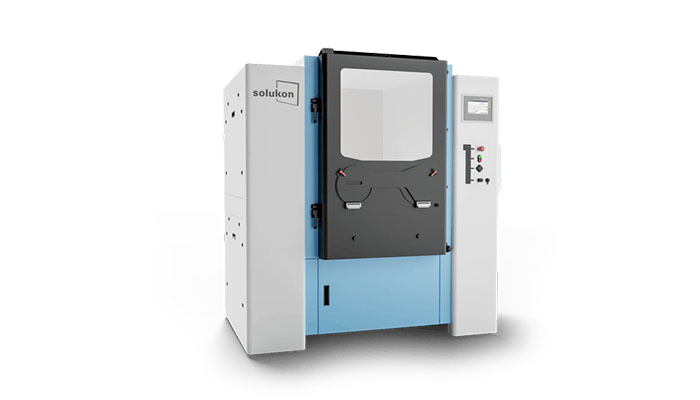 Surface finishing
Surface finishing is a process that ensures that each part meets its specifications, such as the desired average roughness and dimensional consistency, while keeping the fine details of the 3D printed part intact.
Additive Manufacturing Technologies – PostPro3D
The company Additive Manufacturing Technologies, founded in 2017, offers industrialized additive manufacturing solutions that are safe, sustainable and accessible, a viable and real alternative. Its patented PostPro3D® technology is an automated post-processing solution capable of smoothing 3D printed parts and giving them an injection-molded surface quality. Its building chamber has a size of 600 x 400 x 400 mm, allowing to process many parts at the same time. Based on the BLAST™ process, the PostPro3D machine reduces delivery time and manufacturing cost. In addition, the company offers powder removal solutions, such as PostPro®DP, a system capable of cleaning parts developed with  powder bed technology in just 10 minutes.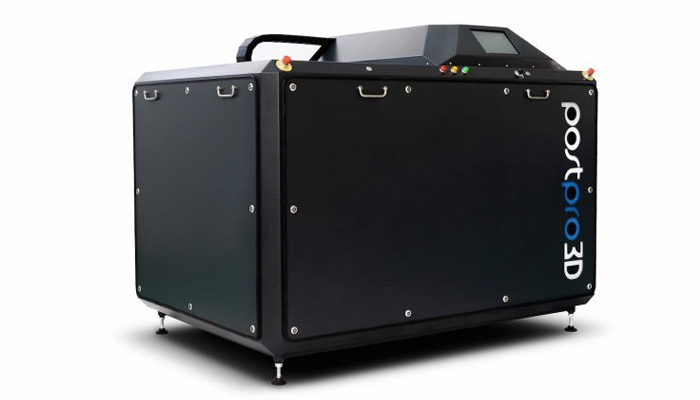 DLyte – DLyte Pro 500
DLyte is a world leader in the development of equipment for metal surface finishing. Its main goal is to reinvent the way manufacturing equipment produces quality metal surfaces, providing the most advanced solutions. Its DLyte Pro 500 is one of the most advanced, powerful and versatile machines on the market, offering a fully automated high quality finish. It is equipped with 8 perimeter spindles, with a maximum volume of 200 x 300 mm each, which allow the polishing of several parts using different supports. It also integrates a central spindle for larger pieces (500 x 300 mm). Among its hardware features we highlight the ease of access, low maintenance costs, customization of configurations, exhaust system with carbon filter and no dust emission.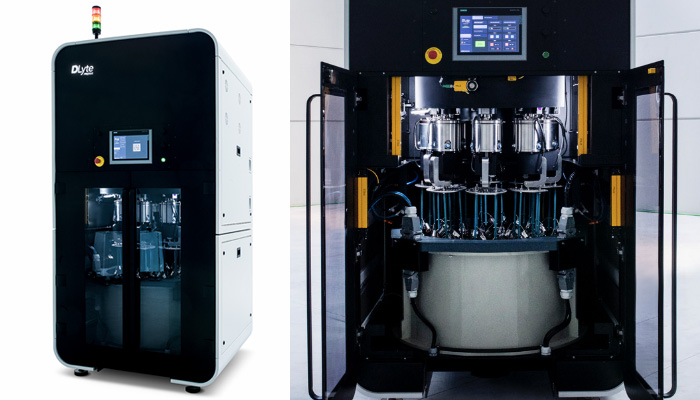 Metalizz – MetalFOG
The French company Metalizz launched the MetalFOG® premetalization machine a few years ago. With its compact size, it achieves a metal coating that offers greater protection and thus greater mechanical, heat and corrosion resistance. The characteristic feature of the MetalFOG® solution is that it allows fully automated metallization and post-processing of 3D printed parts, changing their appearance and characteristics. The process takes between 5 and 10 minutes, while the machine produces up to 2.5 liters of effluent, depending on the complexity and size of the parts. Its cylinder has a maximum volume of Ø100 x 200mm and is compatible with most materials on the market. This Metalizz solution is ideal for individual models or small series, where the finishing of the pieces is key.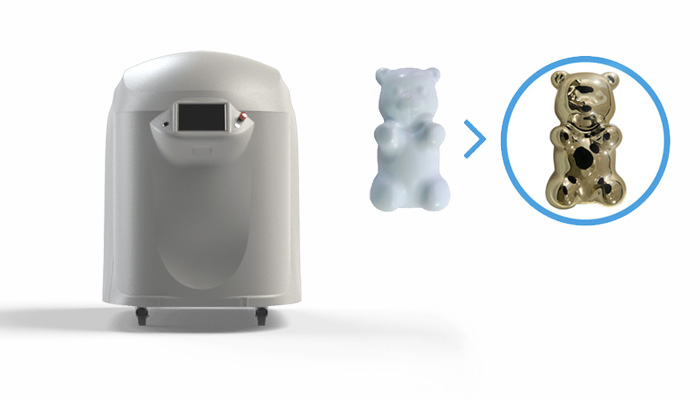 Polymaker – Polysher
The Polymaker Polysher is a desktop unit for post-processing. It is used to remove the lines between the layers of prints. For this purpose, the Polysher uses the so-called layer-free technology of Polymaker. With the help of this technology, a fine mist of alcohol is emitted, which smoothes a special filament. The system is completely closed, so that no alcohol mist escapes, and excess alcohol can be recycled and reused. The Polysher is compatible with PolySmooth and PolyCast materials. Polishing time varies from 20 to 40 minutes depending on size, alcohol concentration and temperature. The maximum size of the part to be polished is 150 mm in diameter with a height of 180 mm. The polishing liquid, i.e. the alcohol, is not included in the scope of delivery. Isopropanol or ethanol with at least 70% or higher is recommended.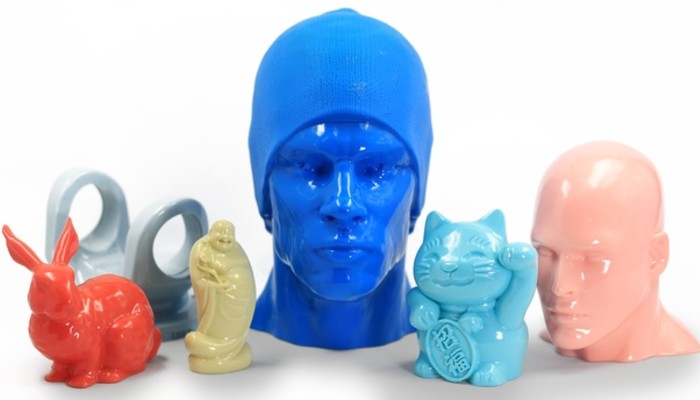 Zortrax – Apoller
Zortrax Apoller is a desktop device for steam smoothing. Uniform smoothing is achieved by Smart Vapor Smoothing (SVS) technology, which automatically controls the temperature, pressure and concentration of solvent vapors in the Apoller's chamber. The solvents can be methyl ethyl ketone (MEK) or acetone. Excess solvents are also reused in the case of the Apoller. The system is compatible with materials ABS, ASA and HIPS. The models to be smoothed must not exceed a size of 300 x 250 x 250 mm. Smoothing the models takes three hours. Several models can be smoothed in the chamber at the same time, provided that the individual models are placed 2-3 cm apart.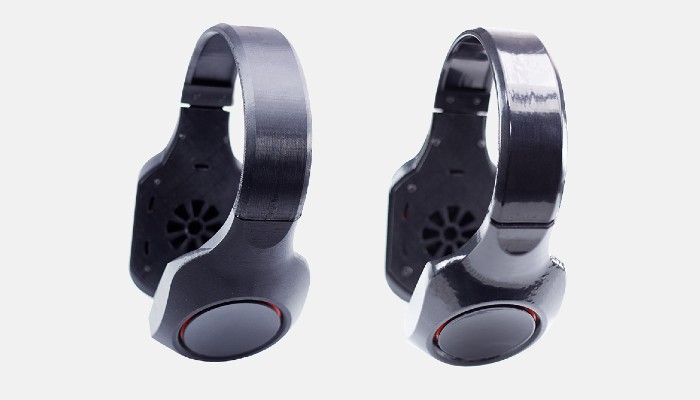 Coloring
Coloring, also referred to as dyeing, is typically the third step in post-processing of the printed parts. It's usually the white parts that are most suitable for dyeing.
DyeMansion – DM60
The German manufacturer DyeMansion offers one the best industrial coloring solutions on the market, the DM60 machine. It uses DyeMansion's DeepDye Coloring (DDC) technology, which allows mid-size build jobs to be completed in less than 150 minutes. The machine arguably offers the largest color variety on the market, with 170 RAL colors, specific colors for the automotive industry, and the possibility to match any other color of choice!
To make a rather complex process more user-friendly, RFID chips are placed on all color cartridges. The chips save information about material, volume, finish, and color. These parameters allow to adjust the color for your material and surface. Once you scan the cartridge on the DM60 to transmit all process-relevant information to the system, everything else happens automatically! In fact, DyeMansion offers a full print-to-product workflow, which includes all stages of post-processing. In other words, the company offers not only coloring machines, but also cleaning and surfacing solutions.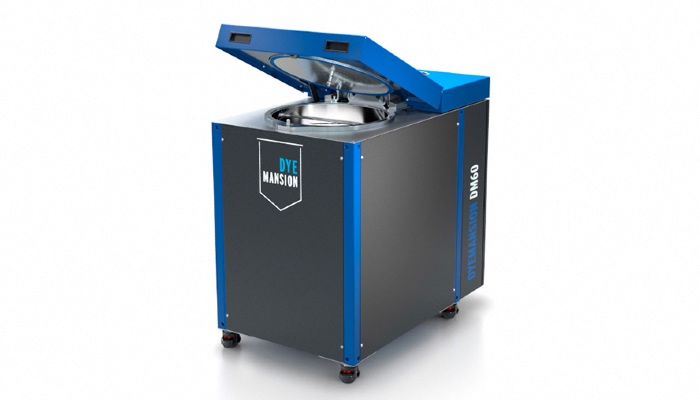 Girbau – DY 130
Girbau is a Spanish company that developed the DY 130, a post-processing solution for dye finishing. It is important to note that this machine is designed specifically for use with the HP Jet Fusion 5200 and HP Jet Fusion 4200 3D printing systems. This coloring machine is automated for unsupervised operation, which makes it relatively easy to operate. Reportedly, the DY 130 offers half the cost per part of comparable automatic dyeing equipment.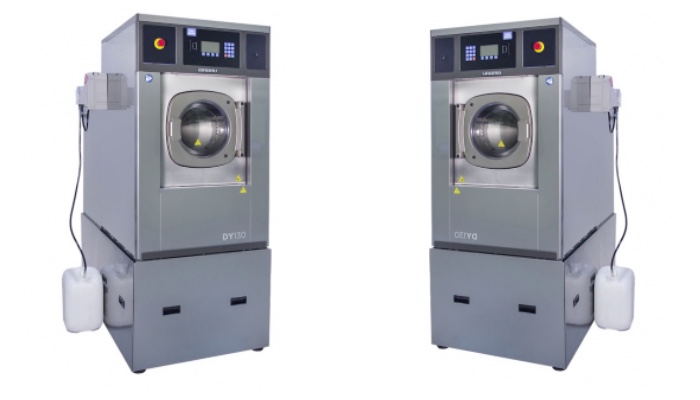 Did you find this list of post-processing solutions useful? Let us know in a comment below or on our Facebook and Twitter pages! Sign up for our free weekly Newsletter, all the latest news in 3D printing straight to your inbox!