All you need to know about POM for 3D printing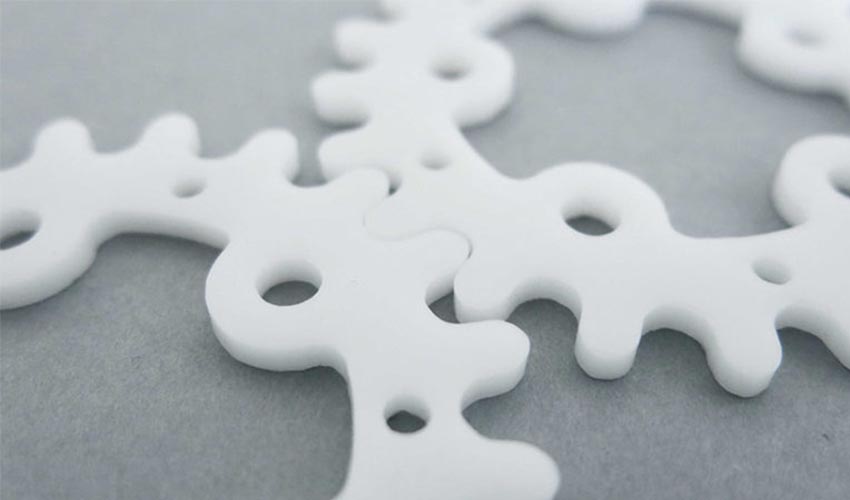 Polyoxymethylene or acetal, better known by the abbreviation POM, is a thermoplastic and belongs to the family of polyacetals. Discovered in 1920, it is now one of the most widely used materials in injection moulding, after polypropylene (PP) and polyamide (PA), but is also becoming increasingly popular in 3D printing. POM is semi-crystalline (it contains amorphous and crystalline areas) and is white.
POM comes in two different forms: as a homopolymer (POM-H), which was commercialized by DuPont in the 1950s, and as a copolymer (POM-C), which was marketed by Celanese in the 1960s. The two differ essentially in that, although POM-H has better mechanical properties, it has a lower resistance to UV radiation. POM-C has better thermal and chemical properties and therefore reacts better to temperature fluctuations and chemical influences. In the field of 3D printing, POM-C is used primarily because it is easier to extrude and has the same chemical properties. In addition, POM is primarily used as a filament in 3D printing, which is why we will focus on it below.
POM: Material Properties and Opportunities
"For me, POM is the Swiss army knife of thermoplastic polymers. Thanks to its remarkable properties, polymethylene is a material suitable for a wide range of applications in the automotive industry, the medical sector, packaging production and high-precision engineering technologies," explains Jean-Charles Vingiano of JCV 3D, an expert in POM.
But what are the special characteristics of POM? Polymethylene is characterized by its excellent chemical properties, which make it heat-resistant and at the same time not temperature-sensitive, so that a part printed with POM remains stable and does not deform even when exposed to temperatures ranging from -40 to +140 degrees Celsius. The absorption of moisture is also very low and it has good electrical insulation. In addition, it is characterized by its impact and abrasion resistance and also has good sliding properties. The impact resistance of parts manufactured using POM is due to the very good adhesion (adhesion between the individual layers, which is created during enamel coating). Mr. Vingiano explains this as follows: "I think that the molecular movement increases the melting temperature of the part and stores it, so that previously deposited layers maintain a sufficient temperature to allow good melting between the layers".
According to Mr. Vingiano, a 3D printed part made with POM is indistinguishable from a part made by injection molding. Another great advantage is that POM is not sensitive to the use of chemicals, which makes it possible to disinfect without damaging the part, creating many opportunities for various applications. The wide range of possible applications also favours the colour of the material: it is available in a clear white, which makes it easy to colour or can be used for visible parts.
Applications
As already mentioned, POM is suitable for a wide range of applications. For example, thanks to its impact resistance and low friction as well as good sliding properties, it is suitable for the manufacture of the smallest gear wheels and at the same time for the production of elements such as rucksack buckles. It is also possible to use POM for parts such as heating stoves that are exposed to heat. The white colour in which the material is present also makes it suitable for the production of aesthetic parts, be it car interior fittings or even implants. In medicine, it is convincing not only because of its mechanical and chemical properties – durability and resistance to disinfectants – but also because of its colour.



Photo Credits: Jean-Charles Vingiano
What should you consider when 3D printing POM?
When printing POM you should note that your printer must have a heated build plate, because the adhesion to the printing plate is often extremely difficult due to the sliding properties of the material. You should also note that printing POM can be extremely difficult. First, your printer must be able to reach an extrusion temperature of 220 to 230 degrees Celsius. It is also very important to have the right temperature management during the printing process to achieve a high quality result. According to Mr. Vingiano, it is often essential, especially for beginners, to print a prototype first and thus get to know the necessary parameters of the part to be printed. This also applies to those who have already gained experience in 3D printing with other materials.
In addition, the right slicer must first be found, where the parameters can be adjusted accordingly. Slicers such as Cura or Simplify3D are recommended here, which have a wide range of parameters and simulate the printing process by means of a preview. You should also note that toxic gases are produced during printing. Because of the formaldehyde produced, you should ensure good ventilation of the room and protect yourself sufficiently. You should also note that there is a smaller number of manufacturers for POM in filament form than for other filaments such as PEEK or PLA. Distributors of the filament are for example FrontierFila and Uayella, where you should expect prices between 20 and 30 Euros per spool.
To conclude, POM has many interesting properties and is suitable for many different applications. However, you should already have some experience in 3D printing to know how to protect yourself and others during printing and achieve the desired result. You can find our full guide on 3D printing plastics HERE to learn more about other polymers used in additive manufacturing. Have you ever printed using POM? Let us know in a comment below or on our Facebook and Twitter pages! Don't forget to sign up for our free weekly Newsletter, with all the latest news in 3D printing delivered straight to your inbox!