Polyformer Turns Plastic Bottles Into 3D Printing Filaments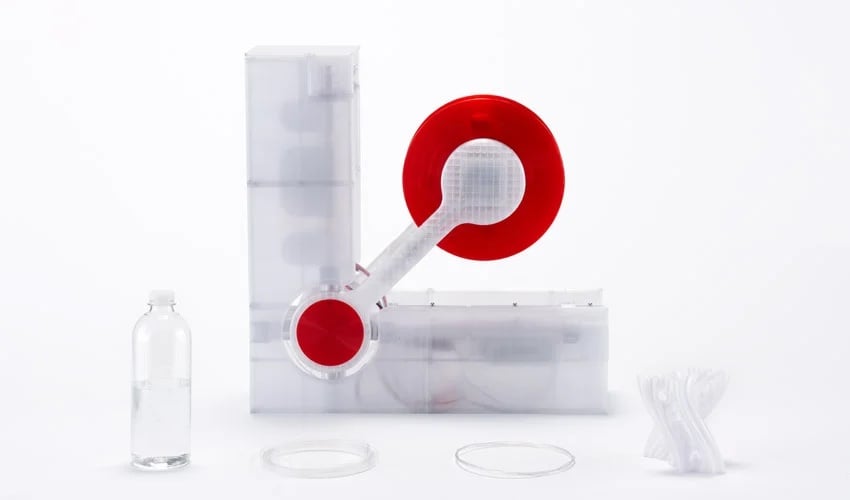 What if it was possible to turn a plastic bottle into filaments for 3D printers and thus participate in reducing plastic waste? To be able to do just that is the idea behind the open-source Polyformer machine, which was created by designer Reiten Cheng. The machine itself was built from 3D printed parts made of recycled PET. Polyformer is a solution that is supposed to be accessible to everyone and was created especially for all makers who want to give a second life to plastic. The main objective is to recreate objects from recycled material in order to reduce our consumption of plastic today.
One of the advantages of 3D printing is its ability to use only the necessary material and thus reduce the amount of waste produced. But in addition to that, it can also give value to waste and give it a second life – a process called "circular economy". There are many projects that have the goal to transform used plastic into a 3D-printed part. Polyformer is therefore not the first machine of this type, but it is interesting to note that it is an open-source project that aims to democratize the reuse of our plastic waste via additive manufacturing.
The L-shaped machine is made from 3D printed parts and components found in traditional 3D printers. Recycled PET bottles were used as the raw material, which explains its translucent appearance. Inside the machine is a slicing tool to cut the plastic bottles into long continuous threads. Those are then placed in the heated up end of the machine which melts the plastic. It is then fed through a brass nozzle to create a 1.75mm filament.
Polyformer is equipped with a red motorized spool that pulls the ribbon and winds the filament as it is made. Once full, the spool is easily removable to be then used in a 3D FDM printer.
So far, about 100 makers have built their Polyformer and given feedback to the designer to improve the solution. Reiten Cheng concludes: "I am imagining a future where products can be manufactured at home or in a community center and be recycled into things at the end of their life that can be used again to manufacture new products right on-site. The technology might not be there yet but I believe it's not far from possible if we keep developing and implementing it as a community." To find out more about Polyformer, click HERE.
What do you think of this open-source machine? Let us know in a comment below or on our Linkedin, Facebook, and Twitter pages! Don't forget to sign up for our free weekly Newsletter here, the latest 3D printing news straight to your inbox! You can also find all our videos on our YouTube channel.