All You Need to Know About Polycarbonate (PC) for 3D Printing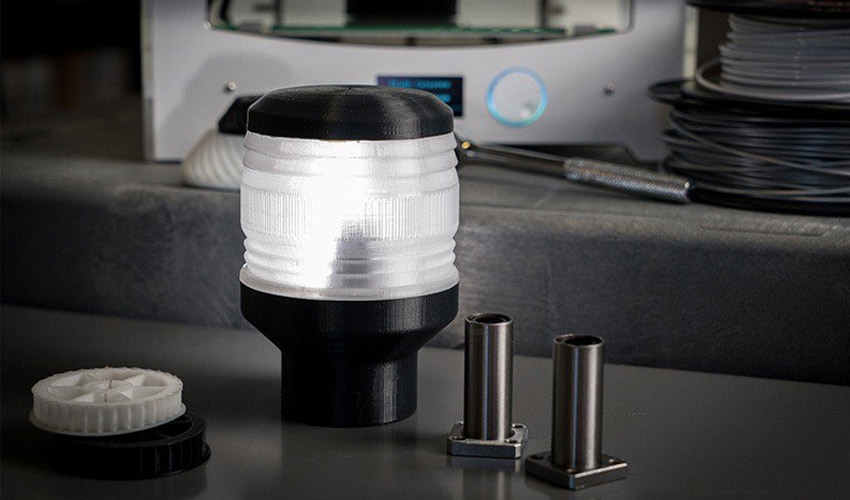 Polycarbonate, better known by its acronym PC, is a material known for its impact resistance and transparency. It is a lightweight yet strong thermoplastic that is ideal for a wide range of professional applications. When it comes to 3D printing, is not the easiest polymer to print, like PLA or PETG, as it requires fairly high extrusion and tray temperatures. However, it is still interesting for designing complex parts that offer good thermal, mechanical and optical properties. It is mainly used on FDM machines and available primarily in filament form. However, there are some PC resins that are compatible with photopolymerization.
Production and Characteristics of Polycarbonate
Polycarbonate is a plastic that was patented in the 1950s by the German pharmaceutical and agrochemical company Bayer AG. It is obtained by polycondensation of bisphenol A and phosgene, an organic component and a chemical component. Bisphenol A, transformed into a salt, reacts with phosgene, which is dissolved in a chlorine solution. The result is polycarbonate, a material that has many valuable properties for different industries.
PC is indeed known to be resistant to shocks, scratches and heat. It is also transparent and much less dense than glass, which provides ideal optical properties. However, it is not resistant to chemicals and UV rays, so avoid applications that are too exposed to sunlight over the long term. Finally, since the plastic can release Bisphenol A particles, it is not recommended for food contact applications.
3D printing with polycarbonate
As previously explained, polycarbonate is mostly available as a filament for 3D printing and we will therefore focus on this type of format. Foremost, it is important to know that polycarbonate requires an extrusion temperature between 260° and 290° C (or even 320° for some filaments) and the presence of a heated build plate, at least at 110°C. It is a plastic which tends to undergo this phenomenon of warping, it is thus essential to have a good adhesion to the plate. Moreover, it is strongly advised to opt for an additional adhesive solution for your tray such as a BuildTak coating to improve the adhesion of the first layer.
We also recommend that you use a closed chamber to avoid any temperature fluctuations and therefore deformations or cracks. Finally, the PC filament is hygroscopic, which means that it absorbs humidity: make sure to keep it in a dry place or you could be subject to print failures or reduced properties in your final parts.
Applications for Polycarbonate in 3D Printing
Despite a more demanding printing process than other thermoplastics on the market, PC is quite common in the additive manufacturing market because it can be used to design parts that are heat resistant (up to 110°C) as well as though with a high tensile strength and which are particularly robust. It is an ideal thermoplastic for manufacturing mechanical parts, molds – especially for thermoforming, hinges, functional prototypes or even pulley bearings. Polycarbonate is also transparent and therefore has many applications in the optical sector.
Market Players
Most manufacturers of 3D printing filaments offer polycarbonate in their range. For example, Nanovia, 3DXTech, Polymaker, Kimya, or machine manufacturers such as Raise3D or Stratasys who offer PC-ABS, combining the resistance of polycarbonate with the flexibility of ABS. The price of a spool varies according to the brand and the quantity, but often is between $30 and $60 for 750 grams.
Finally, you should know that PC can be reinforced with fibers, such as carbon or glass, to increase the strength of the material while making it lighter. This is not as common as with ABS or PLA, but it is possible from a chemical point of view. The addition of fibers will of course increase the price of a coil. For example, it costs €88 for 750 grams of carbon fiber reinforced PC filament at 3DXTech.
Do you have any more questions about Polycarbonate (PC) and its use in 3D printing? Let us know in a comment below or on our Facebook and Twitter pages! Sign up for our free weekly Newsletter, all the latest news in 3D printing straight to your inbox! You can also find more guides on ABS, PLA and PETG for 3D printing on 3Dnatives!