Pleko, the Spike Shoes 3D Printed Using Carbon Fiber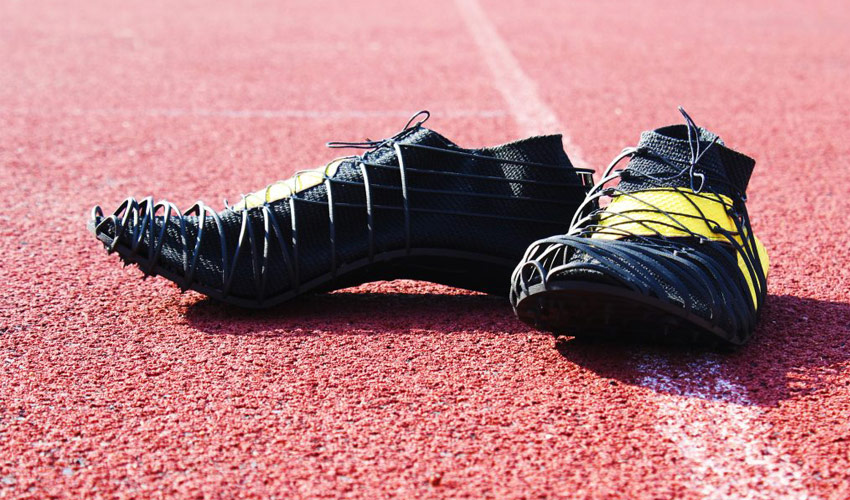 Pleko is a new pair of shoes, made largely through 3D printing with composite materials. The structural part of the shoe, namely the insole, midsole, spikes and ribs, was designed with carbon fiber using selective laser sintering (SLS). The resulting shoe is more flexible, resistant to deformation and can easily be customized.
Pleko shoes are the work of Miro Buroni, an Italian middle-distance runner who combined two of his passions, design and athletics. Supported by Diadora, who helped with the historical analysis and design, and CRP Technology for the manufacturing, he created a more comfortable and sustainable shoe that is appropriate for athletes. It all starts with a 3D scan of the athlete's foot. Using the scanned data, the software can simulate the action of running and then create a biomechnical analysis of the movement of the foot. This simulation provides a series of mathematical data, resulting in a 100% customized shoe.
Miro Buroni adds, "With this mapping, we are able to model the shoe on the individual's needs in terms of foot structure and athletic performance. Moreover, scanning and biomechanical analysis allow us to understand the best placement of the "traction system" under the outsole, the 'pins'."
The Italian designer then looked more into the structure of the shoe, particularly on the link between the soles (outer, mid and inner) and the part that wraps around foot,. He imagined a sort of cage with ribs arising from under the outsole to encompass the foot, a structure that can more acfurately follow the foot during a race. Miro explains that this cage supports the foot in a way that could improve an athlete's running technique and transmit kinetic energy in a more optimized way.
Additive manufacturing soon emerged as one of the only possible production methods for designing such a structure. The designer was looking for flexibility, which is why he chose selective laser sinting and the material Windform® SP, a carbon fiber-reinforced polyamide.
He noted, "Windform® SP guarantees excellent resistance even in very thin thicknesses; this feature has allowed me to create a spike shoes with a perfect foot envelopment, that facilitates an increase of the comfort and the enhancement of the performance." Thanks to 3D printing, the spikes could be placed in the right place to ensure maximum results for the athlete. The result is a shoe that is able to resist deformation and provides additional answers to manage injury prevention, rehabilitation and protection. You can find more information HERE.
What do you think of these Pleko shoes? Let us know in a comment below or on our Linkedin, Facebook, and Twitter pages! Don't forget to sign up for our free weekly Newsletter here, the latest 3D printing news straight to your inbox! You can also find all our videos on our YouTube channel.