Plast'if transforms employees waste into 3D objects
Published on March 30, 2018 by
Niru K.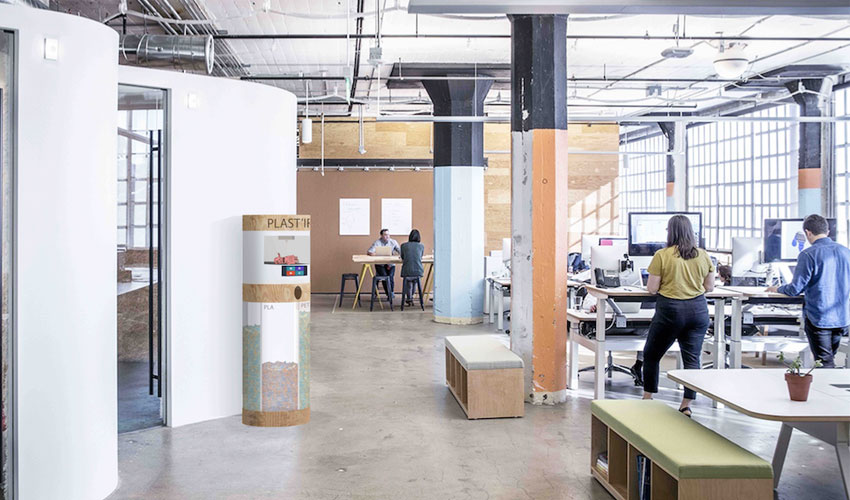 3D printing is a technology that could help raise awareness about ecology and recycling issues: there have been many initiatives by companies to tackle those issues through this technology; whether it is to make objects more environmentally friendly or address social issues like homelessness or even saving some of our ecosystems by creating products from waste materials. Plast'if is one of those companies using 3D printing to tackle recycling issues: their machine recycles all plastic waste of employees at work and allow them to 3D print new objects directly from this waste. Recycling is then valued and rewarded by providing them with new 3D objects. We met Cassandra Delage, founder and CEO of Plast'if to learn more about this ecological and collaborative innovation!
3DN: Can you introduce yourself and your link with 3D printing?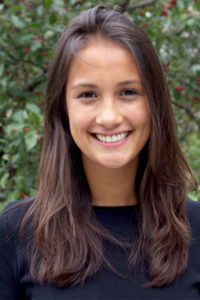 Hello, my name is Cassandra Delage and I founded the company Plast'if! The Plast'if machine recycles all the plastic waste of employees in the company and allows them to print new 3D objects from them. It is therefore a complete recycling process, in one machine, which is done in front of the employee. Employees are encouraged to recycle because each share is rewarded. Plast'if therefore transforms the recycling process and experience into a business.
3DN: How does the machine you designed work? What are the specifications?
The Plast'if machine carries out the complete recycling process: plastic analysis done by our Artificial Intelligence, sorting, grinding and transformation of crushed plastic into 3D filament, 3D printing is done from this plastic material. Employees can then choose the object they wish to print from the catalog displayed on the touch screen: objects for the employee (computer support), objects you can print during team building sessions (furniture), objects for community for partnerships (Prosthetics) and objects for design purposes to be used in at design schools.
3DN: What is the link between 3D printing and plastic waste recycling?
Our goal is to change the perspective of recycling. By creating a short circuit, employees will be able to see that plastic is a resource and that every employee can make a difference by using this machine.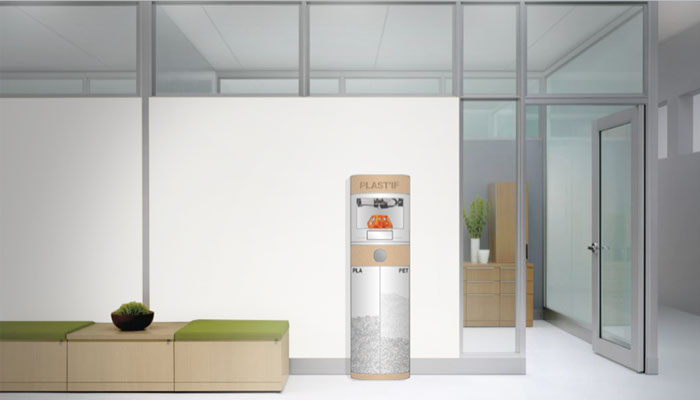 3DN: What is the future of 3D printing in work environments?
I think that 3D printing will take a bigger dimension, especially at work. Today, large groups integrate fablabs and 3D printers in their offices and this allows them to gain agility, just like a startup. This technology is already enabling companies to prototype faster, test and iterate. This prototyping facility allows companies to produce refined products that are more responsive to customer needs.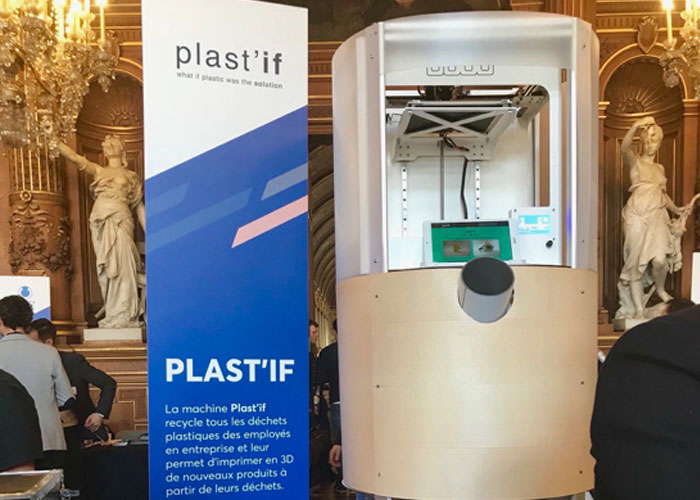 3DN: A last word for our readers?
You can do a lot of things today with recycled plastic and I think it's important to encourage people around you to recycle at the same time allows you to make some exciting 3D objects. Our machine just helps you do it! Feel free to support our project for the Aviva Factory Contest  !
What do you think of the Plast'if machine? Let us know in a comment below or on our Facebook and Twitter pages! Sign up for our free weekly Newsletter, all the latest news in 3D printing straight to your inbox!