Plantish Offers Plant-Based Fish Thanks To 3D Printing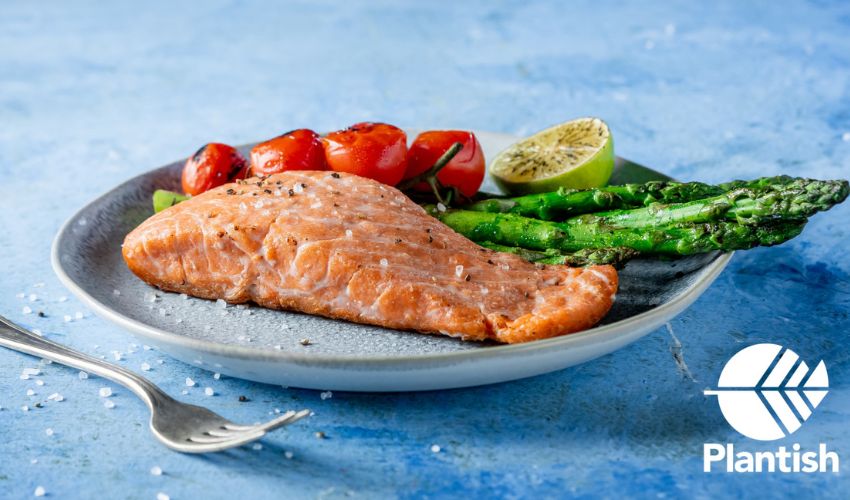 Plantish, an Israeli startup, wants to revolutionize the food sector and more specifically the way we consume fish. According to a report published by the United Nations Food and Agriculture Organization (FAO), global fish consumption is expected to increase from 179 million tons in 2018 to 204 million tons in 2030, which will impact our oceans and pose ecological challenges, but also affect the quality of the fish we will find on our plates. Faced with this galling observation, Plantish has come up with an alternative…3D printing! The company first tackled the salmon market and offers vegetable fillets, designed via a patented 3D printing technology. It has already raised $12.5 million and is expected to offer its fish through a network of restaurateurs. We met its team to learn more about its projects and future developments!
3DN: Can you introduce yourselves and explain your link with additive manufacturing?
We are Plantish, a seafood company developing a technology to produce premium whole-cut, plant-based fish fillets to sustainably feed the world at scale. Our vision is to become the world's leading fish brand, all without hurting a single fish. We are doing so by developing a patent-pending
additive manufacturing
method to produce plant-based fish on a large scale.
Our first product is Plantish salmon™, which is not only delicious, but also high in protein and omega-3 and 6, and free of mercury and antibiotics.
3DN: How did the Plantish adventure begin?
Everything started when we realized that our ocean – the origin of all life on earth – is dying. Overfishing is causing huge environmental damage to our oceans, yet the demand for fish is at an all-time high and only rising. We understood that people love eating fish, and the way they do so is in the whole-cut form. We decided to tackle this challenge using alternative protein, using ingredients that are safer to consume, with no antibiotics or toxins that you might find in conventional fish, but still with very high omega-3s and protein content.
3DN: What are the main advantages of food 3D printing?
Salmon has a specific structure of tissues and fat components. Placing each tissue in its right place and achieving this complex structure requires a certain technology. Our additive manufacturing technology is specifically designed to create salmon fillets, making it a scalable solution.
We at Plantish address the entire sensory experience of eating conventional salmon – taste, texture, flavor, aroma and, most importantly, structure.
3DN: What are your future developments at Plantish?
Our vision is to be a seafood company – salmon is just the beginning. We aim to manufacture substitutes for any fish people consume as fillets. As long as there is demand, we can expand to anything that has a fish structure, and the sky is the limit. We believe that with our technology and our amazing team, we can achieve anything. We want to create delicious and flavorful seafood products that people will be excited to eat. You can learn more about us HERE.
Would you try Plantish's 3D printed salmon? What do you think about the idea of 3D printing food? Let us know in a comment below or on our LinkedIn, Facebook, and Twitter pages! Don't forget to sign up for our free weekly Newsletter here, the latest 3D printing news straight to your inbox! You can also find all our videos on our YouTube channel.
*Cover photo credits: Asaf Karela