A Hidden Painting by Picasso Was Reconstructed Using 3D Technologies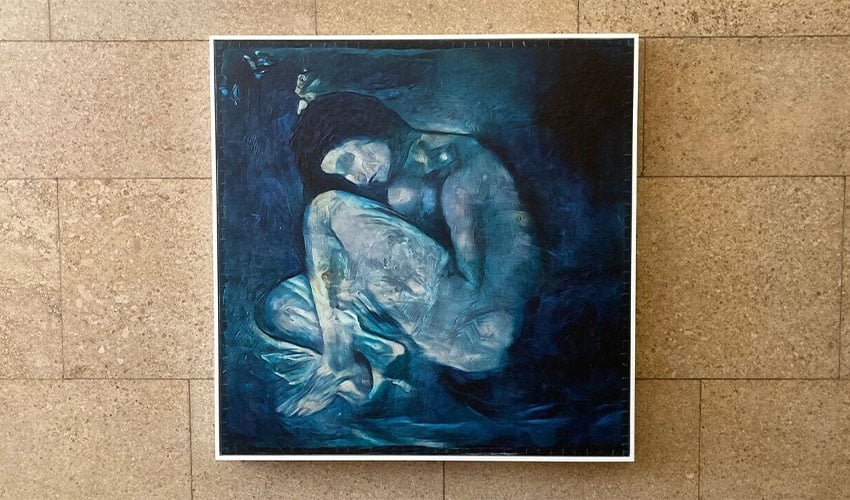 A few weeks ago, we brought the 3D printed replication of Michelangelo's Statue of David at the Dubai World Expo to your attention. However it does not stop there, additive manufacturing is continuing to make news in the art world. Specifically, scientists have succeeded in reproducing a work of art used by 3D printing from the famous painter Pablo Picasso, which had been hidden from the world for 118 years. Entitled "The Lonesome Crouching Nude", the painting was reconstructed by the company Oxia Palus. The company was founded by University College London (UCL) PhD researchers Anthony Bourached and George Cann and specializes in new technologies, including artificial intelligence and 3D printing.
The work has been hidden for so many years because the Spanish artist literally painted over it. He created a second work called "The Blind Man's Meal" in 1903, a work that is well known to art lovers. In order to reconstruct the painting, Oxia Palus used spectroscopic imaging and image processing. Once the work was visible again, they used artificial intelligence to texture the work. Finally, although the additive manufacturing process used was not revealed, they used 3D printing to realize the work on canvas.
Using 3D technologies to restore art
While Pablo Picasso experts say there are some details that differentiate the original canvas from the 3D printed one, the result is still remarkable. When asked about this, Ty Murphy, a British art expert, explained, "The AI-produced painting looks like a Picasso Blue Period, but under close scrutiny an expert would probably be able to recognize that it wasn't an original." Before adding, "Give it time. As soon as those technologies emerge they're going to be very convincing." This is good news for the future of 3D printing in the art world, a sector where projects are growing in number over the years.
This is not the first time that such an initiative has been created. For example, in 2016, 3D technologies were used to reproduce a famous painting by Klimt called "The Kiss", which is on display at the Belvedere Museum in Vienna. Oxia Palus has also had other reconstructions, this painting is the third that they have revealed. Previously, the researchers completed a project that revealed a woman's portrait beneath Amedeo Modigliani's "Portrait of a Girl of 1917" and as well as another that showed a mountainous landscape that lies beneath Picasso's "The Crouching Beggar." If you are interested, you can find out more about this particular project HERE. It is also currently being shown at Morf Gallery in London as part of the Deeep AI' festival.
*Cover Photo Credits: Oxia Palus
What do you think of the use of 3D printing technologies to recover this lost artwork from Picasso? Let us know in a comment below or on our Linkedin, Facebook, and Twitter pages! Don't forget to sign up for our free weekly Newsletter here, the latest 3D printing news straight to your inbox! You can also find all our videos on our YouTube channel.