Top 10 Best Photogrammetry Software For All Levels
In general, photogrammetry is the science of obtaining reliable data about physical objects through the process of recording, measuring and interpreting photographic images. Photogrammetry is often used by surveyors, architects or even engineers to create topographic maps, meshes, points of clouds or drawings based on the real world. In the field of 3D printing, photogrammetry becomes handy because it can replace 3D scanning, the latter being the usual technique to collect data on the piece you are trying to model. In some cases, it makes more sense to use photogrammetry than 3D scanning to create your 3D model. For example, when capturing large objects, such as buildings, or landscapes, only a 3D scanner adapted for those applications would work. Moreover, photogrammetry is often much more accessible and affordable, it can be as simple as using your smartphone's camera. Once you have your photograph, the only thing you need is the right kind of software to process this data and create a 3D file of the piece. In the following ranking (organized by alphabetical order), we present to you some of the photogrammetry software out there!
Autodesk ReCap
Autodesk ReCap software converts photographs into a 3D model or 2D drawing that is ready to be used in your project. In fact ReCap stands for Reality Capture, meaning that the software works either by aerial photogrammetry, which means using aircrafts to produce aerial photographs that can be turned into a 3D model or mapped digitally, or using close-range photogrammetry, where images that have been taken using a handheld or tripod-mounted camera are then used to make 3D models of smaller objects. The software enables you to easily output a point cloud or mesh ready to be used with other CAD software or tools. Two additional features are ReCap Photo and ReCap Mobile included in the Pro version. It should be noted that this software also works with laser scanners and has a starting price of $310 per year.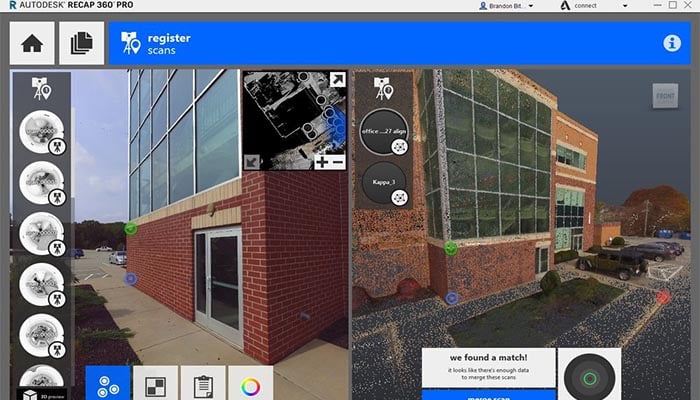 Agisoft Metashape
Agisoft Metashape is a professional software that performs photogrammetric processing of digital images for various applications, such as Geographic Information System applications, cultural heritage documentation, visual effects, production, as well as for indirect measurements of objects of various scales. Some important features enable Metashape to process various types of imagery (whether aerial or close-range), output a point-cloud, measure distances, areas and volumes, and generate 3D meshes that can then be exported to various popular formats. It is also possible to edit 4D models, which means entire scenes can be recorded in 3D and then manipulated on the software. Two editions of Agisoft Metashape licence exist, the professional edition costs $3,499 and the standard one, $179.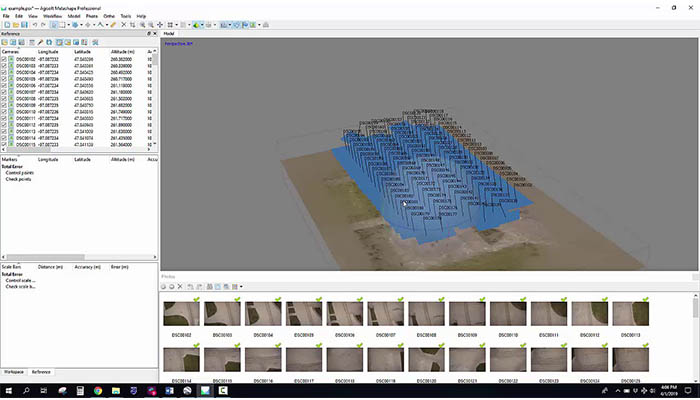 AliceVision Meshroom
Meshroom by AliceVision is a free and open-source 3D reconstruction software that uses photographs to create the textured mesh that will become the structural build of your 3D model. AliceVision is a photogrammetric computer vision framework that relies on a community of people that invest in the creation of open-source software such as Meshroom. You can learn more about this open-source solution in the video below.
Pix4D
Pix4D is a beginning-to-end photogrammetry solution, on top of being a software it also assists in the capture of suitable images. Pix4D has developed mobile apps for Android and iOS that turn consumer drones into professional mapping tools. Pix4Dmapper is the photogrammetry software for professional drone mapping, then additional features include Pix4Dcapture to get optimized images, Pix4Dbim for earthworks, construction and infrastructure management, etc. Pix4Dmapper generates point clouds, orthomosaics, elevation models and more. It is not surprising that this photogrammetry solution is most suited for applications such as agriculture, surveying, architecture and real estate. The company offers various paying plans.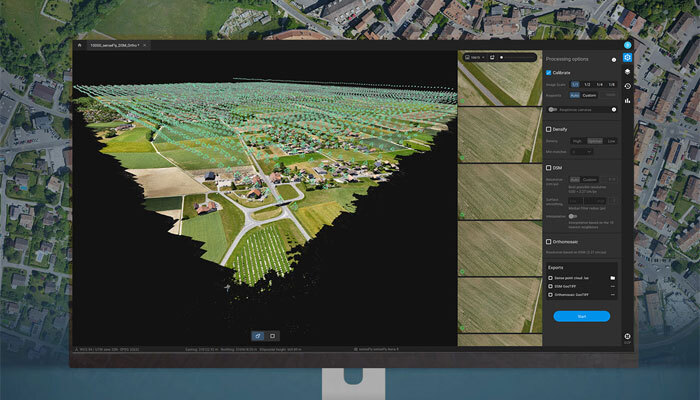 PhotoModeler Technologies
More likely to be suited for CAD or CNC manufacturing than some of the other photogrammetry software solutions on the market, PhotoModeler offers exact measurements and models from photographs taken with an ordinary camera, just like the one you have on your smartphone. This is a cost-effective solution for accurate 2D or 3D measurement, as well as surveying, digitizing, reality capture and more. Inside PhotoModeler, you can choose three different methods to generate the model you are trying to recreate. You can manually match common features between images, automatically generate a 3D model from coded targets, or generate point clouds from overlapping images. Three products exist, Standard, Premium and Maintenance Agreements; price varies according to this and whether your licence is permanent, renewable or monthly.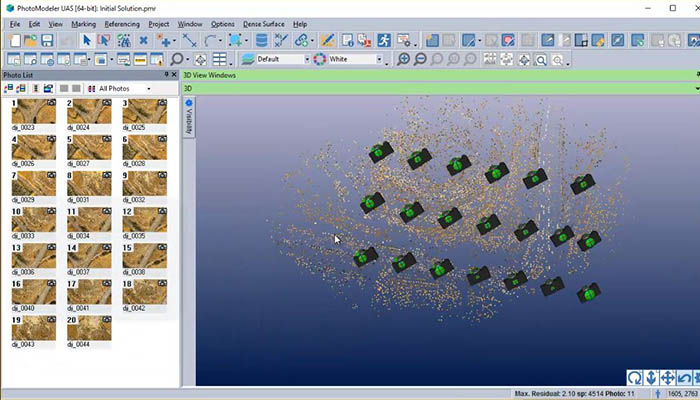 RealityCapture
CapturingReality created the RealityCapture photogrammetry software that works with a wide variety of input media. RealityCapture enables you to create virtual reality scenes, textured 3D meshes, orthographic projections, geo-referenced maps and much more from images. It is also possible to work with laser scans on this software, if you are looking for both options. The user interface is clean and modern, as well as intuitive for people who haven't used this software before. The company offers four different plans for its software, ranging from €19.90 to €15,000 for bigger business projects.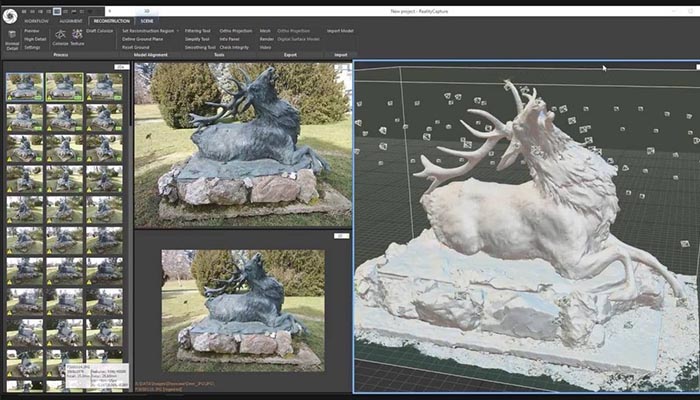 Regard3D
Regard3D is another free, open-source software solution, they call it a 'structure-from-motion' program, meaning that it can convert photos of an object taken from different angles into a 3D model of this object. You can run this solution on a multiple platforms, Windows, OS X and Linux and count on powerful third-party tools and libraries. On their website, where you will find the software to download, you will also find a collection tutorials to familiarise yourself with the program and regular updates.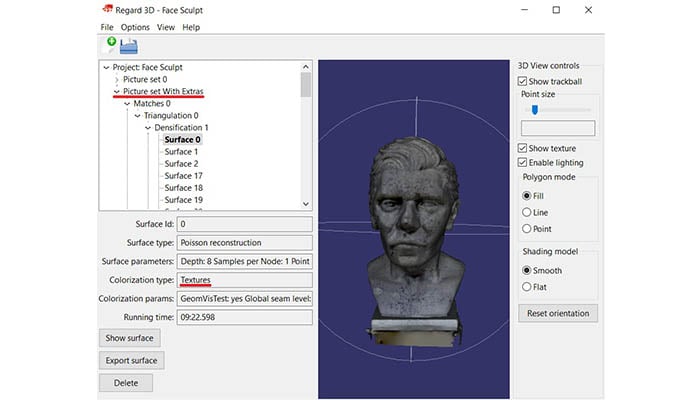 Trimble Inpho
Trimble Inpho is one of the leading software solutions for digital photogrammetry, offered by Trimble Geospatial. Again, this software is aimed at aerial images; it transforms them into accurate point clouds, surface models, ortophoto mosaics and digitized 3D features. This is a reliable solution as it is one of the oldest on the market, with 30 years of experience, Trimble Geospatial is capable of offering a robust solution.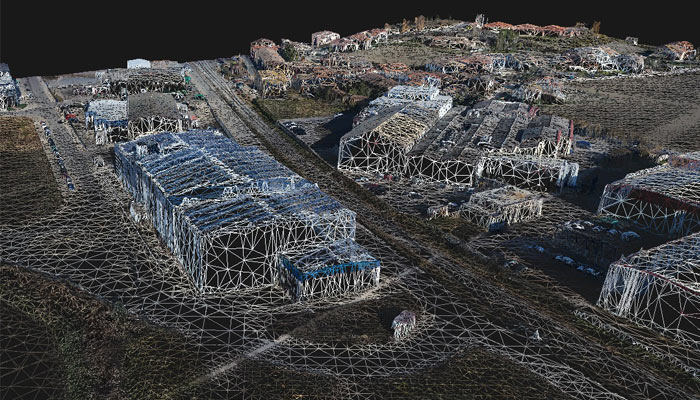 WebODM
WebODM is a solution designed to be user-friendly and produce elevation models, textured models, geo-referenced maps and point clouds using aerial images from drones. This software is a project from OpenDroneMap, which is an open ecosystem of solutions for collecting, processing, analyzing and displaying aerial data. Once you download this drone photogrammetry program, it runs on your computer even when offline. The installation and technical support cost $57, this is a one-time fee, there are no monthly payments. You can find more information in the video below.
3DF Zephyr
3DF Zephyr is a software solution by 3DFlow, it deals with the automatic 3D reconstruction of an object no matter what sensor, drone or laser scanner device you are using. In other words, with this professional photogrammetry software, while it generates 3D scans with ease, experienced users can make extensive alterations to optimize the result. A user can also export the model into many file formats. Moreover, you can combine photogrammetry data with laser scans for more precision in your model and working with your model in another CAD program is facilitated thanks to 3DF Zephyr. A free version exists, however you are limited to 50 images for a 3D reconstruction. The paid version ranges from €149 (excl. VAT) to €3,900 (excl. VAT), depending on features.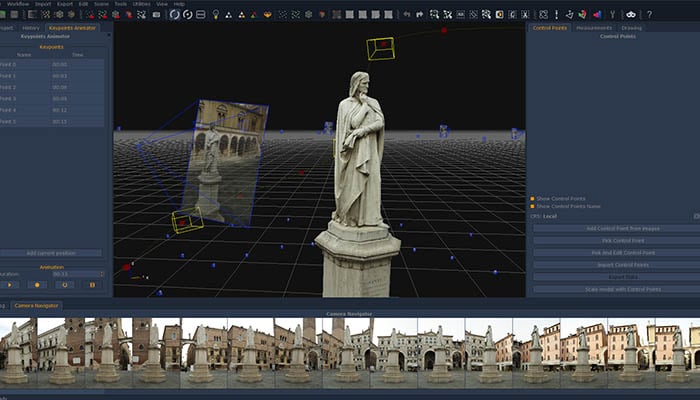 Photogrammetry in a way is the same as 3D scanning an object you wish to collect data on. It is just another way of collecting data on this object, through the use of a photograph instead of laser triangulation technology in the case of a laser scanner for example. Then, the photogrammetry software works by using this data to reconstruct a model, starting with point clouds that are transformed into 3D mesh. In order to be accurate the consecutive images you take of an object or structure need to overlap by 80-90%.
There are currently many options on the market, and above we gave you a general overlook of what you can find, with hopefully a solution for everyone. If you are looking for a free and open-source option you can also have a look at photogrammetry software such as COLMAP, MicMac, VisualSFM and OpenMVG. Another solution for drone photogrammetry is Hexagon Geospatial or IMAGINE Photogrammetry.
What do you think of our listing? Leave a comment below or on our Facebook and Twitter pages! And remember to sign up for our free weekly Newsletter, to get all the latest news in 3D printing send straight to your inbox!