All you need to know about PEKK for 3D printing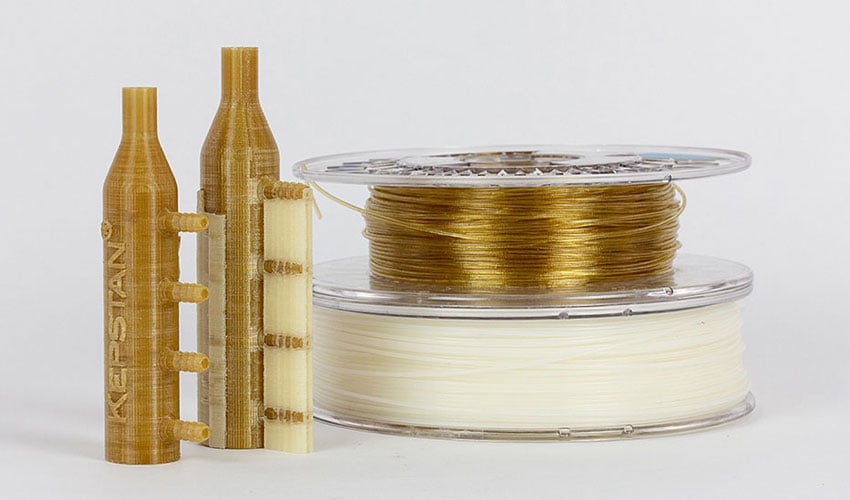 Polyetherketoneketone, better known by its acronym PEKK, is a semi-crystalline thermoplastic that is increasingly used in the additive manufacturing market. Often compared to PEEK, it belongs to the same family – the PAEK family – known for its mechanical and chemical properties. Easier to print than PEEK, in particular thanks to its lower crystallisation rate, PEKK is mainly found in the form of filament, but can also be found in powder form for a very limited number of SLS 3D printers.
PEKK was first developed and marketed in 1988 by the company Dupont for the aerospace sector. Then, in the early 2000s, its composition was improved by Oxford Performance Materials (which was itself acquired by Arkema in 2009). Its composition is very close to that of PEEK, mainly made of ketone and ether. But how and why is PEKK used today? Which manufacturers are offering the material and in what form? What are the applications? We give you the answers to these questions and more in our complete guide.
Production and Characteristics of PEKK
As already mentioned, PEKK is often associated with PEEK, which belongs to the same group. PEKK is similar to PEEK not only in name, but also in its components. For example, both contain ketone and ether. The main difference between these two high-performance materials lies in the ether/ketone ratio: PEKK has more ketone bonds, which are more flexible than ether bonds. In particular, this increases the rigidity of the polymer chains, thus raising the glass transition temperature (temperature at which the polymer starts to soften) and the melting temperature. Note also that this ratio is not the only difference. Indeed, the position of the ketone bonds in its aromatic ring can vary, which makes it possible to modify the melting temperature and the crystallization rate.
More precisely, PEKK has a lower amount of crystallization and can therefore be treated as an amorphous polymer. PEKK also has very good wear and chemical resistance. This is demonstrated, among other things, by the fact that only a few liquids, such as benzene or alcohols, can degrade PEKK. The material also has very good dielectric resistance and insulating properties, which is of great advantage in the electronics sector. Furthermore, PEKK is neither flammable nor does it emit toxic fumes.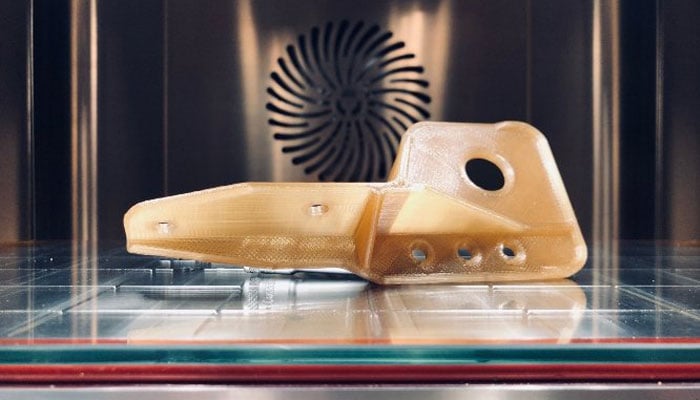 PEKK in 3D printing
Compared to PEEK, PEKK is a much easier material to print. PEKK is less affected by cooling effects and therefore has a better adhesion to the printing plate, thus avoiding warping effects. In addition, thermoplastic offers a higher quality visual appearance  and better wear and friction properties. In terms of printing properties, PEKK has an extrusion temperature between 340°C and 360°C and also requires a heated platen and enclosed pressure chamber. Finally, the requirements are the same as for PEEK, except that the extruder temperature is slightly lower.
Application Sectors
In terms of application sectors, PEKK is very popular in the aerospace and  automotive industries, as well as in the oil and gas industry due to its resistance to pressure and high temperatures. It has a high weight-to-strength ratio, making it an ideal solution for manufacturing strategic parts in the aerospace industry, which is constantly looking to reduce the weight of its components. The material from the PAEK polymer group is also used for high-performance molded parts, such as gear wheels, propellers or in high-pressure pumps and systems. In medicine, the advantages of PEKK are used as medical devices and implants adapted to the patient, which are manufactured with this thermoplastic. The material is also often used as a substitute for metal due to its high strength. 
The Main Manufacturers and Material Price
Currently, the largest producer of PEKK in the field of additive manufacturing is the French chemical company Arkema. The manufacturer offers Kepstan® PEKK as a filament for FDM/FFF 3D printing . The German group Lehvoss has also developed LUVOCOM 3F PEKK filaments, which include carbon fiber and glass fiber loaded options. Some manufacturers of 3D printing materials also offer the high performance filament. Among them, the French company KIMYA with its PEKK-A and PEKK Carbon, but also the companies Nanovia, 3DXTech and 3D4Makers. The price of a 500 gram spool oscillates between 400-500 €. Thus, carbon fiber reinforced filaments are more likely to be in a higher price range. As for the powder variant of the material, EOS with its EOS P 810 is currently the only SLS printer manufacturer that supports the material. 
What do you think of PEKK? Let us know in a comment below or on our LinkedIn, Facebook, and Twitter pages! Don't forget to sign up for our free weekly Newsletter here, the latest 3D printing news straight to your inbox! You can also find all our videos on our YouTube channel.
*Cover photo credits: 3DGence