All you need to know about PEEK for 3D printing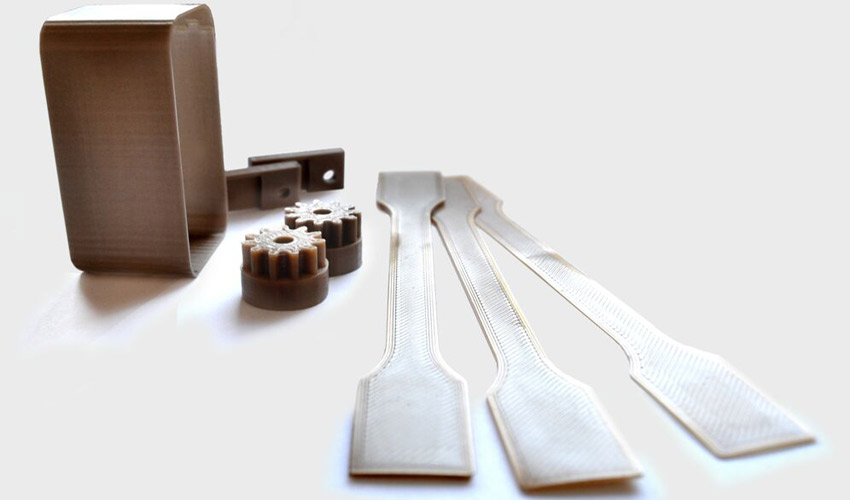 Polyether ether ketone, more commonly known as PEEK, is a semi-crystalline thermoplastic that is well known in the manufacturing industry for its mechanical properties. For some years now, it has been a popular material in the additive manufacturing sector. Today, it is available in filament form for all FDM/FFF machines, and is slowly becoming available in powder form for SLS processes. Mainly used in the aerospace, medical and automotive industries, PEEK is heat and wear resistant and can substitute some metals due to its weight-to-strength ratio. Note that it is a demanding 3D printing material, difficult to print, requiring a number of parameters to be met. So what are the characteristics of PEEK in 3D printing?
PEEK is a member of the PAEK (polyaryletherketone) family, which is known for its high thermomechanical properties. If we look at the pyramid of different polymers in the industry, PEEK is at the top of the pyramid, in the high performance polymer category. It was first marketed at the end of the 1970s, and quickly adopted by sectors such as aeronautics or electronics because of the performance it can offer. If we look at its structure, note that it is a semi-crystalline polymer, therefore when it melts, its molecules arrange themselves under the effect of heat, creating a certain order until the material solidifies completely. This enables it to maintain its mechanical characteristics when the temperature is increased. While this semi-crystalline structure has many advantages, it should be noted that in additive manufacturing, it involves a more complex printing process: it is a highly technical material that requires experience and the appropriate system.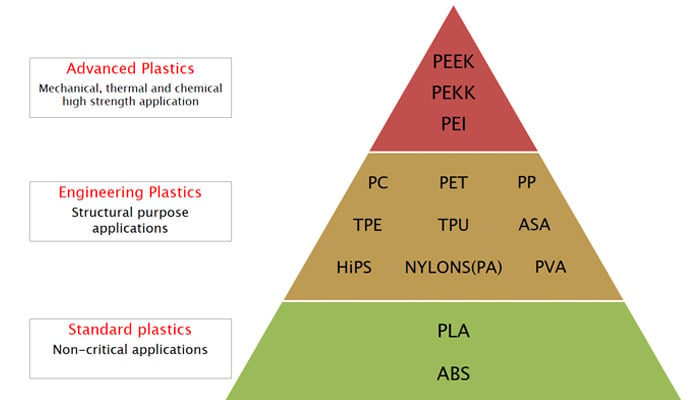 PEEK is a demanding 3D printing material
In 3D printing, the crystallization process of PEEK must be controlled. Indeed, part of the material will crystallize, changing the density of the material. Therefore, high temperature levels – extrusion, build plate and enclosure – must be maintained and fluctuations in temperature must be avoided. To print 3D print PEEK, you will therefore need a 3D printer with an extruder that can reach 400°C, a chamber heated of 120°C, and a build plate that can heat to 230°C to remove the part and avoid warping.
If PEEK is a demanding material, it must also be said that it offers very interesting mechanical and chemical characteristics for the industry. In fact, it is very resistant to heat and wear, has a high chemical resistance, it's sterilizable and has dielectric properties. PEEK also has a high weight-to-strength ratio and is often used to replace certain metals. Finally, PEEK is flame resistant which makes it an interesting 3D printing material for sectors such as aerospace that have high fire/smoke constraints.
Areas of application
This high-performance material is particularly interesting for the medical sector. Since it's sterilizable, it can be used for a number of applications including the manufacture of custom-made implants. PEEK has properties similar to human bone: an implant 3D printed with PEEK could therefore promote the reconstruction of tissues around the implant, accelerating osseointegration. In fact, some companies have turned to 3D printing of PEEK to design customized medical devices such as FossiLabs.
Aerospace and automotive are also markets where PEEK 3D printing is common. Additive manufacturing allows for the creation of high-performance, lightweight, custom and on-demand parts: coupled with the use of a high-performance material, it is even more attractive. PEEK will offer greater wear and temperature resistance, while optimizing weight – a key factor in such areas.
Who are the manufacturers?
Currently, the majority of PEEK in 3D printing is available in filament form, compatible with FFF 3D printers. Carbon fiber filled PEEK is also available on the market. Chemical companies such as Victrex, Solvay and Evonik are the main producers of the material. On the filament side, most machine manufacturers today produce their spools such as Intamsys or Apium. The Spanish company Innovatefil, a subsidiary of Smart Materials 3D, also offers it. If we now look at the price, PEEK is a very expensive material: count between 350 and 700€ for 1 kg.
Finally, for SLS processes, the manufacturer EOS was the first – and the only one – to offer PEEK HP3, a high-performance material for selective laser sintering (SLS). However, the Belgian company Aerosint is working on the design of an SLS machine capable of combining several materials – PEEK could be one of them.
*Cover Image Credits: Indmatec
Do you have any more questions about PEEK? Let us know in a comment below or on our Facebook and Twitter pages! Don't forget to sign up for our free weekly Newsletter, with all the latest news in 3D printing delivered straight to your inbox!