Pawsthesis: The Project 3D Printing Leg Prostheses for Dogs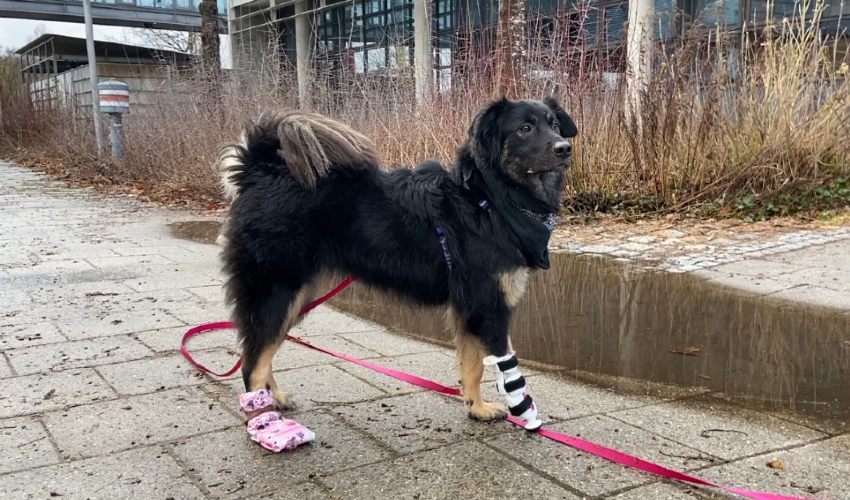 Additive manufacturing is becoming increasingly popular. This is evident in the widening array of areas in which it is used. In addition to dominant sectors such as the automotive industry or aerospace , 3D printing technologies are now increasingly being used in smaller sectors such as the toy industry or veterinary medicine . Today we would like to take a closer look at the latter, which is exactly why we sat down with Simon Schuß and Dominik Hogen, who told us everything about their exciting "Pawsthesis" project.
3DN: Can you briefly introduce yourself and your project?
We, Simon Schuß (22) and Dominik Hogen (23), studied industrial engineering at the University of Augsburg. We have currently paused our master's degree in order to concentrate completely on our "Pawsthesis" project. The aim of the project is to use additive manufacturing to produce prosthetic legs for dogs and get them on the market. Prostheses for complete leg amputations and partial amputations will be provided. 
3DN: How did the idea come about and what makes your product unique?
The "Pawsthesis" project was created during a 3D printing seminar in our bachelor's degree. In this seminar, the idea of ​​a leg prosthesis for dogs came up, which we ultimately continued in our bachelor thesis. We are currently receiving the EXIST start-up grant from the Federal Ministry for Economic Affairs and Energy, which is limited to one year, and are working full-time on our project. 
So far, additive manufacturing has hardly been used in veterinary medicine in Germany and Europe. We want to change that. Using modern technologies, individual and high-quality prostheses can be manufactured in a short time at relatively low costs.
3DN: Why did you decide to use 3D technologies? What are the advantages of using them?
Since each individual prosthesis has to be adapted to each dog, it quickly became clear that we could only consider additive manufacturing as our production process of choice. In order to be able to adapt each prosthesis individually, a scan of the relevant part of the body is required. The idea here is to allow customers to come with a molding set that is tailored to their case, with which they can make the mold themselves with the help of (video) instructions. The finished impression should be sent back to us and then we can convert this impression into a digital model using 3D scanning. The prosthesis is created in CAD on the basis of this model. Finally, production takes place additively using 3D printing.
3D scanning is used to take an image of the dog in question. This enables us to optimally adapt the prosthesis to the dog and its requirements. Thanks to additive manufacturing, we have hardly any restrictions in production and can directly influence the properties of the prosthesis, which would not be possible with conventional manufacturing processes. Further advantages that result from the use of 3D printing are the high quality, short production time and reproducibility of all components.
3DN: Which 3D technologies are you currently using and how are they used?
We are currently using the FDM process , for which we opted for the Ultimaker S5 3D printer. The process is very suitable for the quick realization and manufacture of our prototypes. Thanks to the printer's dual extruder, two materials can be processed in one component, which allows us freedom in design and new possibilities in the production of parts.
When choosing the 3D printer for the prototype phase, our focus was on high reliability and print quality. In addition, the printer should be able to process several materials at the same time. The Ultimaker S5 has so far met these requirements to our full satisfaction. Due to the closed installation space, flow sensors and auto-leveling, misprints or unclean print results are very rare. In addition, the material station makes working with multiple materials and spools for large print jobs much easier. The printer also won us over in terms of software with its web interface, print room monitoring and predefined print profiles in Cura.
However, other additive manufacturing processes for manufacturing the prostheses are currently being tested so that we can further optimize our product.
3DN: What is your vision for the future?
We would like to found and build a sustainable company with which we can supply amputated dogs with our prostheses across Europe. We see many opportunities in 3D printing technology and think that is where the future lies. We are of the opinion that the potential of additive manufacturing is far from exhausted and we want to find out what is possible in the area of ​​leg prostheses for animals with the help of 3D printing technologies. Of course, the well-being of the animal always comes first for us. 
3DN: Do you have a few last words for our readers?
If you are interested in our project, our prostheses or working with us, you are welcome to contact us via our website or by email ([email protected] ).
What do you think of the young project "Pawsthesis"? Let us know in a comment below or on our Facebook, Twitter and LinkedIn pages! Sign up for our free weekly Newsletter here, the latest 3D printing news straight to your inbox!
* Cover picture credits: Pawsthesis