Team Given Patents for Humanity Award For 3D Printed Nasal Swabs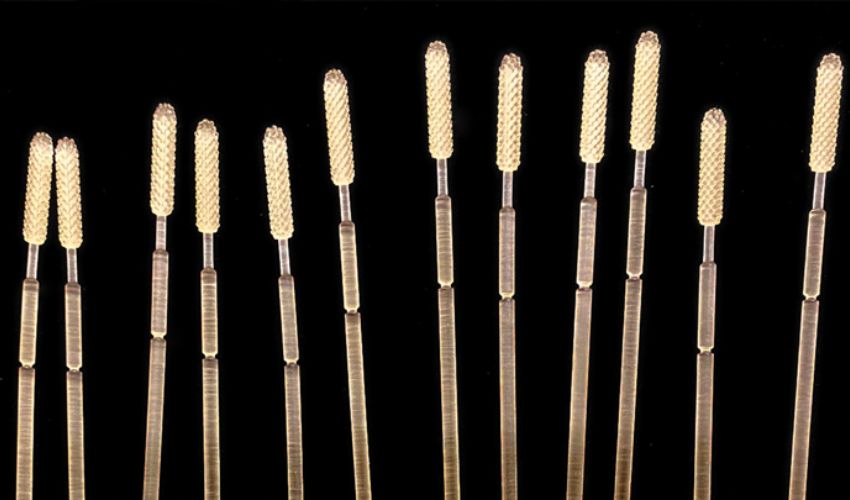 The devastation of the Covid-19 pandemic left almost 7 million people deceased worldwide, and led people from all walks of life to pull together to help each other. In recent recognition of this community spirit, the University of Southern Florida has been awarded the Patents for Humanity award by the US Patent and Trademark Office for its patented 3D-printed nasal swab. The Patents For Humanity award recognizes innovators who use game-changing technology to meet global humanitarian challenges. The swab prototype was developed in March 2020 and the file data offered free of charge to hospitals, clinics, and medical companies around the world to produce nose swabs for clinical use. To date, institutions in over 60 countries have produced more than 100 million swabs using the patent.
Teams from USF Health, Northwell Health, Tampa General Hospital, and Formlabs worked together to develop a 3D printed swab prototype using Formlabs' 3D printers. These prototypes had high standards to reach, including biocompatibility and ability to withstand an autoclave (a machine which carries out scientific processes at increased temperatures or pressure). Once developed, the team tested viral retention and consequently safety and comfort with the USF Health Morsani College of Medicine Department of Internal Medicine researchers.
"Our goal from the start was to help as many people as possible, as fast and safely as possible," said Summer Decker, PhD, professor in the USF Health Morsani College of Medicine, and director for 3D Clinical Applications in USF Health's Department of Radiology, who led the 3D printed NP swab team. "We are very humbled by this recognition by the U.S. Patent and Trademark Office for our efforts and very grateful for this incredible opportunity to help not just USF Health and Tampa General Hospital, but also other hospitals and medical centers throughout the world."
Todd Goldstein, PhD, director of 3D Design and Innovation at Northwell Health, added "It's an honor to receive this recognition from the U.S. Patent and Trademark Office and we hope that our 3D printed nasal swab design helped alleviate burden during the height of the pandemic and showed what cooperation, even in times of crisis, can achieve."
The other four recipients of the Patents for Humanity 2022 award were the National Institute of Allergy and Infectious Diseases (NIAID), which invented stabilized coronavirus spike proteins for the development of Covid-19 vaccines, Canon Products for their PPE, Regeneron Pharmaceuticals for REGEN-COV®, a Covid drug, and Gilead Sciences for the creation of Remdesivir, an anti-Covid medication. You can read more HERE.
What do you think of the award? Let us know in a comment below or on our Linkedin, Facebook, and Twitter pages! Don't forget to sign up for our free weekly Newsletter here, the latest 3D printing news straight to your inbox! You can also find all our videos on our YouTube channel.
*Cover Photo Credits: Allison Long, USF Health Communications