A 3D printed dress that can extract data from the brain
Published on August 31, 2020 by
Aysha M.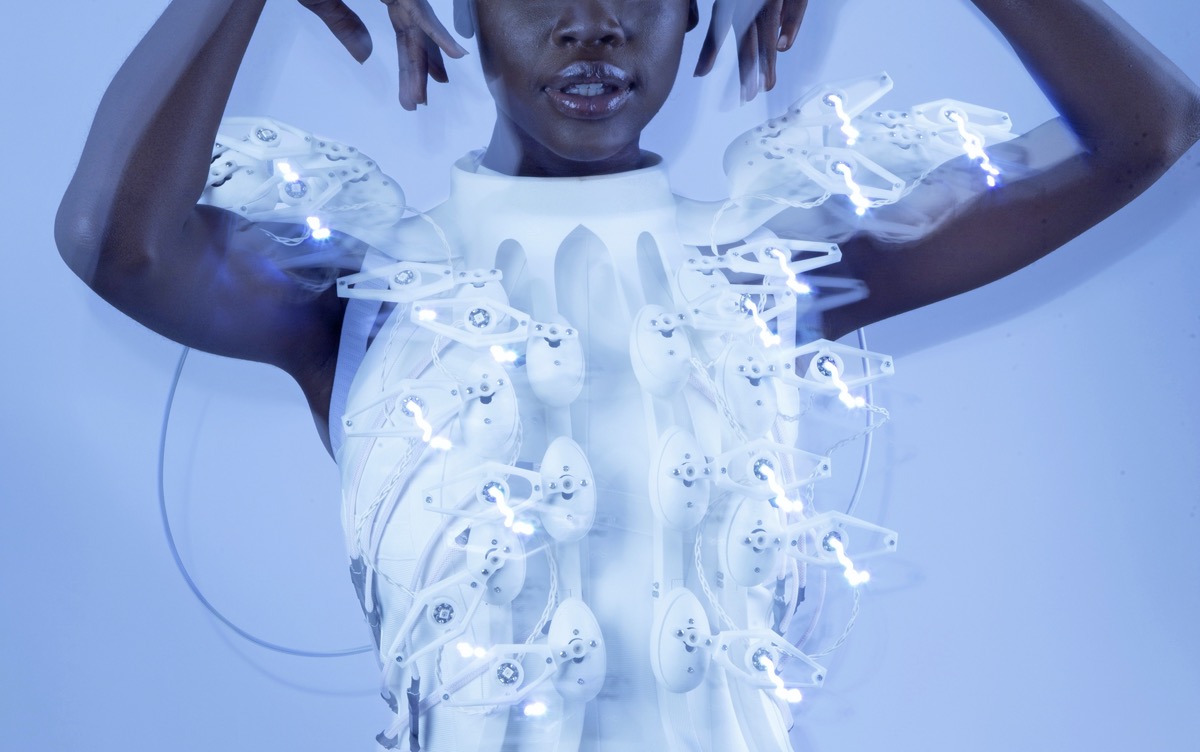 A 3D printed dress that can reflect the thoughts of the person wearing it – not just a science fiction fantasy anymore. EEG, or electroencephalogram, is a test used to evaluate the electrical activity in the brain. Anouk Wipprecht, a Dutch designer famous for her fashion pieces that combine art and innovative technologies, collaborated with the Institute for Integrated Circuits at Johannes Kepler University and a neurotechnology company, g.tec medical engineering GmbH, to create a Pangolin Scales BCI+ dress. This extravagant garment combines 3D printing, EEG, and fashion.
This is not the first time Anouk Wipprech turned to 3D printing for the execution of her project. Not so long ago, she used Selective Laser Sintering (SLS) 3D printing technology to develop the Proximity Dress: it creates physical barriers when a person is detected in the immediate surroundings of the wearer. This time, the Dutch designer tried to translate the human brain activity onto a reactive garment – the dress lights up and starts moving in response to the wearer's thought process! It's that moment when neuroscience creates a beautiful visual.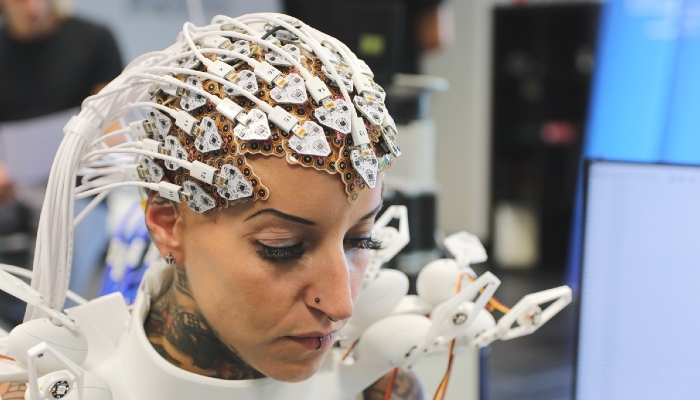 Anouk drew inspiration, as the name of the dress suggests, from a scaly nocturnal animal, pangolin. The scale design helped not to overload the dress with additional weight. Together with the team from JKU and g.tec, they planted 1,024 brain-reading EEG sensors on the model's head; these sensors measure the electrical activity inside the brain. The complex design allows the 3D printed dress to translate the brain data received from the scanners into light and motion patterns. Anouk worked closely with 3D printing experts from Shapeways to create the 3mm thin dress-frame, as it needed to be light yet strong.
The Pangolin Scales dress demonstrates the world's first 1.024 channel BCI (Brain-Computer Interface) that is able to extract information from the human brain with an unprecedented resolution. The interactive Pangolin Dress will be presented at the Ars Electronica Festival. The designer commented, "It definitely is a dress that is 'out there'. We are using a lot of wires to create a well-behaved data communication system, and we wanted to go for a very 'cyborg' look". Is this dress the first step towards a future where we are capable of reading someone else's mind, granted, in an unexpected way – by looking at their clothing?
You can find more information about the project on the g.tec's official website, HERE. What do you think about the 3D printed Pangolin Scales BCI+ dress? Let us know in a comment below or on our Facebook and Twitter pages! Sign up for our free weekly Newsletter, all the latest news in 3D printing straight to your inbox!