Shapeways in collaboration with EOS will offer PA 11 for applications in the medical sector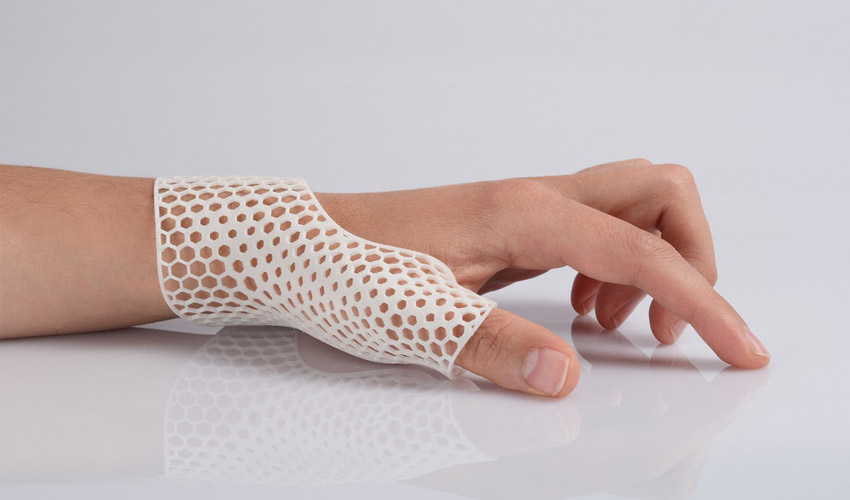 The 3D printing service giant, Shapeways, has just added a new material to its range to enable the creation of 3D printed orthosis and prostheses. The new material is polyamide 11 (PA 11), one of the most widely used materials in selective laser sintering technology. The New York-based company has also announced a partnership with the manufacturer EOS, an expert in this 3D printing process. The two partners hope that they will be able to increase the accessibility of additive manufacturing for health professionals by offering PA 11 to the market.
According to Wohlers Reports 2019, 3D printing materials have grown dramatically in the last year – while the report focuses on metals, polyamide powders (or nylon powders in this case) have been very successful. Their properties are interesting for many industries: they have high dimensional stability, very high thermal and chemical resistance and low density. Shapeways has therefore decided to add this material to its range, supported by the manufacturer EOS.
Shapeways and EOS, a long-standing collaboration
The collaboration between Shapeways and EOS dates back to 2007; the German company was the first to enter into a partnership with Shapeways, by supplying several industrial machines. This time, Shapeways will offer the EOS P 396 solution, compatible with PA11 – the service hopes to reach the medical sector more. Greg Kress, CEO of Shapeways says, "When we started the company, we could never have imagined having a presence in the medical sector. We look forward to working in this medical industry and creating products that will change the daily lives of some patients."
This new partnership with EOS and the addition of PA11 should enable 3D printing of prostheses, orthosis, insoles and other medical devices. It should be noted that the material proposed by EOS should have a higher elongation at break, thus offering more flexibility, a key feature in the manufacture of medical devices. Glynn Fletcher, President of EOS North America added, "PA11 can transform the way the medical industry uses 3D printing to improve patient outcomes. It also has the advantage of reducing the negative ecological effects generally associated with petroleum-based plastics." This polyamide is obtained from a bio-sourced product, castor oil.
Shapeways and EOS conclude by explaining that the new material can also be used in 3D printing for robots, drones and electronic boxes. You can find more information HERE.
What do you think of this collaboration? Let us know in a comment below or on our Facebook and Twitter pages! Don't forget to sign up for our free weekly Newsletter, with all the latest news in 3D printing delivered straight to your inbox!