We spoke to Armor 3D, creators of the OWA Speaker
Posted On February 27, 2018
---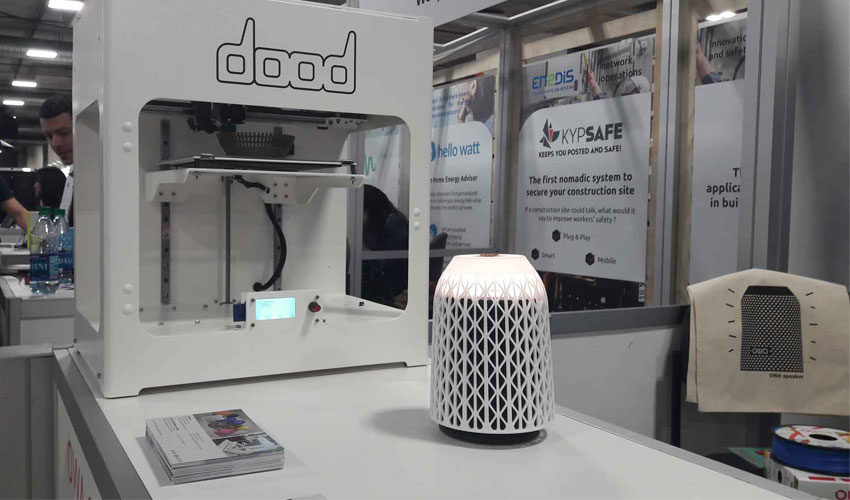 The OWA Speaker has recently launched their Kickstarter campaign to pre-order their 3D printed speaker. This is the result of a collaboration effort between 5 companies, including recycled 3D filament producer Armor 3D. Armor 3D's part in the collaboration was to supply the filament used to 3D print the speaker. This follows on from Armor 3D's philosophy around creating environmentally friendly products based on the circular economy. This is shown as they create recycled and recyclable filaments, employing more than 10 people across R&D, marketing, sales and communication, and more. We were lucky enough to speak with Pierre-Antoine Pluvinage, Development Director at Armor 3D, and Clervie Casters, Head of the OWA Speaker project, to learn more about this 3D printed Bluetooth speaker.
You can pre-order your own personal OWA Speaker for €149 now on their Kickstarter campaign here.
3DN: How was the OWA speaker created and who was behind it?
Pierre-Antoine: The OWA Speaker was born from our desire to create a concrete application using our OWA 3D filaments. OWA is the Armor Group's circular economy brand. We are committed to putting environmentally responsible products onto the market which are recyclable. Our collaboration with Leroy Merlin Techshop in 2016 allowed us to create synergies with designers (BOLD), 3D printers (Dood), electronics (Sector), and more. From these exchanges emerged the idea of creating a 3D printed customisable speaker using our OWA recycled and recyclable filaments.

3DN: What are the specificities of this product?
Clervie: OWA Speaker is a Bluetooth speaker, with many additional features. It is above all an environmentally responsible and sustainable product, made in France, with a neat and customisable design. It also has a connected light and an alarm clock, as well as a time keeper. This makes the OWA Speaker the complete solution tailored to the needs of individuals and businesses. Its design is innovative in the world of sound and 3D printing! Its design has been designed to be easily removable and repairable and is based on ideas for a circular economy.
3DN: What are the values ​​carried by the project?
Pierre-Antoine: This project is the result of the complementarity between industry, design and electronics, with collaborative values. It is also a project driven by our vision to change the way we consume. We believe that it is no longer viable to buy products with purposely limited lifespans. We want to fight against planned obsolescence and find alternative solutions to the use of fossil fuels, particularly by recycling our waste. Therefore we created a repairable enclosure, using recycled materials (mainly yogurt pots) which is recyclable (thanks to a collection system).
3DN: Why did you choose to launch a crowdfunding campaign?
Clervie: We are aiming to raise awareness of 3D printing and its possibilities, including raising awareness about the use of quality filaments. This is in line with our aim to enable the reuse of as many resources as possible through recycling. We want to make this are more well-known to the community and the general public so they can have a responsible, sustainable and customisable high-tech speaker with a number of other features.
3DN: How does 3D printing fit into the project and why did you choose it?
Pierre-Antoine: 3D printing has many advantages as part of our project. Beyond our wish to introduce this technology to the general public and to present the quality of the OWA PS filaments used, 3D printing allows us to create a durable object using recycled and recyclable filaments. It also makes it possible to reduce the distances between the production sites and the end customer by locally printing the speaker bells, and guaranteeing manufacturing within France. The other significant advantage is the ability to customise the product easily and quickly.
3DN: How do you see this project evolve in a year? in 5 years?
Pierre-Antoine: The development continues on our side! Next year is dedicated to the production of a first series of speakers (in limited numbers), the creation of the application, the reflection on new designs, etc. The addition of a hands-free kit feature and time keeper also allows us to meet the needs of professionals in terms of connected objects. In the next 5 years, we can hope to see OWA Speakers appear in meeting rooms, perhaps in every company!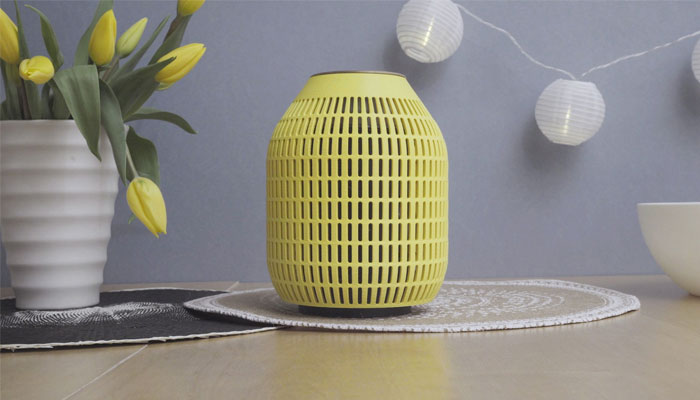 We also hope to participate in raising awareness in present and future generations of the need to develop and use products that are more environmentally friendly. Today we recycle our bottles, our bulbs, our cartridges, so why not recycle our speakers tomorrow? We are already thinking about the development of other sustainable and responsible high-tech objects, which could include for example our organic photovoltaic film (OPV) ASCA to no longer depend on non-renewable energies. Great opportunities are coming!
3DN: A last word for our readers?
Clervie: Are you sensitive to protecting the environment, and enjoy products made in France? Visit our Kickstarter campaign for more information or pre-order your OWA Speaker. Do not hesitate to follow us on Facebook, Twitter, and Instagram to stay up to date on OWA news! We would love to answer your questions or hear your feedback, for which you can email us at [email protected]
---
You may also like