ORNL designs the first 3D printed nuclear reactor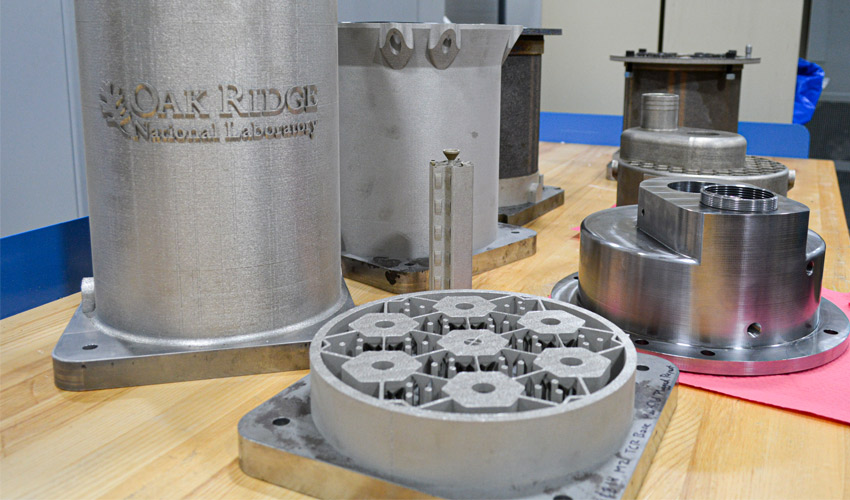 At Oak Ridge National Laboratory (ORNL), a team of researchers is continuing its research to build a 3D printed nuclear reactor: they have designed the reactor core and intensified the entire additive manufacturing process to validate the reliability of the 3D printed components. ORNL hopes to commission the first nuclear reactor of this type in 2023. This development would allow the nuclear sector to produce more advanced and sustainable energy systems.
In the field of energy, additive manufacturing makes it possible above all to validate concepts more quickly and to make efficient progress in the rapid prototyping phases; it also creates components that are more efficient and optimised in their shape and material use. The adoption of additive manufacturing is growing in every sector. If we focus solely on the nuclear sector, it's true that additive manufacturing has taken more type to break thorough, although some initiatives do show that the sector is ready to leverage some of the benefits of AM.
This is the case of the ORNL laboratory, which has been using 3D technologies for several years, on different projects and sectors. As part of the "Transformational Challenge Reactor Demonstration" (TCR) program, an initiative launched by the American laboratory to imagine more efficient, faster and cheaper energy systems, several tests were carried out. In just three months, the ORNL was able to design a prototype 3D printed nuclear reactor, thus demonstrating the agility of additive manufacturing. Thomas Zacharia, director of the laboratory, explains: "The nuclear industry is always forced to think about how we design, build and deploy nuclear power technology. DOE launched this program to seek a new approach to quickly and economically develop transformational energy solutions that deliver reliable, clean energy."
Researchers explain that they used directed energy deposition (DED) technology and stainless steel to design this first prototype. They are now looking to refine the chosen design and ensure that the energy supplied is reliable and optimal, including real-time performance evaluation of the 3D printed components. Kurt Terrani, Technical Director of the TCR, adds: "By using 3D printing, we can use technology and materials that the nuclear community has not been able to exploit in recent decades. This includes sensors for near-autonomous control and a data library as well as a new accelerated approach to qualification that will benefit the entire nuclear community. The TCR programme will provide a new model for the accelerated deployment of advanced nuclear energy systems".
The team is planning a commissioning in 2023, we'll keep you informed of the latest developments! You can find more information HERE. What do you think of these developments in the energy sector? Let us know in a comment down below or on our Facebook and Twitter pages! Don't forget to sign up for our free weekly Newsletter, with all the latest news in 3D printing delivered straight to your inbox!