An Organic 3D Printed Shoe Collection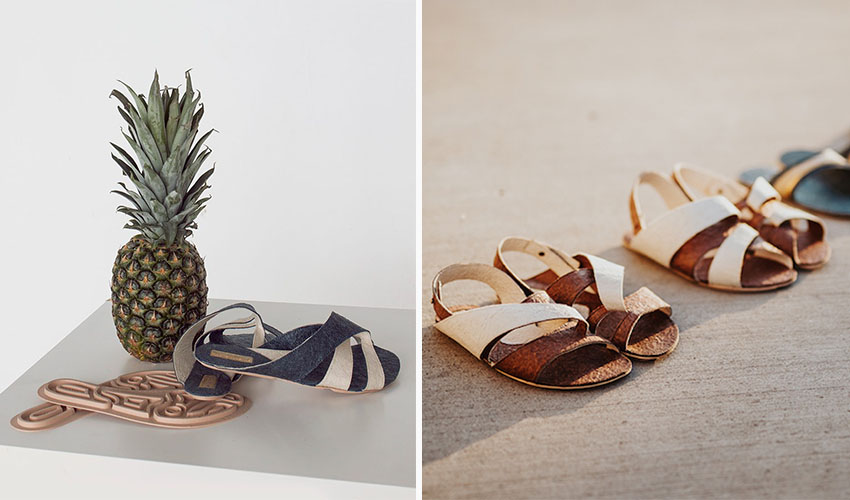 The ORGANIC shoe collection is a collaboration between Lucie Trejtnarová, a postgraduate student at Tomas Bata University in Zlin, Czech Republic, materials manufacturer, Fillamentum and the design studio, Malai Design & Materials. As its name suggests, this shoe collection is sustainable, but also 3D printed – the shoes are part recyclable and part compostable. 
Firstly, the sandals showcase a 3D printed outsole, made from TPU-based Flexfill 98A and printed on an Ultimaker 3 3D printer. The Flexfill 98A material from Fillamentum offers great processability and specific mechanical properties. The filaments manufacturer offers two grades of Flexfill, the 98A and 92A. In the case of this project, the 98A was chosen as it is harder, and was more appropriate for this piece. This part of the shoe is completely recyclable thanks to its processability properties. Something dear to Lucie Trejtnarová in the choice of the printing material. 
Lucie Trejtnarová explains, "We are responsible for each of our steps. Shoes from the Organic collection are based on a simple principle: At the end of their life, you can divide both parts, the upper in a compost and the sole you can recycle, to use it again." 
The upper part is made from Malai (also known as coconut leather) and Piñatrex, made from pineapple leaves. The coconut leather, just like real leather is flexible, durable and water resistant. Malai is produced from entirely organic and sustainable bacterial cellulose, grown on architectural waste sourced from the coconut industry in Southern India. 
Lucie Trejtnarová also explains that the ORGANIC concept started when she was doing her thesis on '3D Extravagance' at Tomas Bata University. "I first got in touch with 3D model making and using 3D printers at the University, [which] was a completely new challenge for me". In order to learn 3D modelling, "I continued at the Bezalel Academy of Arts and Design in Jerusalem with a SOLIDWORKS course", she adds. 
To understand how this collection came to life, you can view the following video:
What do you think of this organic 3D printed shoe collection?  Let us know in a comment on our Facebook and Twitter pages! Don't forget to sign up for our free weekly Newsletter, with all the latest news in 3D printing delivered straight to your inbox!