University of Minnesota Duluth Receives Orbital Composites Robotic 3D Printer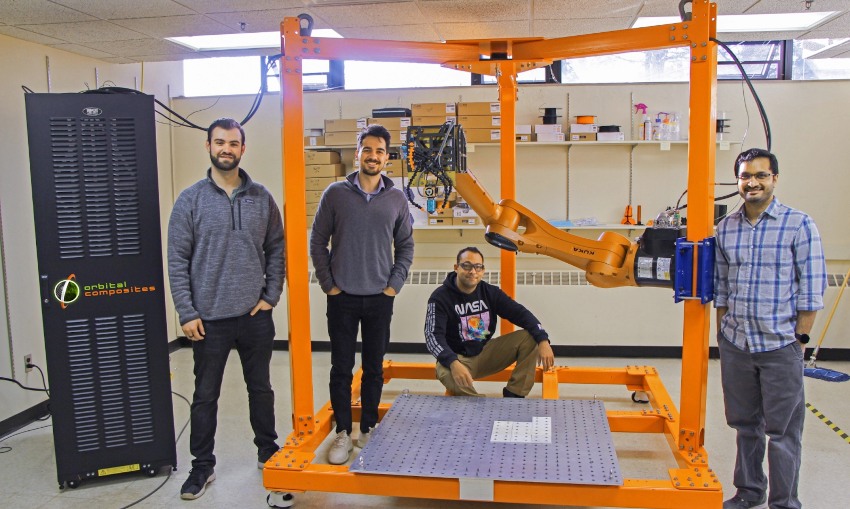 Orbital Composites, a provider of advanced carbon fiber and robotic 3D printers designed for space additive manufacturing applications, has just announced that it has shipped one of its Robotic 3D printers to the University of Minnesota Duluth (UMD). The printer, along with Orbital Composites' commercially available Orbital S AM platform, will facilitate UMD's research into polymer and composite additive manufacturing. This event is a milestone for both UMD and Orbital Composites. This is because the acquisition of the robotic 3D printer will play a key role in the university's endeavor to expand its teaching and research capabilities in large-scale, out-of-plane robotic 3D printing of thermoplastic polymers. It also marks Orbital Composites' first commercial shipment of a turnkey robotic 3D printer. 
UMD's research will be conducted under the guidance of Dr. Gireesh Menta, professor of Mechanical Engineering. According to Menta, the 3D printer "not only enables us to conduct research in this exciting next-generation manufacturing technology but also allows us to bring true interdisciplinary instruction to our classrooms. We expect this technology to improve UMD's competitiveness in the Additive Manufacturing field and result in job opportunities with students gaining extremely valuable skills in robotics, AI, and additive manufacturing."
Orbital S is a multi-talented platform, compatible with modular, robotic, additive, and subtractive manufacturing. As such, it will enable students to gain hands-on knowledge of a variety of subjects including robotics, software programming, material science, and, of course, 3D printing of polymers and composites. Equally the students will receive interdisciplinary learning experience in mechanical and electrical design, chemistry, programming, as well as other subjects, by learning to operate the robotic 3D printer.
Education about robotic 3D printing is gaining prominence in advanced manufacturing and is a key component of Orbital's mission for creating technologies for future generations. As such the Orbital S platform will also enable students to print objects in virtually any shape or size. This means that they will be able to conduct research across many verticals, including but not limited to aerospace, biomedical, renewable energy, architecture, clean transportation, or space. Cole Nielsen, Founder & CTO of Orbital Composites comments, "We are innately passionate about educating the next generation of engineers and advancing the research in robotic 3D printing". Before concluding, "We see Orbital S platform as a perfect multidisciplinary teaching and research tool for Robotics, 3D Printing, Advanced Materials and Software development. As such, it is an essential tool for project-based learning for next-generation Mechanical, Civil, Electrical, Biomedical and Software engineers alike". 
If you want to find out more information you can go to Orbital Composites website HERE. What do you think about encouraging education about robotic 3D printing? Let us know in a comment below or on our Facebook, Twitter and LinkedIn pages! Sign up for our free weekly Newsletter here, the latest 3D printing news straight to your inbox!
*All photos credit of Orbital Composites