A juice bar transforms orange peels into 3D printed cups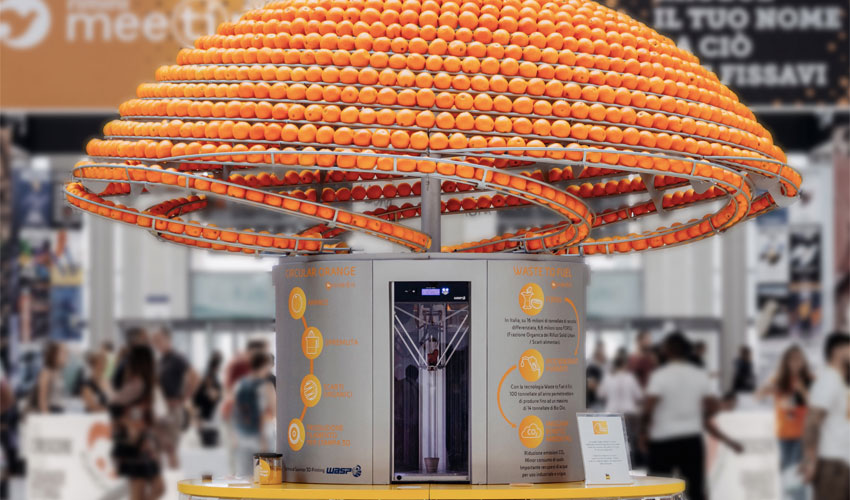 Would you like an orange juice squeezed into a 3D printed cup? This is the project imagined by the architect Carlo Ratti who developed a rather special juice bar, this one allows for orange peels to be transformed into 3D printed cups. Called Feel the Peel, the machine aims to promote the circular economy in our daily lives, adding value to our most basic food waste. An experimental juice bar was set up to test the 3.10-metre high device, enabling many visitors to enjoy an orange juice squeezed into a small bio-plastic 3D printed glass printed.
In the 3D printing industry, it is not only plastic that can be recycled to create a brand new filament. Food waste of all kinds can be used and, after a rigorous transformation process, original and more durable materials can be offered. For example, this is the whole idea behind the Dutch Upprinting Food project, which enhances rotten fruit and vegetables and stale bread by transforming them into tasty little dishes. Carlo Ratti chose oranges.
The machine developed is 3.10 metres high and can hold up to 1,500 oranges! It has a kind of dome that allows the citrus fruits to slide as they go along. When an order is placed, the oranges slide into the citrus press, are cut in half and their peels falls into the lower part of the machine, gradually accumulating. They are then dried and crushed to obtain a kind of powder in which polylactic acid (PLA) is added – the peels become bioplastic. This results in a filament that can be heated and melted by the extruder of the 3D printer, placed inside the large juicer. The printer was developed by the Italian manufacturer WASP, which is responsible for many circular economy projects such as its Gaia house. The 3D printer produces layer by layer recyclable cups that can be used directly to drink freshly squeezed juice.
Carlo Ratti adds: "The principle of circularity is an imperative for today's objects. We have tried to show it in a very concrete way, by developing a machine that helps us understand how oranges can be used far beyond their juice. Future iterations of Feel the Peel could include new features, such as printing fabrics to create orange peel clothing."
The juice bar is expected to be on display in several parts of Italy in the coming months to raise awareness of this concept of a circular economy. The next stop will be the Singularity University Summit in Milan on 8 and 9 October 2019. You can find more information HERE.
What do you think of this initiative? Leave a comment below or on our Facebook and Twitter pages! And remember to sign up for our free weekly Newsletter, to get all the latest news in 3D printing send straight to your inbox!