Optimizing mold cooling channels using generative design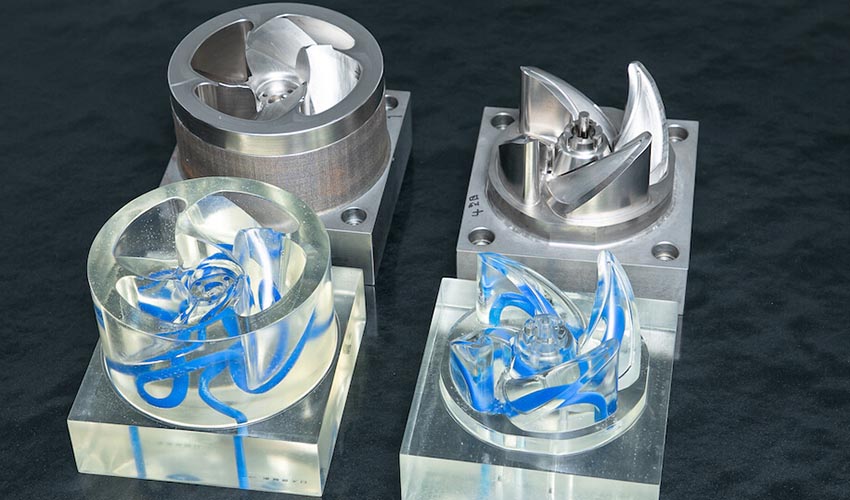 Even though additive manufacturing is moving beyond being a rapid prototyping technology, injection molding is still the most efficient way to mass produce plastics parts. Injection molding is therefore essential for mass-production of plastic parts with complex shapes. In order to create higher quality products at lower costs, it is important to develop advanced cooling systems for melted materials. Panasonic Corporation's Life Solutions Company, in collaboration with Autodesk, has explored how automating the design of mold cooling channels could help this process.
Therefore, Panasonic Corporation's Life Solutions Company is betting on a new hybrid manufacturing method that incorporates 3D printing, milling and generative design. Using the LUMEX Avance-25, it was possible to create a conformal-cooling system (which lays out the cooling channels conforming to the shape of the products). The result is a reduction in cooling times by 20% compared to conventional methods, where channels are drilled straight through the mold.
A workflow supported by generative design
Generative design is a technique that delivers optimized design outcomes based on goals and constraints. Seiichi Uemoto, an analyst at Panasonic's Life Solutions Company Manufacturing Engineering Center, initiated using generative design to deliver new designs that otherwise would have been impossible. "I thought that with the right settings in place, I could use generative design to automatically create mold-cooling channels," he explains. The main difference with topology optimization is that it produces "only one solution from the conditions provided to the system. It is difficult to produce something with smooth contours from the generated result. But it became apparent to me that generative design would inherently result in smoother shapes," he adds.
Therefore, Panasonic worked with Autodesk to apply generative design to the mold cooling water channels for a small, complex, mass-produced fan blade used in duct ventilation systems. Constraints and desired conditions were input into the software, which proposed numerous iterations until just the key components remained. Uemoto explains that he was surprised by the unique behaviour of the resulting water channel layout. "I was really impressed by the fully formed models that were being automatically generated," he comments.
Four different mold samples were manufactured including the original part designed by an experienced engineer, the second based on generative design, another based on generative design but with looser shape restrictions and finally, a design similar to the first with additional water channels. Products from each mold were then measured to assess performance and the results showed there was little difference in performance between the generatively designed cooling channels compared to the engineer's design.
Given that creating advanced cooling systems is challenging and time-consuming, Uemoto says he hopes this project will lead to more automated solutions that streamline that process, speed up the workflow, and afford engineers more freedom: "If this becomes a part of a packaged software in the near future, it could lead to a solution for speeding up tasks and allow us to develop programs focusing more on temperature control. That should benefit a wide range of users and applications." You can find more information HERE.
What do you think of using generative design to create optimized objects? Let us know in a comment below or on our Facebook and Twitter pages! Sign up for our free weekly Newsletter, all the latest news in 3D printing straight to your inbox!