Creating More Optimized Bicycle Saddles Thanks to Industry 4.0 Technologies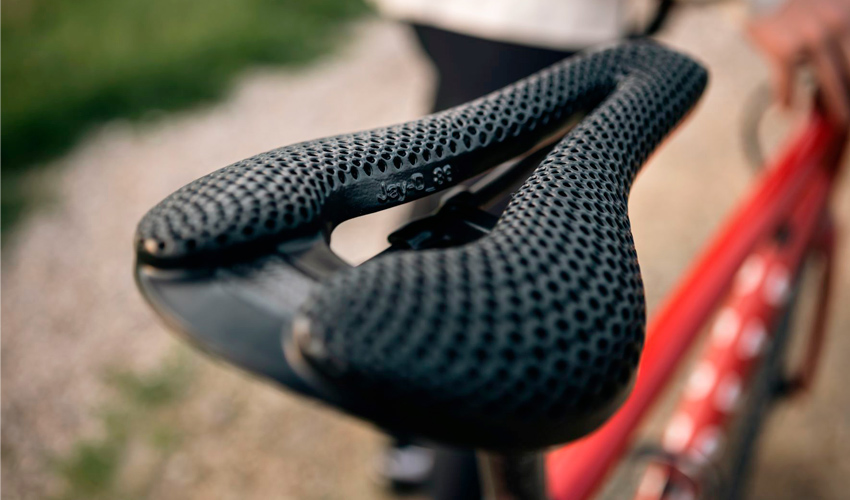 In the world of sports, cycling and 3D printing have been proven time and again to be a winning duo. This is especially the case in areas in which technology can play a key role in improving performance. One such example is in the design of bicycle saddles, which need to be optimized for the comfort, health and performance of the athlete. However, today's companies often find it difficult to develop the right equipment to suit each user, and this is where additive manufacturing comes into play. As you may know, one of the main advantages of using AM is the ability to create customized parts adapted to the morphology of each person. For this reason, companies such as AMT or BASF 3D Printing Solutions have put their solutions at the service of bicycle manufacturers. This was the case for the Czech company Posedla which is dedicated to the creation of cycling equipment. It has taken advantage of the benefits of 3D printing, its materials and the corresponding post-processing for use by great athletes.
With the goal of creating optimized bicycle saddles, Posedla drew on the experience and expertise of companies dedicated to additive manufacturing. Using the individual characteristics of each rider, they were able to design and produce a fully customized saddle that is tailored to the rider's anatomy, as well as riding form, flexibility and more. To do this, a test kit was sent to the user from which the necessary information, such as sit bones width and impression of the sitting area, was taken. Later, a three-dimensional model of the saddle is created through algorithmic modeling software. This is a clear example of the advances that can be seen in product customization, demonstrating that the consumer goods industry is undergoing substantial change.
Making the Saddles
After obtaining the 3D model of the saddle, it is time to move on to manufacturing. In this case, Posedla opted for the solutions of three large companies in the sector: HP, AMT and BASF 3D Printing Solutions. For the printing process, they wanted to find a suitable method in a potentially scalable production, so HP's Multi Jet Fusion technology was chosen. In terms of materials, they were looking for a flexible polymer that was both durable and UV resistant. Given these requirements, BASF 3D Printing Solutions, through its material brand Forward AM, proposed its Ultrasint® TPU01 flexible polymer. The combination of HP's technology with Forward AM's material enables the creation of structures with different stiffnesses. This provides solid support in the seat bone area, gradients with different parameters related to forward-backward movement in the saddle and a much softer saddle nose area.
Finally, another fundamental aspect was the post-processing of the final product. AMT, known for its advanced post-processing solutions, enables the certification of parts for use in the most demanding industries. In the case of the 3D printed saddles for Posedla, AMT PostPro's Vapor Smoothing technology was the best choice. The vapor smoothing method (as the name suggests) seals the porous surface of the saddle, reinforcing its mechanical and structural properties, while giving it a final finish similar to injection molding. As a result, Forward AM's Ultrasint® TPU01 material was able to pass skin contact and irritation tests after being post-processed with Vapor Smoothing. In addition, end-use parts were tested for mechanical damage and fatigue to meet or even exceed ISO standards for bicycle saddles. Needless to say, they passed all tests with flying colors and the saddles are now ready for use.
There are many advantages to using 3D printing as a production tool. One of them is that it allows the mass production of parts, helping to meet the needs of customers and, therefore, achieve the objectives set. The Posedla team noted that without it, "The level of customization we offer in our product would be otherwise impossible to achieve." As for the manufacturing process, they say they have managed to reduce the production time from 10 weeks to 3 weeks, with the manufacturing plant at full capacity. In addition, there has been a significant reduction in the weight of the product, which now stands at less than 140 grams. Among other things, Posedla is now a much more competitive company in the bicycle equipment market thanks to the improvement and optimization of its saddles.
Both AMT and Forward AM will be exhibiting this end-use part at their physical booths at Formnext in Frankfurt. If you would like to learn more about this success story or the technology used to develop it, please visit the AMT website HERE.
What do you think of the use of Industry 4.0 to create more optimized bicycle saddles? Let us know in a comment below or on our LinkedIn, Facebook, and Twitter pages! Don't forget to sign up for our free weekly Newsletter here, the latest 3D printing news straight to your inbox! You can also find all our videos on our YouTube channel.
*Cover picture credits: Posedla