How to optimise post-processing in 3D printing: Experts give their advice!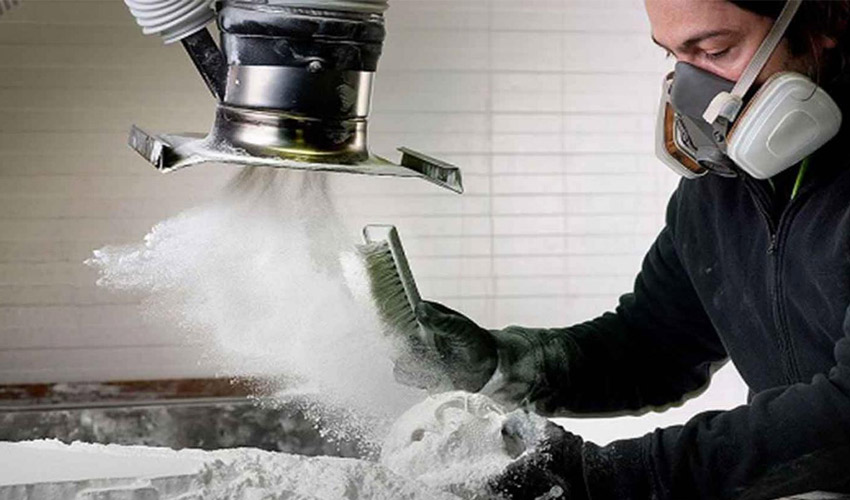 There are many steps in the 3D printing process: from 3D modeling the piece you wish to  create, to slicing your model and finally sending it to the 3D printer, each step has its importance. Once the part has been printed, there is often a last step, namely post-processing. The aim of this step can be to reduce the laminated appearance of a part, to colour it or to reinforce its structure. Post-processing being the final step doesn't mean it is not crucial, and it is no coincidence that some manufacturers have developed machines with integrated solutions for this step, such as the Velox 3D printer or companies like DyeMansion. In order to better understand the importance of post-processing in 3D printing and the different techniques that exist, we interviewed 3 experts in additive manufacturing to give you their exclusive advice. 
Our first expert is Andy Kottage, Lead Technical Trainer at PostProcess – the company has developed an automated and intelligent approach to address the post-printing step of the additive manufacturing workflow. PostProcess is rooted in software and has also designed complementary hardware and chemistry to solve post-printing challenges specific to the materials and demands of the industry. They offer a range of comprehensive solutions for soluble support removal, resin removal, powder removal, and surface finishing across all technologies. Our second expert is Vincent Icart, Program Leader of MOVINGLight at Prodways. The MOVINGLight DLP technology is a patented photopolymerization process for producing prototypes or functional parts with high resolution and high speed.  Last but not least, our third expert is Fabien Pettelot, Application Engineer at Protolabs, one of the largest 3D printing services for custom prototypes and production parts. 
Andy Kottage
Fabien Pettelot
Vincent Icart
What are the post-processing techniques for 3D printing? 
Given the multiplicity of additive manufacturing technologies and compatible materials, it is not surprising to see that there are various post-processing methods. Conventional plastics, such as PLA or ABS will not be treated in the same way as aluminium and titanium for example. In general, Andy Kottage explains: "Looking at most of the industry at the moment, you will find post-printing techniques that heavily rely on a combination of manual labor and retrofitted traditional manufacturing equipment. For support removal and surface finishing, these include dunk tanks, water jets, rock tumblers, and vibratory bowls." He goes on to explain that often software is a key component of solving today's post-printing challenges.
In general, for resin-based printers, the post-processing step involves two procedures: "Rinsing the part in a solvent bath, then placing it in a UV oven. Rinsing removes all uncured resin residues and unclogs internal cavities. As for the UV furnace treatment, it gives the parts their final mechanical properties and ensures a perfect curing of the part." explains Vincent Icart. "After these two steps, the parts can be handled without gloves without any problem and will no longer have a sticky appearance." 
For 3D printers which use plastic filament, often layer lines will have to be removed. For rigid plastics such as PET, PC or PLA, it is recommended to use a one-component or two-component (such as epoxy) spray to smooth over the surface of the part. On the other hand, softer materials such as ABS, PS or ASA can be sanded by hand or dissolved with a solvent for a shiny or matt and streak-free effect.
For polymer powders, our experts agree that the advantage of Selective Laser Sintering (SLS) is that it does not use printing supports, which greatly facilitates post-treatment work. "For plastic powder sintering (SLS) or mineral powder printing, the powder itself serves as a support. But at the end of printing, it will be necessary to remove all the unused powder", we were told by Fabien Pettelot. The unused powder must be removed (and possibly recycled) by suction, blowing, sweeping or blasting. 
For metals, parts made by Direct Metal Laser Sintering (DMLS) must also be subjected to thermal treatment to reinforce the properties of the metal used. Various finishes can then be carried out, whether machining, polishing or anodizing. DMLS technology is more demanding in terms of safety – metal powders can cause an explosion or fire. 
Which techniques require the least amount of post-treatment? 
There are multiple considerations for every application when it comes to determining the amount of post-printing required. However, the technology used is not the only factor to consider. You will also have to take into account support and build material, print volume, build geometry, and finishing requirements. Fabien Pettelot emphasises this last point, "For example, it will certainly be a little easier to treat an aluminium part than a titanium part, but for a given technology, more than the material, it is the geometric complexity of the part that will determine the complexity of the finishing." 
In terms of technologies, if we had to point to one that creates parts that need little post-treatment it would probably be Material Jetting (PolyJet). "I would say that PolyJet is the technology that requires the least post-processing. The building support is quickly dissolved in a bath, simply rinse and dry the part after. There is no polishing or other finishing required. On the other hand, I would say that DMLS is the one requiring the most post-processing. These two technologies obviously have nothing to do with each other and offer completely different parts for very different uses." continutes Fabien Pettelot. 
Andy Kottage told us, "With a range of products that offer automated post-printing, for both surface finish and support removal, that may require less than 1 minute of operator attended time per batch, the 3D print technology that requires the least amount of post-processing will be any technology that is a PostProcess proven application. These include FDM soluble support removal, PolyJet support removal, and resin removal."
How can one optimise post-processing? 
Our experts believe that printing supports must be optimised – a first step that will save time in the end. It is also very important to choose a machine adapted to what you want to produce. Vincent of Prodways specifies: "Sizing your equipment properly according to the volume to be processed, and following the recommendations of the application teams of your 3D printer supplier" is a must. 
Andy Kottage adds, "Understand your current process. It sounds simple but most users have put their attention on the design and print phases, overlooking what is required to bring those parts to the finish line. From there, you need to determine your biggest pain point: Throughput? Consistency? Labor productivity?"
Finally, our 3 experts share the same point of view: it is the complexity of the 3D printed part that will influence the difficulty and length of post-processing work. Fabien Pettelot of Protolabs concludes: "The more shapes and geometric details the part has, the more difficult it will be to eliminate (depending on the technology) any supports or unused powder." It will therefore be necessary to adapt the design of the part as much as possible to the specificities of the chosen technology and to define the most appropriate construction orientation.
You can find more information on PostProcess, Prodways and Protolabs.
Was this expert advice helpful? Let us know in a comment below or on our Facebook and Twitter pages if the listing above was useful! Don't forget to sign up for our free weekly Newsletter, with all the latest news in 3D printing delivered straight to your inbox!