OpenSCAD, the free and open-source 3D modeler
OpenSCAD is a free, open-source CAD software aimed at making solid 3D models. This CAD software is suitable for experienced users that are comfortable with programming. This is because one of the key features of OpenSCAD is that it is a script-only based 3D modeller that uses its own description language. Therefore, you will not be able to interactively select or modify by mouse your model such as in SOLIDWORKS or AutoCAD. Instead, parts can only be previewed once you have coded them in the 3D modeller's language. Additionally, OpenSCAD, just like Fusion 360 for example, does not offer more artistic modeling. For these models, it is best to use CAD software such as Blender.
As you know, for 3D printing applications a 3D model needs to be compatible with the 3D printer. Therefore it should be exported in the correct format. OpenSCAD does allow to do this easily. In fact, users typically use this software to model machine parts, or other types of mechanical parts. Additionally, the software has been recommended as an entry-level CAD tool for designing open-source hardware such as scientific tools for research and education. Even though the script based modeller might seem difficult, designers still have full control over the modeling process. They will be able to change any steps in this process or make designs that are defined by configurable parameters.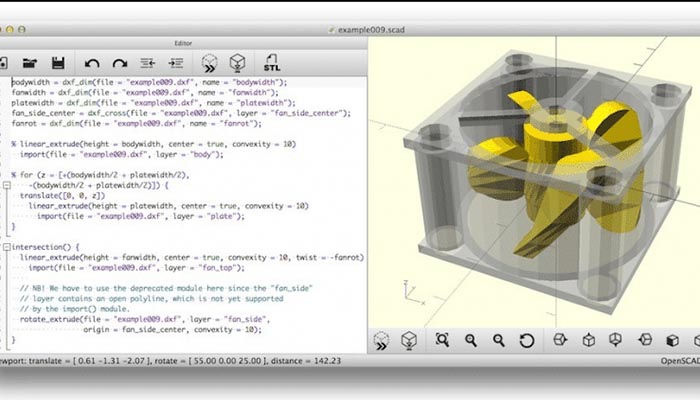 As mentioned, OpenSCAD is free, open-source and also available for Linux/UNIX, Windows and Mac OS X. OpenSCAD provides two main modelling techniques. The first is constructive solid geometry (aka CSG) and the second is extrusion of 2D outlines. Since AutoCAD is widely used to create 2D models, Autocad DXF files can be used as the data exchange format for such 2D outlines. In addition to 2D paths for extrusion it is also possible to read design parameters from DXF files. Besides DXF files, OpenSCAD can read and create 3D models in the STL and OFF file formats needed for 3D printing. In fact, OpenSCAD is mostly used to design 3D printed parts exported in STL format.
In terms of extra capabilities, animation is possible with a speed of a few images per seconds for simple models. On OpenSCAD's website you will be able to find a list of resources such as the latest version released, documentation, and news. It's true that some users still point out that there may be a lack of built-in or community-supported tools for package management. For example, tutorials and error messages could be more informative to help non-programmers get used to this modelling software. Basically, the learning curve remains quite steep according to users.
One final piece of advice is using BlocksCAD before getting started with OpenSCAD as it is based on the same type of modeling. In fact, the former has been created for those who want to start designing and creating simple 3D models before moving on to more professional software. You can find more information HERE. You can learn more about other 3D printing modeling software on our dedicated page for more info!
Let us know what 3D modeling software you want us to cover next! Don't hesitate to leave your thoughts in the comments below or on our Facebook and Twitter pages! Sign up for our free weekly Newsletter to receive all the latest news in 3D printing straight to your inbox!