Open Bionics' 3D-printed prosthetic arm device is now available in the US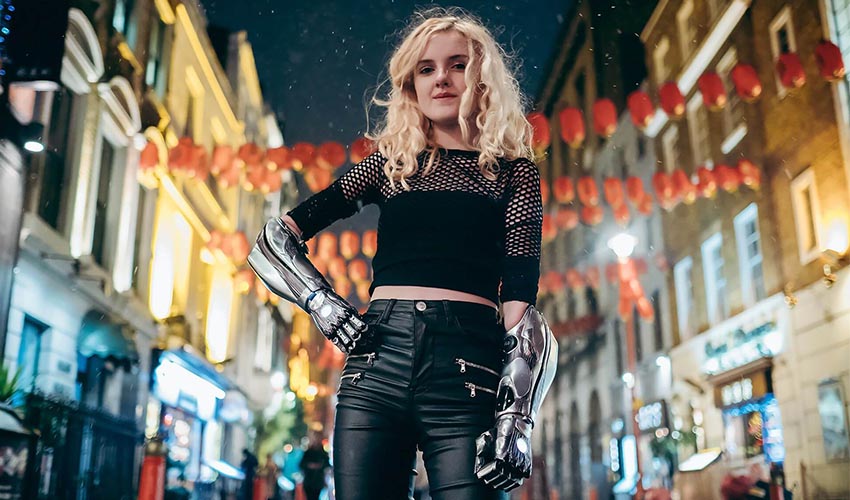 Back in January 2019, the UK-company Open Bionics announced it had raised about £5 million from investors to continue developing not just simple 3D printed prosthetics but bionic devices. Last year, the company actually released its first 3D printed bionic arm that was officially medically approved. The prosthetic devices cost about £10,000 ($13,060), which is a third of the cost of traditionally manufactured equivalents. The company has been capable of using 3D technologies to reduce its costs and offer customisable 3D printed bionic devices to clinics.
Until now the devices were exclusively available in the UK and France. However, the company announced a new partnership with Hanger Clinic to bring its products to the US.
Functional and Aesthetic Device
One of its key products is the 3D printed Hero Arm: showcasing multi-grip functionality but also empowering aesthetics for below elbow amputee adults and children (aged 8 and above). The Hero Arm, as its name implies can be personalised to resemble a superhero's arm. Variations include designs inspired by Frozen, Marvel Comics or even Star Wars. The prosthetic device can perform a wide-range of actions like gripping, giving an OK sign, high fiving, fist bumping, or even picking up a small object.
The company stated, "Special sensors within the Hero Arm detect muscle movements, meaning you can effortlessly control your bionic hand with intuitive life-like precision. Also, haptic vibrations, beepers, buttons and lights provide you with intuitive notifications."
Open Bionics launching its products to the US
The first US recipients of the Hero Arm includes 14-year-old Hanger Clinic patient Meredith Gross, a high school freshman. She was born missing part of her lower left arm. She is a competitive golfer and volleyball player and previously had to use sports-specific prostheses. For the first time, she is considering using the 3D printed device for everyday tasks as well. Her mom said, "The Hero Arm has opened up a whole new world for Meredith. She found success from the moment she put It on, and has been able to do things for the first time in her life. This device allows people like Meredith to own their differences with more confidence".
As mentioned, bionic prosthetic devices can cost up to £60,000 ($78,350) apiece. The starting price of Open Bionics' 3D printed prosthetic arm was launched at £5,000. Also, the 3D printing and assembly process for the Hero Arms takes about 40 hours. It comes in three sizes and it is the most lightweight bionic hand on the market.
You can find more information on Open Bionics' website HERE.
What do you think of the Hero Arm? Let us know in a comment below or on our Facebook and Twitter pages! Don't forget to sign up for our free weekly Newsletter, with all the latest news in 3D printing delivered straight to your inbox!