Onshape: all you need to know before getting started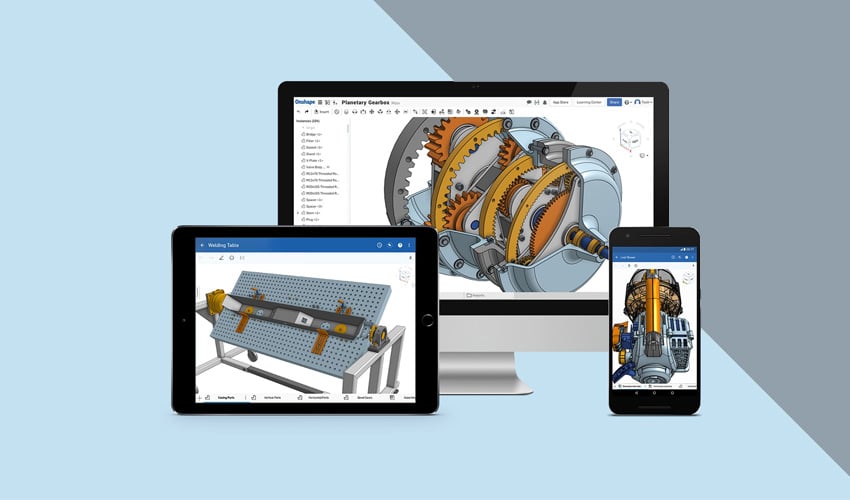 Onshape is a cloud-based computer-aided design (CAD) software. Using web-based servers, software users can collaborate on a single model, editing and interacting at the same time. The program is intended for many industries looking to design products, machine parts, industrial equipment, etc. On the official website, the company offers many options to learn how to use the software through explanatory videos, learning centers or support services if necessary. These are all great advantages, but what features make Onshape such a popular software with users?
It was created in 2012 by two former Solidworks CEOs, John Hirschtick and John McEleney, who, along with a team of six professionals, launched the Belmont Technology program that would later be renamed Onshape. Later, in 2015, the program launched the beta version of its CAD software in the cloud, publicly. The iPhone and Android application was also released, offering CAM, simulation, rendering and other cloud-based tools. It was not until November 2019 that Onshape agreed to be acquired by Parametric Technology Corporation (PTC), a company dedicated to the development of advanced software. Let's now look at the program's most important features.
The main features of Onshape
The features offered by Onshape are many and varied, including: data management, collaboration, workflow, parts, assemblies, drawings, bill of materials, configuration, analytics, integrations, support and security. The platform is available for Mac, PC, Linux and Chromebook. As we have seen, it is software that allows collaboration with other users, so teams can experiment with design alternatives without affecting others. In addition, the platform supports real-time data management, allowing you to see other users' changes instantly. A good thing about this modeling software is that it does not require some maintenance work from users, and program updates are released to the web interface directly.
As far as its use is concerned, the program does not copy files, but shares them via URLs. Its cloud-based system allows creators to design from any device, be it a computer, a tablet or a phone. Onshape can be used to create 2D drawings and 3D models. To learn how to use it, the company provides users with program guides and specifications in order to understand the basic operation so that they can create better finished designs ready for 3D printing. The files can be exported in STL, DWG and DXT formats, among others. In addition, we can find it in different languages, such as English, German, Korean and Chinese, to be able to interact globally with other communities.
Purchase an Onshape license
If you're thinking about licensing the Onshape program, you should know that the Professional version, which is aimed at small and medium-sized businesses, is priced at $2,100 per year. This allows you to adopt a product development platform, including CAD, investment management and data management. On the other hand, we find the Standard version, aimed at those users who require CAD tools with a modest collaboration and data management needs; the price of this license is $1,500 per year. There is also the OnShape free education plan, which is one of the best CAD solutions for academic environments. In this case, students and teachers can purchase the Standard version for free. Finally, to support the maker community, OnShape offers the possibility of purchasing a free version for non-commercial projects and in an open source public workspace.
Have you ever used Onshape? Let us know in a comment below or on our Facebook and Twitter pages! And remember to sign up for our free weekly Newsletter!