Olli 2.0: what are the new features?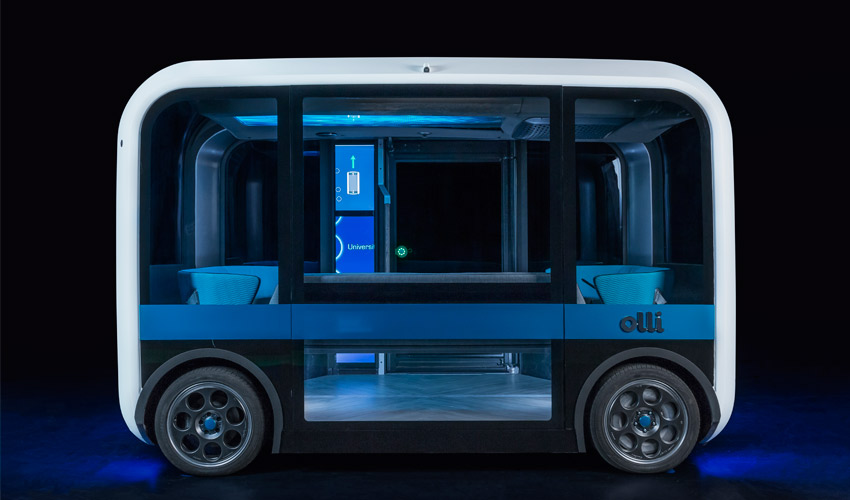 You most likely remember Olli, the 3D printed minibus designed by the American Local Motors. A small revolution in the automotive sector that already demonstrated at the time that additive manufacturing has a real advantage in this demanding industry. The vehicle is back in the spotlight: the manufacturer reveals Olli 2.0, an improved version of the one presented in 2016. Note that Olli 2.0 has more 3D printed parts than its predecessor as well as two additional seats and programmable lighting.
In 2016, Local Motors presented its new concept of an autonomous shuttle, Olli, capable of transporting a dozen people, answering their questions and analysing information from its environment thanks to the presence of numerous sensors. The small vehicle was partially 3D printed using Big Area Additive Manufacturing technology and was deployed in several areas of the United States, including university campuses – where it allows students to easily travel – hospitals and military bases. Although the solution is effective, Local Motors wanted to make some improvements on Olli, to reveal Olli 2.0.
Olli 2.0, an optimised version of Olli
The manufacturer claims that 80% of Olli 2.0 parts have been 3D printed, using the same technology used 3 years ago, the process takes about 10 hours. The main benefit of 3D printing for Local Motors is that it can quickly offer iterations and easily test different versions. Still electric, the minibus has a range of 160 km (compared to 60 km for the first version) and a maximum speed of 40 km/h. It has an autonomy capacity of level 4, i.e. it can drive without any human intervention within a given perimeter. One of the main changes is certainly the position of the electric motors: they are no longer on the axles but integrated directly into the 4 wheels.
Compared to its larger sister, the minibus has an improved user interface and a better sound system. Olli 2.0 has several screens at the front and rear, visible to pedestrians. Local Motors explains that it wanted to "humanize" the shuttle and make it more accessible. Inside, a large touch screen will connect passengers to Olli 2.0 – note that the autonomous minibus can communicate orally with the people who use it.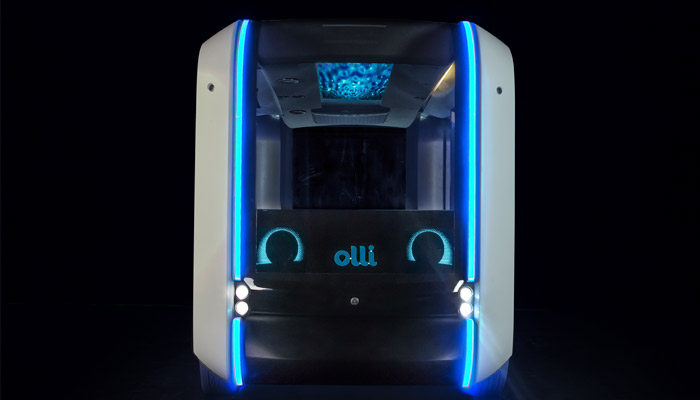 Production of Olli 2.0 began last July and the first deliveries should be made by the end of the year, starting with the United States. Local Motors also wants to open a production centre in Europe. You can find more information HERE.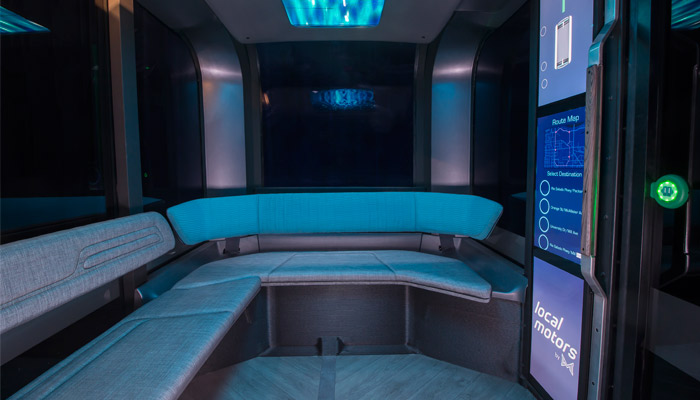 What do you think of the new features on Olli 2.0? Let us know in a comment below or on our Facebook and Twitter pages! Sign up for our free weekly Newsletter, all the latest news in 3D printing straight to your inbox!