Olivier van Herpt prints in 3D Delft Blue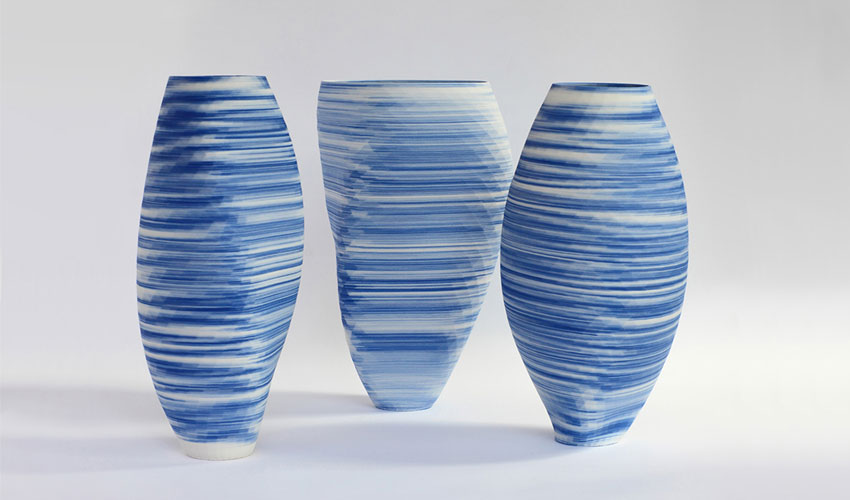 For centuries Delft pottery, also known as Delft Blue, has gained worldwide renown; these Dutch pieces are particularly known for their finesse and quality. So when we combine 3D printing with this tradition of the seventeenth century, we can only salute this beautiful combination. The work of the designer Olivier van Herpt presents a collection of 3D printed vases in blue and white ceramic that shows how 3D technologies impact any sector, from culture to design through architecture.
The manufacturing of vases by 3D printing is not an innovation in itself; there's the collection of Libera Rutilo but also the range created by Google Arts & Culture and many others. The list is rather long and we understand why: 3D technologies offer more freedom in terms of geometric complexity but also in the choice of materials. The Dutch designer Olivier van Herpt has opted for ceramics to combine new technologies with Dutch history. We have earlier presented you to our ranking applications of 3D printing in Art.
Delft Blue was originally born to imitate porcelain imported from China. Because they lacked kaolin, Dutch designers created a totally unexpected style; the faience was exotic but retained an oriental and decorative touch. Oliver van Herpt wanted to start from this national product and modernise it. So he used a ceramic 3D printer, which he improved until he could create 14 stackable pieces. His machine would be able to print ceramic objects 90 cm high with thin walls and a solid material.
The Dutch designer explains that he applied cobalt blue by hand into the ceramic material before inserting it into the extruder of the 3D printer. This is how he can get a blue and white radial gradient. He concludes by saying that the blue motif is the "translation of human interaction by the machine." These vases would be more than just decorative elements if we believe the artist! He has worked on many projects that also include 3D printing: you can find them on his official website.
What do you think about the work of the Dutch designer work? Let us know in a comment below or on our Facebook and Twitter pages! And remember to sign up for our free weekly Newsletter, to get all the latest news in 3D printing send straight to your inbox!