OECHSLER Has Made a Backpack With 3D Printed, Shock-Absorbing Fabric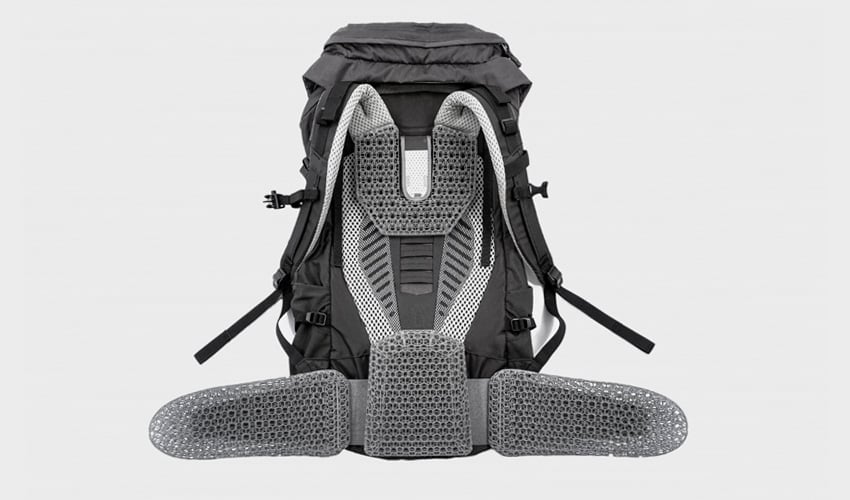 German company OECHSLER is behind a new innovation that aims to take the additive manufacturing sector into new dimensions. Specifically, they have developed a hiking backpack that incorporates 3D-printed, shock-absorbing mesh material for the first time. OECHSLER's proposal won the Red Dot Design Concept Award, which is presented each year for the best product designs. With this backpack, the company aims to make carrying loads while hiking more comfortable.
As we have seen on numerous other occasions, 3D printing in consumer products and especially sporting goods offers a number of great benefits for businesses. Many everyday products can already be made with additive manufacturing. This is true for the soles of the Adidas 4DFWD sneakers, the Squishy Mouse computer mouse, or the VAEN bicycle saddle, to name a few. But the most interesting thing is that all of these projects, along with the OECHSLER backpack, have something in common. The complexity of shapes made possible by 3D printing opens up the possibility of creating lattice structures that absorb shock and provide greater comfort for the user.
3D Printing the Shock-Absorbing Mesh in the OECHSLER Backpack
To achieve this damping effect, the backpack has a unique grid structure. The technology used in this case was HP's Multi Jet Fusion using BASF Forward AM's Ultrasint® TPU01 material. This honeycomb design and its placement in the backpack allow for cushioning between the back of the backpack and the wearer. In addition, the elastic material was chosen to provide high strength, flexibility and durability of the parts while maintaining good surface quality.
The hiking backpack is designed to be more ergonomic, lighter and use less material than a real cushion with inspiration coming from one of the AM Program Managers who spent his summer vacation hiking and was looking for a solution to the dampness on his shirt where he backpack sat. "Thanks to the design flexibility enabled by Additive Manufacturing, the back pads and hip fins can be produced in a single piece reducing assembly steps, assembly time and ultimately costs." They further added, "Significantly, no gluing or sewing is needed anymore." In addition, the unprocessed powder is fully reused in subsequent print jobs, and the printed parts are 100% recyclable at the end of their life cycle." You can learn more about the project on OECHSLER's website HERE.
What do you think of the 3D printed backpack from OECHSLER? Let us know in a comment below or on our LinkedIn, Facebook, and Twitter pages! Don't forget to sign up for our free weekly Newsletter here, the latest 3D printing news straight to your inbox! You can also find all our videos on our YouTube channel.
*Cover Photo Credits: OECHSLER