Odisei Music and its electronic 3D printed saxophone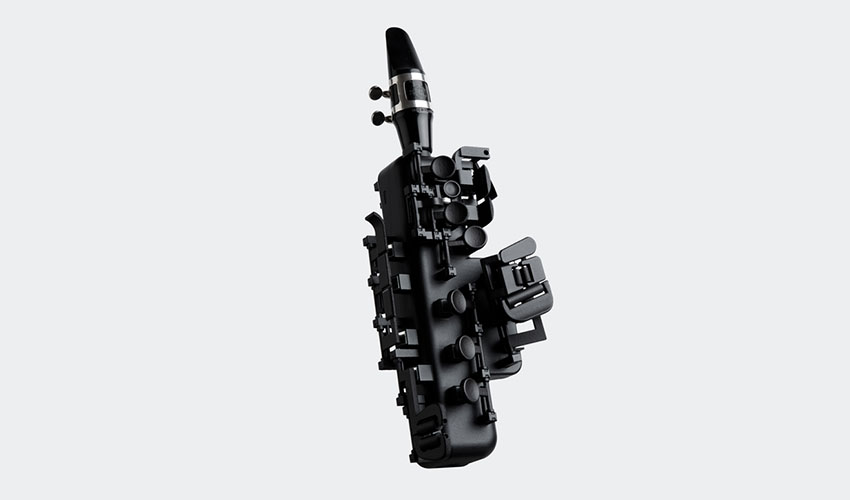 It's not the first time we've talked about 3D printed musical instruments. Today, the inclusion of additive manufacturing in art and music is becoming increasingly noticeable. An example of this is Odisei Music, a young company that has designed and manufactured electronic wind instruments, the most famous being its electronic 3D printed saxophone. Its aim is to spread music around the world by helping musicians to develop their musical skills in a faster and easier way. To learn more about this company and its relationship to additive manufacturing technologies, we spoke with Odisei Music Founder and CEO, Ramon Mañas.
3DN: Can you introduce yourself and tell us how you came to know about 3D printing?
I'm Ramon Mañas and I'm from Barcelona. I currently live in Sant Cugat del Vallés where we have our office. I am an Industrial Design Engineer by profession. My hobbies are music and automotive. The relationship between 3D printing started while I was studying engineering. In the university we had an FDM Stratasys printer with which we made prototypes for some of the projects that required it. Years later I started working at HP in the 3D printing sales department, which is when I got involved in the industry.
I had to do a lot of training to understand all the 3D printing technologies on the market. That way I learned very well how the HP Jet Fusion technology I was selling differed from the rest of the competitors. It was also while working at HP that I started to develop the Travel Sax in parallel (in the afternoons and evenings at the end of my working day). From the very beginning I was convinced that the Travel Sax would be manufactured thanks to 3D printing because of the advantages of additive manufacturing.
3DN: How was the Odisei Music project born and what is its main objective?
Odisei Music was born out of my unconditional love for music in general. My whole life, since being a child, has been closely related to music. At the age of 4 I started playing the piano at the conservatory and little by little I learned to play more instruments. The last acquisition was the Saxophone 6 years ago when I moved to Berlin to study composition. It was then that I began to suffer daily from the burden of practicing the saxophone. At that time I decided that as an engineer and a music lover, I had to solve that problem. My goal was to design an electronic saxophone that was as small and light as possible and that would allow you to practice wherever and whenever you wanted without disturbing anyone.
After two years of hard work and with the tremendous help of the Odisei Music team and all the external collaborators, we have designed the electronic saxophone, called Travel Sax. Odisei Music's goal is to make it much easier for musicians to learn to express themselves musically by generating more music in the world. To do this we design instruments and technical solutions that make it easier for musicians to learn and constantly improve.
3DN: Can you tell us what additive manufacturing techniques you use?
We use one of HP's Jet Fusion printers. This machine allows us to manufacture final parts with very good aesthetic and mechanical finishes. We also use this technology because of its high production. We believe that because of the type of products we design and manufacture, it is the one that best suits our needs.
3DN: In your opinion, how important is 3D printing in the development of musical instruments?
I believe that 3D printing technology is changing the way people design and produce, offering new manufacturing possibilities to new companies. In our case, we would not have been able to launch a product on the market in less than 1 year if it had not been for additive manufacturing. Although there are still many technical limitations, 3D printing is undoubtedly an extremely powerful tool with impressive potential.
3DN: What are Odisei Music's next projects?
We like to take it one step at a time. Our goal now is to deliver the first units of the Travel Sax and ensure that people are happy with the product. Once this is achieved the goal is to scale up and reach many more people. We have a lot of crazy ideas but we have to take it one step at a time.
3DN: Do you have any last words for our readers?
The future is exciting. We have extremely powerful tools at our disposal. One of them is 3D printing and in combination with desire, talent and a lot of effort you can achieve brutal things. You can find more information about Odisei Music on the website HERE.
What do you think of Odisei Music and its small and lightweight 3D printed saxophone? Let us know in a comment below or on our Facebook and Twitter pages! Sign up for our free weekly Newsletter, all the latest news in 3D printing straight to your inbox!