OctoPrint, the application to control your 3D printer
Published on August 26, 2020 by
Aysha M.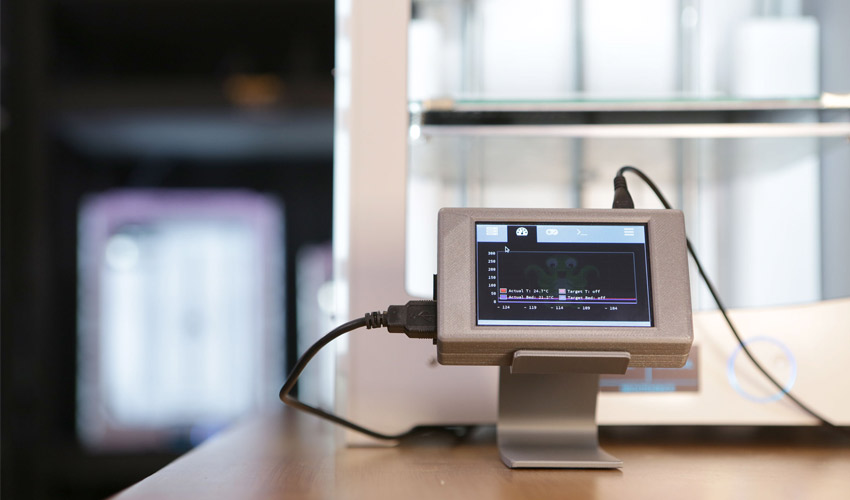 OctoPrint is a controller application for 3D printers: open-source and free, it allows you to manage all your prints remotely and to control your machines with peace of mind. It works directly on your web interface, you just need to connect the application to your local network. It will allow you to send several G-code files to different machines via a single interface. Most users install it today on a Raspberry Pi, using the OctoPi image available online. OctoPrint is also compatible with cameras which will allow to monitor a print job in real time and to check remotely that everything is working properly.
In 2012, Gina Häußge developed a first controller application, using her own 3D printer. The solution quickly won over the market and the Spanish manufacturer BQ provided financial support for further development. Today, OctoPrint is widely used worldwide, being open-source and completely free of charge. A dedicated forum has even been created to bring together the entire user community, allowing to solve technical problems, facilitate the installation of the application and exchange ideas.
OctoPrint features
The main purpose of the OctoPrint application is to control your 3D printer remotely and to follow the evolution of your print jobs. More specifically, it will allow to monitor the temperature of the extruder, to readjust the parameters if needed, to start printing via a WiFi connection, to pause or stop it in case of any anomaly. OctoPrint also offers the functionalities of a slicing software: it uses the Cura engine (CuraEngine), a slicer that will allow you to correctly cut your 3D model in successive layers readable by your 3D printer. You will be able to customize your slicer and settings as you wish.
When it comes to compatibility, OctoPrint currently works with most FDM 3D printers – mainly office (desktop) machines. Some of them have a specifically developed support – this is the case for FlashForge machines, for example. The application is compatible with Windows, MacOs and Linux. Many different plug-ins have been developed by the community since the very first version of OctoPrint. For instance, they include NavbarTemp, which allows you to display different machine temperatures directly on the navigation bar to ensure continuous control, or the "Estimate printing cost" feature to closely monitor your budget. Around fifty extensions are available today.
As it was mentioned in the introduction, OctoPrint is usually installed on a Raspberry Pi. The installation is very easily done via a tutorial on the official website. You can also connect the application to a webcam to follow in real time the movements of your machine.
What do you think about OctoPrint? Let us know in a comment below or on our Facebook and Twitter pages! Sign up for our free weekly Newsletter, all the latest news in 3D printing straight to your inbox!