NuVasive prints 3D implants for the spine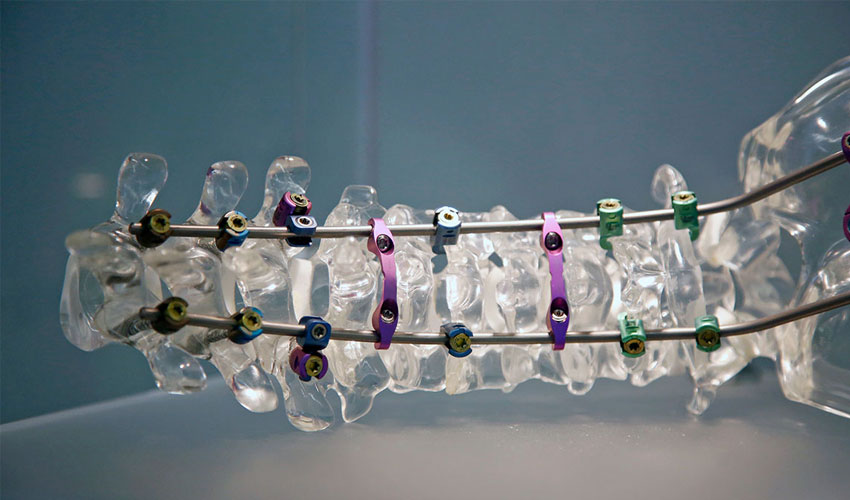 Implant manufacturing has never been so fast: thanks to 3D printing, the creation of medical devices is simpler and more patient-friendly. NuVasive has also turned to 3D technologies and specialised in the creation of spinal implants. Today she is looking to transform spine surgery by offering 3D titanium implants, clinically tested and adapted to the morphology of each patient. We met Shaeffer Bannigan, Development Manager at NuVasive to learn more about the process of creating an implant and its vision of the market.
3DN: Can you introduce yourself and your link with additive manufacturing?
My name is Shaeffer Bannigan and I'm the development manager of NuVasive's Advanced Materials Science Interbody team. A leader in its field, the company focuses on technological innovation and today seeks to transform spinal surgery through integrated solutions. Our team focuses specifically on additive manufacturing for the development of cross-body spine implants and the surgical instrumentation used to implement them.
3DN: Can you tell us more about the process of manufacturing a 3D printed implant?
The manufacturing process at NuVasive begins with a powdered titanium alloy. Once the powder is spread flat on the printing plate in a very thin layer, which can be as thin as a human hair, a high energy laser quickly melts the powder into specified shapes according to the design of the implant. When this layer is finished, more powder is spread over the top and the process is repeated, welding the layers from below to each new layer, thus making it possible to build complex structures with a single internal geometry from the base. A single impression, consisting of 50 to 100 implants, can take several days. However,
3DN: What are the challenges in creating 3D printed implants?
At NuVasive, the process of developing implants and spine components printed in 3D is done in several small steps and requires a lot of energy. The input parameters must be checked with great precision. Even if they are advanced machines capable of creating complex geometries, if only one of their variables such as power, argon flow or heat distribution, does not fit within an acceptable range, the whole impression is abandoned. Determining this acceptable range while maintaining a significant safety factor is a laborious but essential process for each implant design. The human body is not a particularly hospitable environment for an implant, it has a hard time with it; spine surgery leaves no room for error. These complex biological conditions require us to examine every detail of the process and fully understand the characteristics of our vertebral implants.
3DN: What are the advantages of additive manufacturing in the medical sector?
Our goal at NuVasive is to improve outcomes for our patients. To this end, NuVasive has used 3D printing to create smarter structures that optimise resistance while minimising the material, facilitate the healing process, and ultimately reduce recovery time for patients who receive it. spinal implant. To do this, we believe that it is important to imitate the human body, and in particular the human spine, as best we can in our designs. 3D printing is the only manufacturing method that can offer us this unique combination of models that more closely mimic the natural properties of human bone compared to traditionally manufactured spinal implants.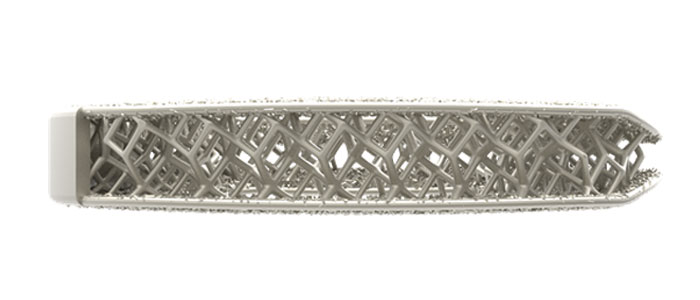 3DN: What are your future plans for additive manufacturing?
As you can imagine, the possibilities are virtually limitless with 3D printing. We work diligently to selectively apply the power of 3D printing to our various initiatives, starting with the opportunities that most directly benefit our customers and their patients. We are constantly looking for the best way to explore this incredible tool.
3DN: A last word for our readers?
Keep exploring new ways to use this emerging technology to solve everyday human problems. Advances in technology such as 3D printing are revolutionizing the way we approach the design and production of spinal implants to help surgeons improve the lives of patients. As our team continues to learn, our impact on the real world will continue to grow. By remaining meticulous in our experimentation, we realize that there are no limits to the creation. You can find more information on our site .
What do you think about the implants created by NuVasive? Let us know in a comment below or on our Facebook and Twitter pages! And remember to sign up for our free weekly Newsletter, to get all the latest news in 3D printing send straight to your inbox!