Nova Meat reveals 3D printed pork during global disruption in meat supply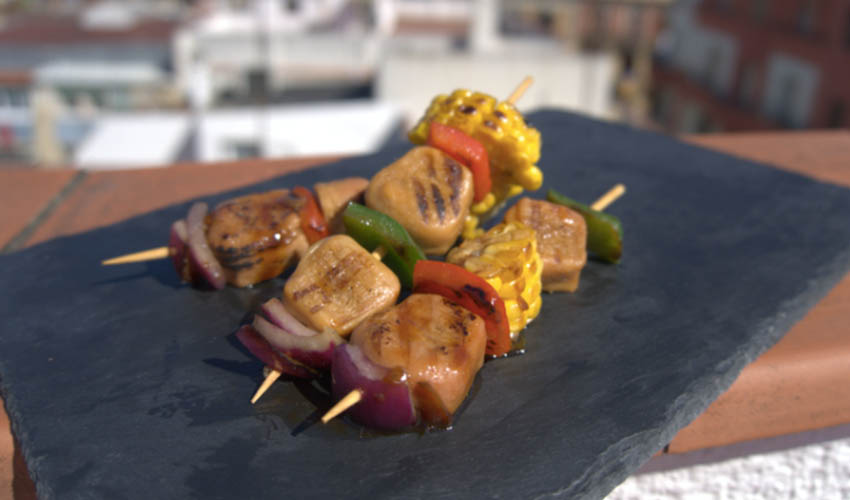 At the beginning of the year, the Barcelona-based startup Nova Meat presented version 2.0 of its 3D printed plant-based steak. Now, it unveils a new product: 3D printed plant-based pork meat that they call pork skewer 2.0. The startup, which seeks to support a more humane and sustainable global food system through its technology, explains that 3D printed meat could alleviate current supply chain problems exacerbated by COVID-19. Giuseppe Scionti, Founder and CEO of Nova Meat explains: "Given the need for flexibility and adaptability in the proteins market, and given the global disruption in pork meat supply, we decided to develop a realistic plant-based pork with the texture and appearance of pork meat."
The startup has been working for some years now on the development of these meat alternatives. The main challenge of creating 3D printed meat is to simultaneously achieve texture, taste, appearance and nutritional value: the four parameters that define the successfulness of a meat alternative if you will. For example, ground plant-based meat looks and tastes like mince beef but the texture of meat has not been achieved. Therefore, when Nova Meat was developing its 3D printed steaks, it created a technology that could imitate the natural texture of meat. Essentially, it manages to reorganize the nanofibers from vegetables' proteins to make them seem like animal proteins.
Various trends point to unstable supply chains when it comes to meat supply, creating food insecurity. Demand for plant-based meat alternatives has been rising during the COVID-19 crisis. In fact, not only have companies such as Beyond Meat or Impossible Foods raised impressive investment – $150 million and $500 million respectively – their stock price has also risen. These companies do not rely on the same technology as Nova Meat, nevertheless the trend is clear. Investors and consumers are interested in these products. 
In fact, Nova Meat's mission concerns developing and perfecting the technology that enables to create a completely realistic meat alternative to steaks, beyond mince meat like meatballs or burger patties. For these pork skewers, Nova Meat is using a composition containing pea isolate, rice isolate, extra-virgin olive oil, brown seaweed extract, beet juice concentrate and natural aroma. Guiseppe Scionti added: "At the moment, we are testing alternative ingredients (proteins, fibers and oils) to tune the flavorings and improve sustainability. Demonstrating that our technology works with a variety of ingredients is aimed at supporting biodiversity, to fight unsustainable monocultures and deforestation practices." 
Additionally, Nova Meat executes internal tests on each ingredient with different providers, and avoids GMOs, soy, or gluten, spending more budget to select ingredients of premium quality. If Nova Meat's 3D printing technology can work with multiple ingredients, it will demonstrate to those that adopt it that they can manufacture different products by selecting a variety of ingredients. For example, it wouldn't be impossible to mimic other types of meats and seafood in the future.  
Would you try 3D printed pork skewers? Let us know in a comment below or in a comment on our Facebook and Twitter page!