NIST to Promote Metal Additive Manufacturing Through Nearly $4M in Grants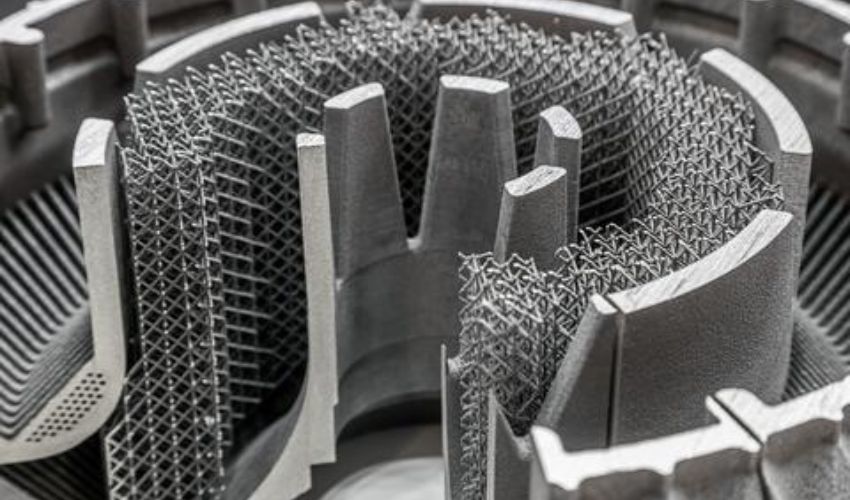 More than ever, we are seeing that governments are investing in additive manufacturing as a way to promote more sustainable, clean manufacturing. The United States especially has been pushing the technology as a part of its build back better framework. And now, we are seeing the continued commitment the US government has for AM. The U.S. Department of Commerce's National Institute of Standards and Technology (NIST) has awarded $3.7 million in grants to help address current and future barriers to widespread adoption of metal additive manufacturing. This will be done through NIST's own research as research projects at The Research Foundation for the State University of New York, Colorado School of Mines, Auburn University and General Electric.
Though interest in 3D printing has significantly increased since the pandemic showed its true capabilities, in the past year we have seen a clear push to adoption of AM in industry. This was notably seen in May when the Biden Administration launchd its AM Forward Initiative. In this, the Biden Administration highlighted adoption of AM as a way to improve the competitiveness of small and medium sized manufacturers as well as to bolster supply chain resiliency in the long-term. This latest push from NIST, which is part of the US Chamber of Commerce, shows their continued commitment to promoting additive manufacturing in the longterm.
Commenting on the decision, Under Secretary of Commerce for Standards and Technology and NIST Director Laurie E. Locascio explained, "The U.S. can take a leading role in developing the measurements and international standards that will help accelerate adoption of these important 3D-printing technologies. To compete globally, we need to invest in programs such as this that bring together our best minds in industry, academia and government to solve important technical challenges." As might be expected, NIST is especially interested in addressing qualification through new measurement methods and standards.
What Do the NIST Grants Entail?
The $3.7 million in grants is going mainly to academic institutions though also General Electric (GE) for a variety of projects aimed at addressing issues related to material properties, qualification and certification. The funding is relatively equally spread between the four organizations (though GE is receiving less) and is to be spent over the next two years. All the projects are seeking to address barriers to adoption through measurement science research.
In terms of the projects being funded, the Research Foundation for the State University of New York will be receiving $957,706 to demonstrate an enhanced nondestructive evaluation (NDE) technique to determine key material properties such as oxide thickness and defect detection, which would help to optimize quality control in AM. Similarly, Auburn University is receiving $949,075 to establish a data-driven framework using computer vision and machine learning for nondestructive qualification of AM materials and parts. In the latter case they are focusing on applications that cannot afford failures due to fatigue which could be important in AM where end-use parts are increasingly being used in safety-critical industries like aerospace.
The Colorado School of Mines meanwhile will be examining optical metrologies in order to "enable real-time process feedback and control to achieve process-based qualification and certification of metallic parts made by AM." They will be earning $956,888 for this project which will complement existing software used in metal AM. Real time processing and AM workflow management software have increased in popularity in recent years as a way to prevent print failures and guarantee properties for parts. Last but not least, GE Research is being awarded $873,999 for a collaborative project with GE Additive and the University of Texas at El Paso (UTEP) to establish the Intelligent Stitch Integration for Testing and Evaluation (I-SITE) program. According to the press release, this will be used to extend existing standard methods as well as build correlations between sensor response, material behavior and mechanical properties.
Laurie E. Locascio concluded, "Additive manufacturing offers advantages such as reduced material waste, lower energy intensity, reduced time-to-market, and just-in-time production that could bolster supply chains in the U.S. Accelerating the adoption of new measurement methods and standards will help to advance U.S. competitiveness in this important industry." You can find out more in the press release HERE.
What do you think of the nearly $4 million in grants being awarded by NIST? Can you think of other ways that governments are pushing adoption of additive manufacturing? Let us know in a comment below or on our LinkedIn, Facebook, and Twitter pages! Don't forget to sign up for our free weekly Newsletter here, the latest 3D printing news straight to your inbox! You can also find all our videos on our YouTube channel.
*Cover Photo Credits: OlegDoroshin/Shutterstock