Nik Huber Guitars rely on metal 3D printing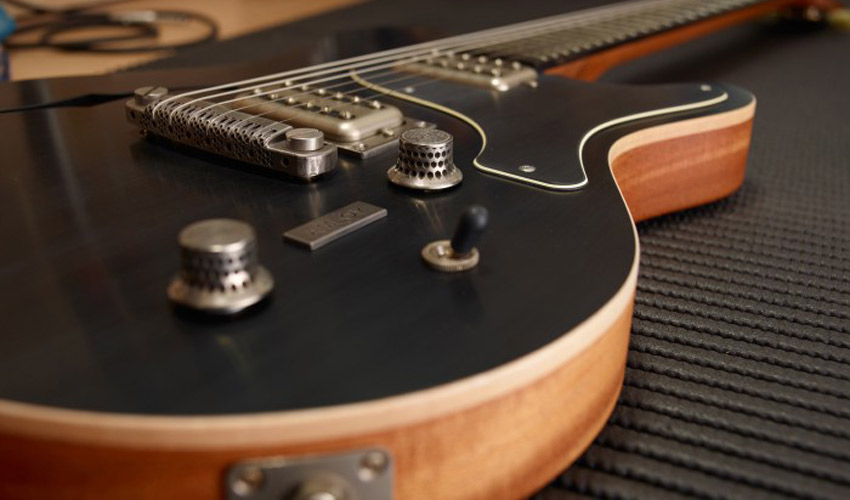 Nik Huber Guitars (NHG) is a company that has been building electric guitars for several years now. It has recently turned to additive manufacturing through a collaboration with Heraeus, a German company specializing in precious metals. Together, they have 3D printed a guitar bridge, a piece that allows the height of the strings to be adjusted on an electric guitar. The piece they built is unique because it was 3D printed using an amorphous metal: it has a bionic structure that would allow it to absorb less vibration compared to other traditionally made trestles. We discussed with Nik Huber, the founder of the NHG company, to learn more about the creation of this special piece and the role of additive manufacturing in the music industry.
3DN: Can you introduce yourself and tell us how you discovered 3D printing?
My name is Nik Huber and I am the founder of Nik Huber Guitars, a company created in 1996. I've been making guitars since 1993 and since then NHG has grown into a company that has 12 members. Approximately 300 guitars are made each year with the utmost attention to quality and detail. One day, Michael Klosch-Trageser from Heraeus called us and asked us if we were interested in trying out a bridge material we had never heard of before. Heraeus was working on the theme of amorphous metals, and Michael made the connection between their possibilities and the world of guitars.
At NHG, we like to innovate, looking for new ideas in a rather conservative music industry. Our line of models is based on a 70-year tradition of electric guitars. Whenever we are given the opportunity to discover new ways to broaden our horizons, we are very excited. That's why we have accepted the collaboration with Heraeus/ Amloy and are very happy to get started.
3DN: Can you tell us about the importance of an easel on a guitar?
Although I think that the type of wood with its resonance and sound qualities plays an essential role in having a good guitar, the bridge is undoubtedly an important piece of the puzzle! The bridge is the piece that transmits the energy of the strings and their vibration to the body of the guitar. We want this part to absorb as little energy as possible, while maintaining a wide range of frequencies.
Aluminum has been a good choice for us and the industry for decades, but now amorphous metal seems to bring qualities that we probably haven't experienced yet. You also want an easel that is comfortable and ergonomic for your hand.
3DN: Why did you turn to additive manufacturing to create this part?
Additive manufacturing opens up a whole new world of possibilities… look at the easel and its design, it's both beautiful and cool. To my knowledge, this hasn't been seen in the guitar industry yet, and it's certainly not possible with molding or other manufacturing processes. In addition to the very aesthetic look of the bridge and buttons, maybe we could take our design a step further by having more or less hollow areas under certain strings that could allow the resonance to be adjusted in certain directions. I am sure we will have other ideas and reasons to work with this technology.
3DN: Why did you choose an amorphous metal? What are the advantages?
As mentioned above, we want the guitar bridge to carry the vibration of the strings to the highest levels. The test carried out by Heraeus, where steel balls hit the amorphous material, was very convincing and was an eye-opener for us. I can relate this very well to the string vibrations. Another advantage is the high durability. An amorphous bridge will most likely win the endurance test against steel, brass, aluminium or other alloys. We have seen significant fatigue with nickel-plated aluminum or chrome-plated brass as soon as these surfaces showed wear marks and scratches. We won't have this type of problem at all with amorphous metal. Its colour is also a key benefit, it's really beautiful.
3DN: In your opinion, what is the future of 3D printing in the music industry?
We love wood with all its resonance and beauty qualities. I know, that guitar bodies and probably also necks are starting to be printed in 3D. I don't know the results of these projects, but I am sure that there is an added value in using 3D technologies. At Nik Huber Guitars, we are currently focusing on hardware and metal parts, but we are of course very curious and enthusiastic about where new and innovative possibilities are going and can lead us.
3DN: A last word for our readers?
We are delighted to be working with Heraeus / Amloy and look forward to the future with great enthusiasm and new projects and ideas. I'm glad that we were the first ones to 3D print with amorphous metal in the guitar world. You can find all our guitars on our official website.
What do you think about using 3D printing technology in the music industry? Let us know in a comment below or on our Facebook and Twitter page! Don't forget to sign up for our free weekly Newsletter, with all the latest news in 3D printing delivered straight to your inbox!