Nicole Hone and her "Hydrophytes", 4D printed aquatic plants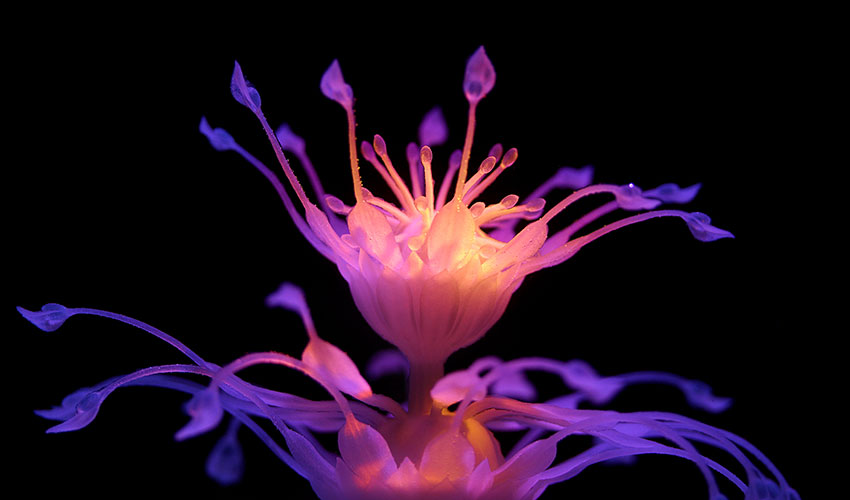 Hydrophytes is a project that seeks to show what plants of the future might look like. Created through 4D printing, their intelligent manufacturing materials allow them to develop movements very similar to real aquatic plants. The creator of this project is Nicole Hone, a New Zealand industrial designer, who introduced Hydrophytes as a new creative mode through 3D printing. We were able to meet her so that she could tell us more and teach the importance of 4D printing in creative and industrial developments.
3DN: Can you introduce yourself and tell us more about your connection to 3D printing technologies?
I am an industrial designer based in Wellington, New Zealand. Hydrophytes was created as part of a thesis project for my Masters in Innovation in Design from Victoria University of Wellington that I completed in July 2018. I first discovered 3D printing as as a student in industrial design in 2014. I appreciate the freedom of creation in the forms offered by 3D printing and the ease with which variations of a drawing can be translated into a physical object. The PolyJet Technology. I was particularly interested because I could combine materials with different degrees of flexibility. The ability to design the internal parts and small details of an object with high resolution was a pleasant challenge. I was also captivated by the way digital materials behaved in the same way as living organisms.
3DN: How was the idea of "Hydrophytes" born?
I have always been fascinated by nature, it inspires me a lot in design and aesthetics. For this project, I was particularly interested in botany and marine life. I was surprised by the way marine creatures and corals move and I wanted to reflect the same qualities in my creations. During the first test prints, I discovered that the materials were more fluid and more organic in the water, because the fragile parts were reinforced. At the beginning of my thesis project, I learned that we wanted to review the design of the New Zealand National Aquarium. I thought it would be an opportunity to have a future-oriented exhibition with moving models that visitors could interact with. That idea,
3DN: Can you explain the process of developing one of your futuristic plants?
The project was inspired by the study of books and videos on nature and biology, as well as by plant photography. Each "hydrophyte" begins with a pencil sketch to illustrate its shape and mechanism of movement. The concept is then modeled in 3D using a combination of software to create the shape, texture of the surface and internal structures. The designs are composed of several parts, the hardness of each being specified on the computer. The Connex 3D machine prints each pattern as a homogeneous object, in which different mixtures of acrylic-based and other rubber-like resins are polymerized with UV light.
Printed models are covered with a gelatinous carrier material that is removed by dipping the object into water and wiping it thoroughly. The cleaning process can take up to four hours to print. Once cleaned, the hydrophytes are first pumped with water to separate the two membranes from the material and help remove the support material. The designs are immersed in water and inflated to choreograph their movement for the film. The final collection of hydrophytes is the result of about 50 individual experiments, all tested and filmed. The colored light is added by an LED floodlight that accentuates the feeling of life and the character of each plant.
3DN: What do you think is the importance of 4D printing?
4D printing allows us to create objects that can move and change shape or appearance. This provides additional functionality in designing objects that can be controlled and digitally tested. Add to that the ability to print with multiple materials and even with "smart" materials. 4D printing applications are huge. Some examples of industrial applications include robotics, architecture and the medical field.
The 4D multi-material printing application presented by Hydrophytes illustrates the concept of computer-generated objects (or CGOs), similar to the concept of digital special effects. In both cases, the subject is created numerically, but the difference is that CGOs are physical objects that can interact naturally with their environment. This type of 4D printing offers advantages for the film and exhibition sectors. Film accessories designed with 4D multi-material printing could help to provoke authentic reactions among actors and create compelling interactions between the object and the environment. These accessories could even be used at promotional events or theme parks based on the film. There is also a growing trend to create immersive experiences in contemporary museums. For example, natural history museums or aquariums could display 4D printed animals to create moving and interactive encounters.
3DN: What are your future projects? Where do you see yourself in 10 years?
3D / 4D printing technologies are constantly evolving. The ability to print in color and the development of new materials for PolyJet printing and voxel technology offer opportunities to create more complex, realistic and larger 4D printed objects. In the future, I would like to design content for exhibition spaces and / or films, to create experiences that can surprise and intrigue people. Hope this will include experiments with this advanced technology. I would like to continue to give life to objects, be they animals, fictional characters or even dinosaurs.
3DN: A last word for our readers?
I am very grateful to Victoria University of Wellington for giving me the opportunity to work with 3D / 4D multi-material printing technology. I hope to witness the evolution of the university's research in this field to promote design in New Zealand.
Find more information on Nicole Hone's official website here and in the video below:
What do you think of the Hydrophytes project? Let us know what you think in a comment below or on our Facebook and Twitter pages! Don't forget to sign up for our free weekly Newsletter, with all the latest news in 3D printing delivered straight to your inbox!