nFrontier Unveils UILA, a 3D Printed Hyrbid Electric Cargo Bike and Electric Vehicle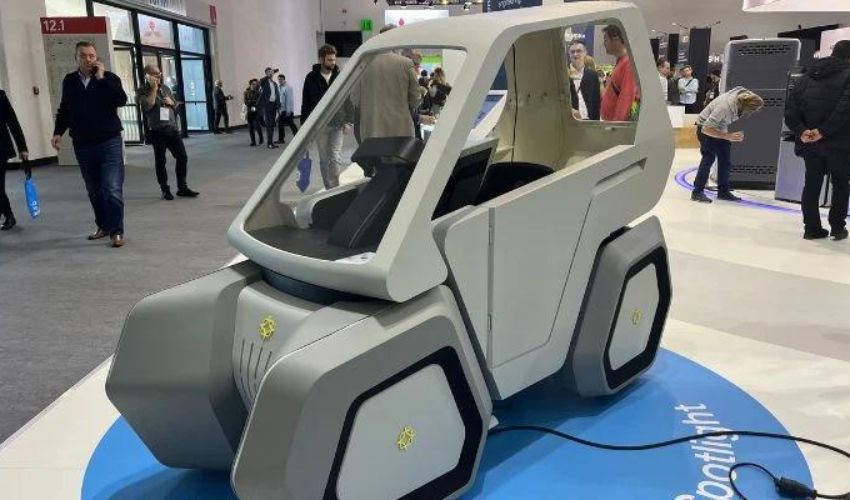 Once again, 3D printing has been used for an innovative and sustainable new solution. This time, nFrontier, a Berlin-based innovation studio, has unveiled UILA, a revolutionary vehicle that is essentially a hybrid between an electric cargo bike and a small Electrical Vehicle (EV). Hoped to be a new solution for sustainable mobility, the prototype was made actually used Stratasys' polymer solutions and was unveiled at Formnext 2022 this week at the Stratasys stand, hall 12.1, booth D121.
It is perhaps no surprise that we have seen an influx in sustainable solutions in recent years. The past 10 years have been some of the hottest on record and many are looking for ways to address their own carbon footprints. This includes in the transportation sector. Indeed, according to a press release from Stratasys, current studies estimate that there will be more than 270 million electric two- and three-wheelers on the road globally. And we have certainly seen an influx in both electric bicycles and electric vehicles in the past few years, especially with raising gas prices.
This latest solution, UILA, meanwhile occupies a happy medium between the two. It does not require a driver's license and can be used on bike lanes, but it also provides extra security thanks to its covered format, surrounding users and protecting them from possible hazards on the road. Moreover, it integrates a number of comforts normally more associated with vehicles including but not limited to a modern infotainment system with smartphone functionalities as well as the ability to call the parked vehicle to drive towards you or follow you without a driver. We took a closer look at what users can expect from the vehicle.
A Closer Look at UILA From nFrontier
UILA is a four-wheeled two-seater that was designed by nFrontier lead designer Joschua Krnake and made using Stratasys' FDM technology to build the large format body components as well as the powder-based SAF and photopolymer-based P3 systems for higher volume AM.The press release notes that it has a cargo payload of up to 250 kg and can accelerate to top speeds of 25 km/hr with a range of 60-70 km. It is of course much smaller than a car, but still a reasonable size with a length of 230 cm and measuring 170 cm high and 90 cm wide. It also weighs up to a total of 70 kg.
3D printing apparently was key to the success of the product for a number of reasons. First of course, by using different AM processes, nFrontier was able to reduce the cost of producing the parts (as compared to traditional processes) while also saving time thanks to the production of parts in-house. 3D printing also had a number of advantages when it came to sustainability. Though of course we have heard about the green possibilities of 3D printing thanks to its ability to limit material waste (which was also a factor with UILA), its ability to produce locally is also a boon environmentally. Notably, this enabled nFrontier to reduce supply chain challenges and transportation emissions.
nFrontier CEO Dnaiel Buening concludes, "UILA is our response to some of the most pressing challenges of our time such as climate change and the current energy crisis. UILA is not only radically changing the way we are commuting, but also provides a truly sustainable, game-changing mobility solution. At the same time, it delivers a feature set of digital functions and assets by far exceeding current bicycle industry standards." nFrontier is currently prpearing UILA for serial production and traffic registration in Germany some time in 2024. You can find out more in the video below.
What do you think of UILA? Would you be willing to try it? Let us know in a comment below or on our LinkedIn, Facebook, and Twitter pages! Don't forget to sign up for our free weekly Newsletter here, the latest 3D printing news straight to your inbox! You can also find all our videos on our YouTube channel.
*Cover Photo Credits: 3Dnatives