Nexus Spine Announce Availability of Novel 3D Printed Spinal Implants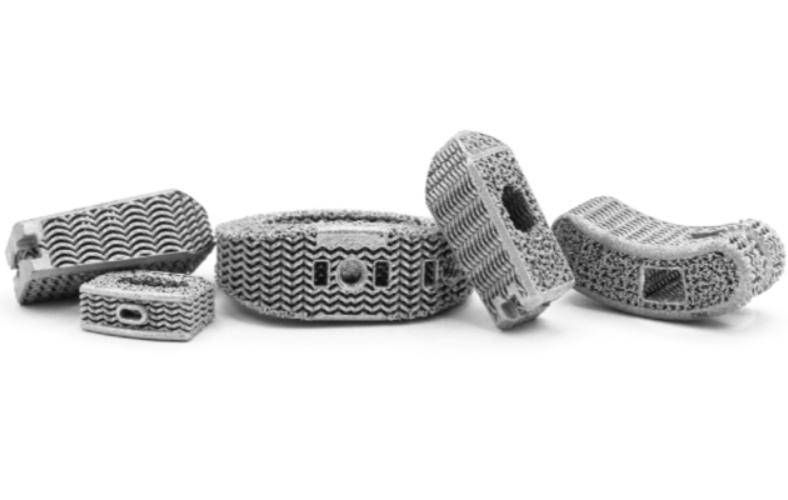 Nexus Spine announced that their novel implants for spine surgery have now been made broadly available. These include the compliant-mechanism based system, PressON, and a flexible titanium device for interbody fusion, Tranquil. Nexus Spine specialises in the development of medical instruments and implants for spinal surgery. Thanks to modern mathematical modelling, 3D finite element analysis and 3D printing, the company is pioneering the application of microscopic compliant mechanisms to the spine. Tranquil and PressON set a new precedent in the application of compliant mechanism technology. The implants enable well-established biocompatible materials to act as organic human tissue on a microscopic level. After testing PressON and Tranquil in hundreds of patients over the last six years, the company reported that the implants have resulted in faster healing and reduced pain.
Tranquil
Tranquil is a 3D printed, flexible, bone replicating, interbody device, intended to encourage rapid spinal bone growth. Fabricated from bio-friendly titanium, the device is not only less expensive, but also ten times less stiff than traditionally used implants. Gary L. Crocker, president of Crocker Ventures expanded on the benefits of this material: "Titanium has been used in orthopedic surgery for decades, with a stellar history. The key to better outcomes, however, is going further and getting titanium to act like spinal bone. Any spinal implant company can 3D print what is essentially a block of titanium with a fancy shape and a lot of little holes, and that is happening widely right now," Crocker concludes, "Only Tranquil achieves the right combination of implant stiffness, pore size, surface area, texture, and material. Other products simply can't."
PressON
Nexus Spine's PressON is a spinal fixation system which, specific to each patient, eliminates pain associated with other systems. Using compliant-mechanism technology to cater the device to the patient, the PressON is able to eradicate spinal rod-bending and other contemporary spinal surgery persuasion techniques that can cause pain. "Compliant mechanisms have made it possible for our engineers to get less metal to do more for patients," said David Hawkes, president at Nexus Spine. "Traditional rod systems require larger wounds and more tissue retraction and more surgical instruments, which lengthens the surgery, increases the likelihood of infections and causes pain." This system is also faster, smaller, and sixteen times easier to apply. In turn, the surgical incision required by the PressON is half the length of traditional alternatives, meaning that patient experiences even less pain and faster recovery post-surgery.
Evidentially, the two devices are set to both drastically improve the cost and efficiency of spinal surgeries as well as the lives of patients benefiting from them. Hawkes summarized, "Nexus Spine has demonstrated improved clinical outcomes, decreased costs, and simplified use by leveraging our novel compliant mechanism engineering expertise and intellectual property. Our advanced technology products have been shown to decrease pain, speed healing, and reduce the cost of care." You can find out more about Nexus Spine HERE.
What do you think of Nexus Spine? Let us know in a comment below or on our Linkedin, Facebook and Twitter pages! Sign up for our free weekly Newsletter here, the latest 3D printing news straight to your inbox!