Nexa3D announces partnership with Siemens, releases a new polymer
Published on September 19, 2020 by
Aysha M.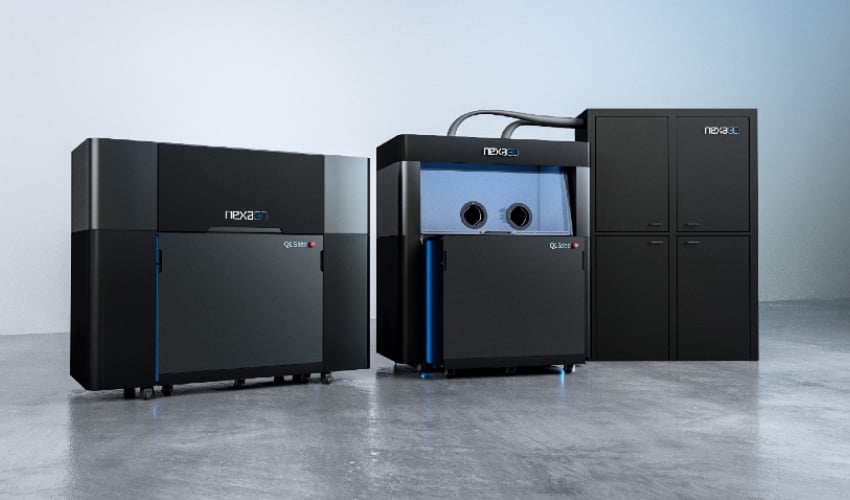 Nexa3D is a California-based  startup that manufactures industrial grade 3D printers and develops materials, mainly resins. Lately, the company has been rather active on the additive manufacturing arena expanding its portfolio of products and forming strategic partnerships. For instance, earlier this year, Nexa3D started collaborating with Henkel, and the two jointly developed a new photopolymer called xMED412. A couple of days ago, the young American company announced it has partnered with Siemens, a Germany-based multinational conglomerate that provides all kinds of industrial solutions. In addition, Nexa3D unveiled xCE-White, a new photoplastic material.
Siemens has been known for years as the technology powerhouse in manufacturing, infrastructure automation, and digitalization. And while Nexa3D is a much younger company, it has already made a name for itself as the creator of ultrafast polymer production 3D printers. Both Siemens and Nexa3D have previously worked, and more than once, with various automotive, aerospace, medical and industrial customers. With the recent collaboration, Nexa3D plans to bring its AM production systems up to full Industry 4.0 preparedness. The goal is to achieve advanced factory automation – combining this automation with process monitoring, data acquisition, connectivity, and print optimization will make it possible to provide polymer AM solutions at scale.
Tim Bell, Head of Additive Manufacturing at Siemens, commented, "Covid-19 underlined the incredibly rapid and flexible nature of our combined factory automation technologies and additive manufacturing capabilities compared to traditional manufacturing and demonstrates how vulnerable the global manufacturing supply chain is to unexpected disruptions. Working together with Nexa3D, we are bringing decades of proven Siemens factory automation experience and technology to additive manufacturing to help customers mainstream mission critical production tools for future manufacturing strategies."
Under this collaboration, Nexa3D's entire Quantum Laser Sintering (QLS) product line will be standardized to Siemens' state-of-the art factory automation and edge computing technologies. Nexa3D plans commercial delivery of its QLS-350 polymer production 3D printer powered by Siemens' automation controls in the first quarter of 2021.
The collaboration with Siemens is not the only news Nexa3D shared recently. The American startup has also unveiled a new photopolymer material. Called xCE-White, it is used for producing end-use plastic parts and injection molding tools in minutes. xCE-White is the fastest single cure material in the company's portfolio to date, helping deliver 20X productivity increases in AM and boasting high flexural strength. Developed for the company's NXE400 3D printer, xCE-White can be used to produce isotropic parts that are well suited for a variety of automotive parts, automation and robotic assemblies, and many industrial components at speeds similar to injection molding processes. For example, Nexa has 3D printed 21 life-size midsoles in only 48 minutes!
Michele Marchesan, Chief Growth Officer for Nexa3D commented: "We are very excited to bring to market our fastest functional photoplastic material yet, underscoring Nexa3D's commitment to providing our customers with the highest levels of design agility and supply chain resiliency both now and post-Covid-19 that produce functional parts literally within minutes. With xCE-White, we are delivering a new performance photoplastic that is ideal for many production parts in addition to being an outstanding injection molding tooling material."
What do you think about Nexa3D partnering with Siemens and launching xCE-White? Let us know in a comment down below or on our Facebook and Twitter pages! Don't forget to sign up for our free weekly Newsletter, with all the latest news in 3D printing delivered straight to your inbox!