Nexa3D and Henkel develop a new polymer material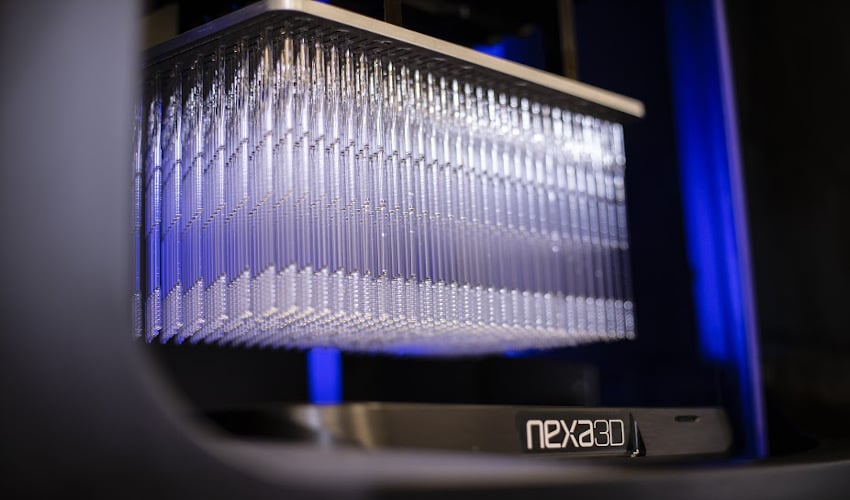 It started with two innovation-oriented companies deciding to become partners: a manufacturer of ultrafast stereolithography 3D printers, Nexa3D, and an international conglomerate Henkel, who is also a leading supplier of high impact additive materials. A few days ago, they announced commercialization of their second jointly developed material called xMED412. The new polypropylene-like material is perfect for manufacturing a variety of biocompatible, medical and wearable devices.
Nexa3D is a California-based company that designs and produces industrial grade SLA 3D printers. The company's printers are powered by proprietary Lubricant Sublayer Photo-curing (LSPc) technology and patented structured light matrix capable of reaching top speeds of 1Z centimeter per minute, drastically reducing 3D printing cycles of precision functional parts from hours to minutes. Nexa3D started its first collaboration with Henkel in April of this year, 2020, which resulted in the creation of their first joint material, xABS Black.
The most recent news, however, are all about xMED412, which is a high impact, durable 3D printing material, perfect to be used for medical and athletic devices. This photopolymer has mechanical attributes similar to polypropylene with fantastic elongation and compression strength. Nowadays, additive plastics like xMED412 are increasingly in high demand, especially in the COVID-19 context.
Lightweight yet sturdy, xMED412 is a material that comes with inherent insulating properties, designed to withstand impact, moisture and vibration. These highly desirable features are ideal for devices that might need to be sterilized or disinfected and are shipped around the world for use in homecare and healthcare settings. Ken Kisner, Henkel's Head of Innovation for 3D printing says: "With regard to the current Covid-19 pandemic, we are pleased that nasopharyngeal swabs manufactured with xMED412 on the NXE400, in accordance with our published procedures, have already been cleared through clinical trials."
Michele Marchesan, Nexa3D's Chief Growth Officer adds: "In the U.S., we quickly qualified and scaled up single printer production capacity to 5400 swabs a day at our Nexa3D flexible factory in support of the ongoing demand for nasal swabs. Elsewhere, we are printing ventilator parts and other medical device parts, including venturis and connectors at productivity and scale, which are fast achieving the new standard for flexible series production." For companies that manufacture single-use medical devices, or reusable devices, many critical components need to bend and flex for use on or near a patient's body. Therefore, such components must be pliable, elastic, and often kink-resistant, which is where the combination of xMED412 as 3D printed on the NXE400 really stands out.
What do you think about Nexa3D and Henkel partnership resulting in their second joint material development? Let us know in a comment below or on our Facebook and Twitter pages! Sign up for our free weekly Newsletter, all the latest news in 3D printing straight to your inbox!